The Best VIP Casino Bonuses in the United Arab Emirates
VIP Bonuses differ from regular casino bonuses, as well as casino offers and promotions as they are part of the special program. Getting a VIP level is one of the most exciting things for most players. Once you have met the criteria your loyalty gets rewarded! 🎁
Here are the best online casinos available in the United Arab Emirates and what they offer in terms of VIP bonuses:
| | Casino | VIP Casino Bonus |
| --- | --- | --- |
| 1. | YYY Casino | Cashbacks, WhatsApp support, higher deposit limits, VIP tables, and more |
| 2. | Dafabet | Exclusive promotions, raffles, special access to games, and more |
| 3. | Betobet | Exclusive bonuses, higher withdrawal limits, high-priority customer care |
| 4. | Rabona | Cashbacks and withdrawal limits increase |
| 5. | Lucky Days | Invite only |
YYY Casino – Cashbacks, higher deposit limits, and more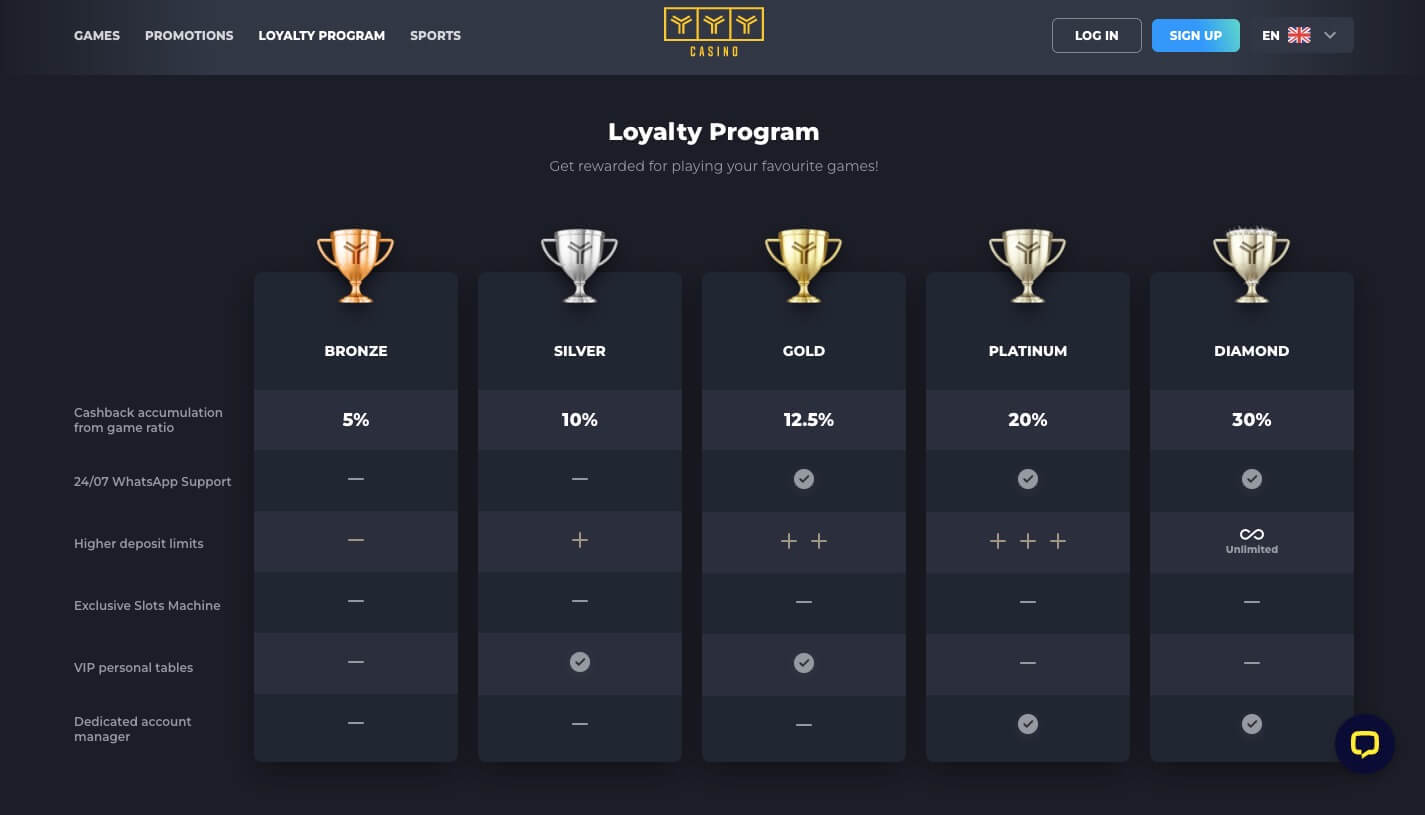 This casino offers a lot of VIP bonuses for dedicated players, including cashback, higher deposit limits, VIP tables, WhatsApp support, and a dedicated account manager on higher tiers. These go from bronze to diamond. Find out more by reading our YYY Casino review.
Dafabet – A lot of promotions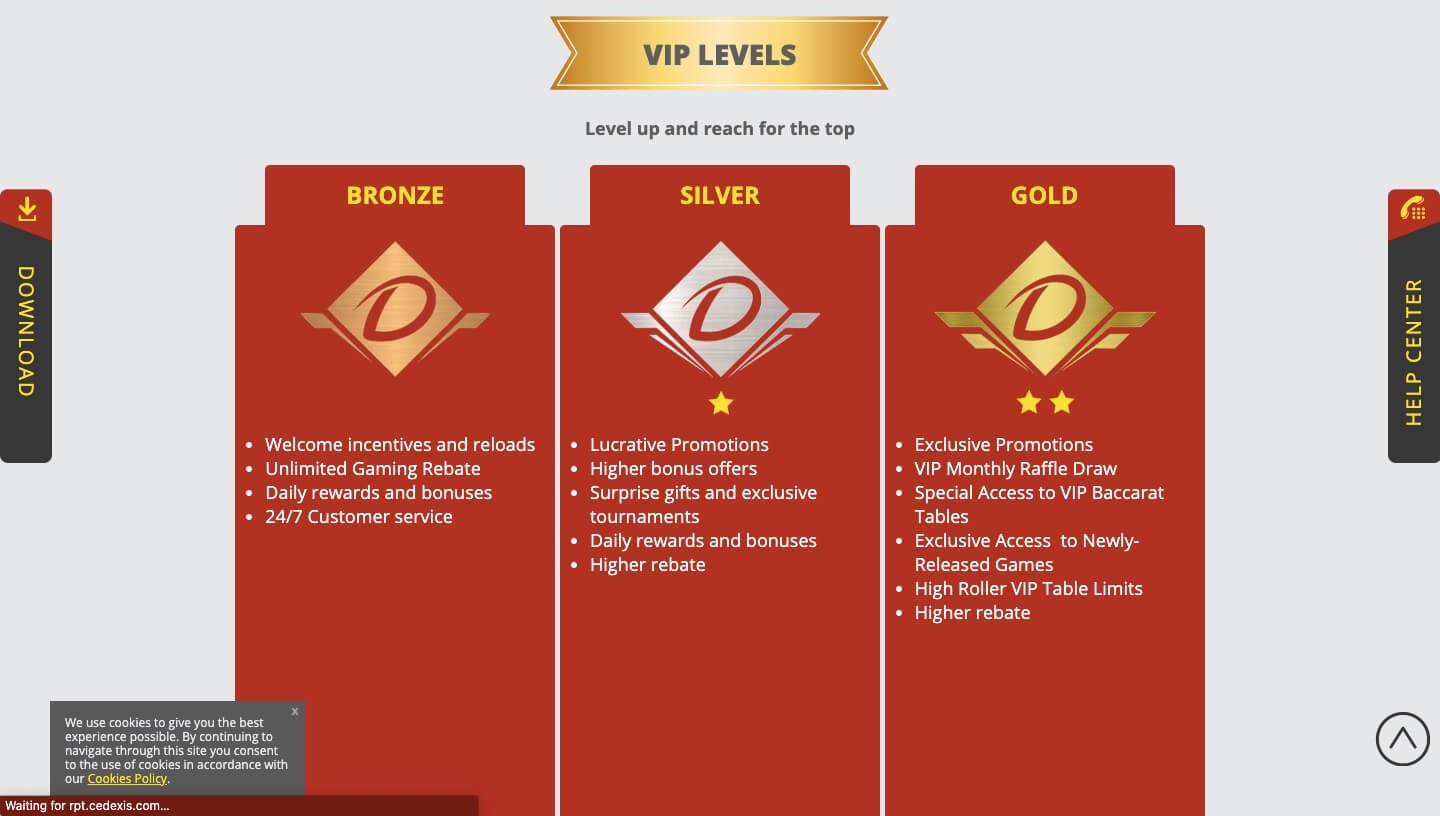 There's a lot going on in the Dafabet VIP program. According to your level, you can get daily rewards, higher bonus offers, exclusive tournaments, raffles, VIP tables, and much more.
BetObet – Various benefits, rewards & tournaments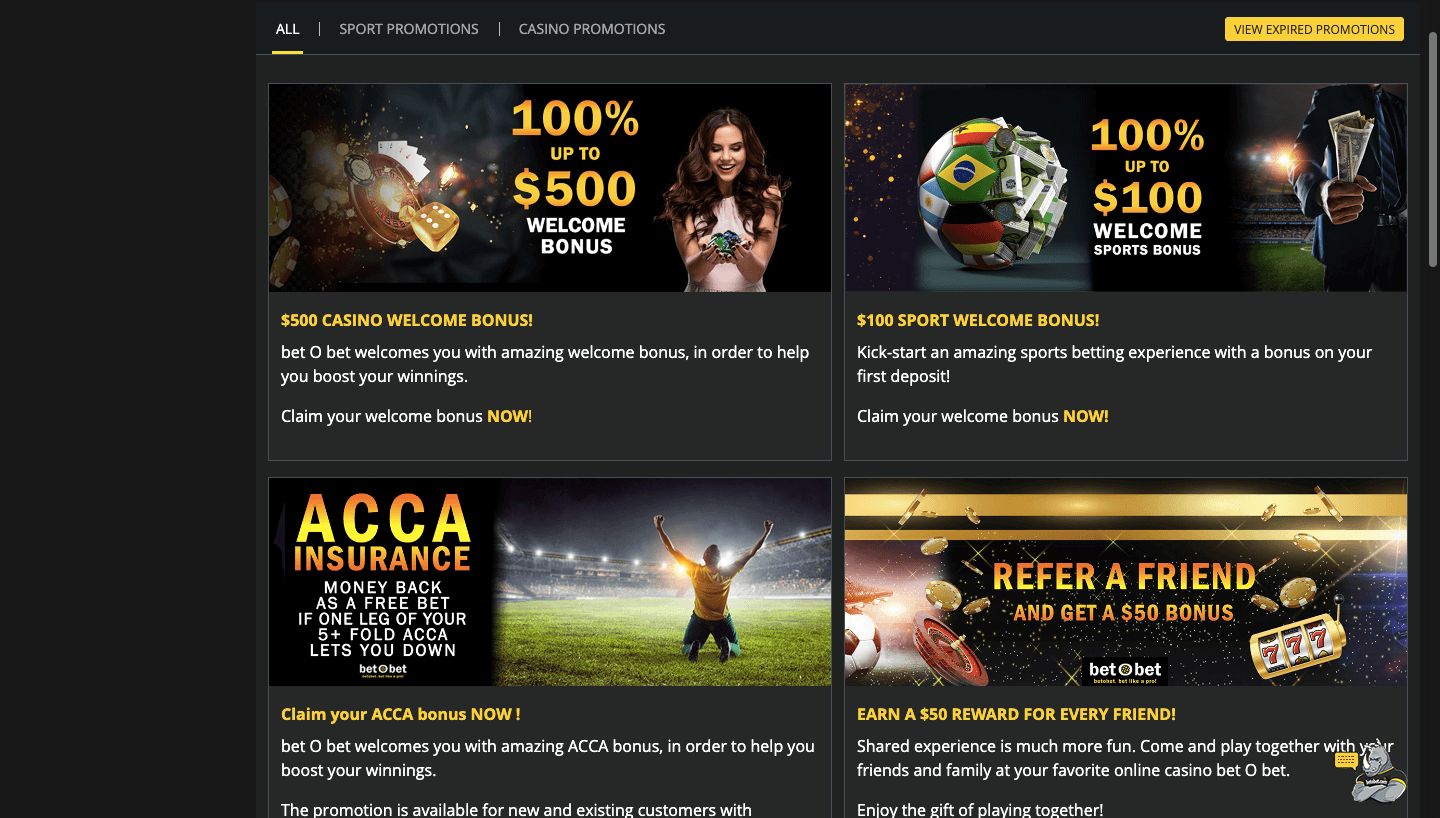 BetObet casino has a VIP program which is by invitation only. If you get invited, you'll find yourself on a Bronze, Silver, or Gold level. Each comes with special bonuses, higher withdrawal limits, and perks like priority customer support.
Rabona – More withdrawal amounts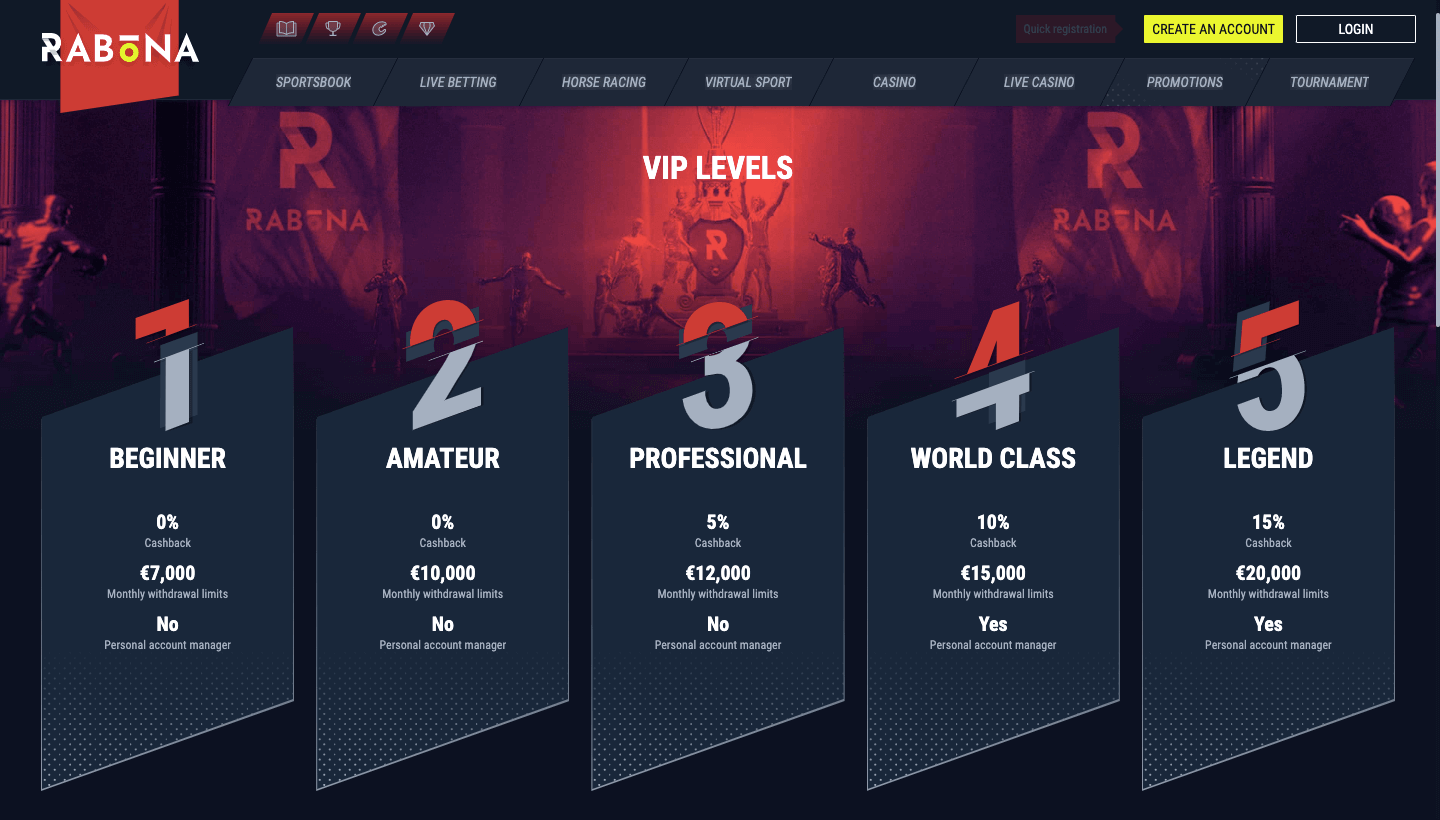 This VIP casino's five-tiered loyalty scheme progressively focuses on higher cashback and monthly withdrawal limits. The top tiers also offer a personal manager.
Check out our Rabona casino review to find out more.
Lucky Days – Invite only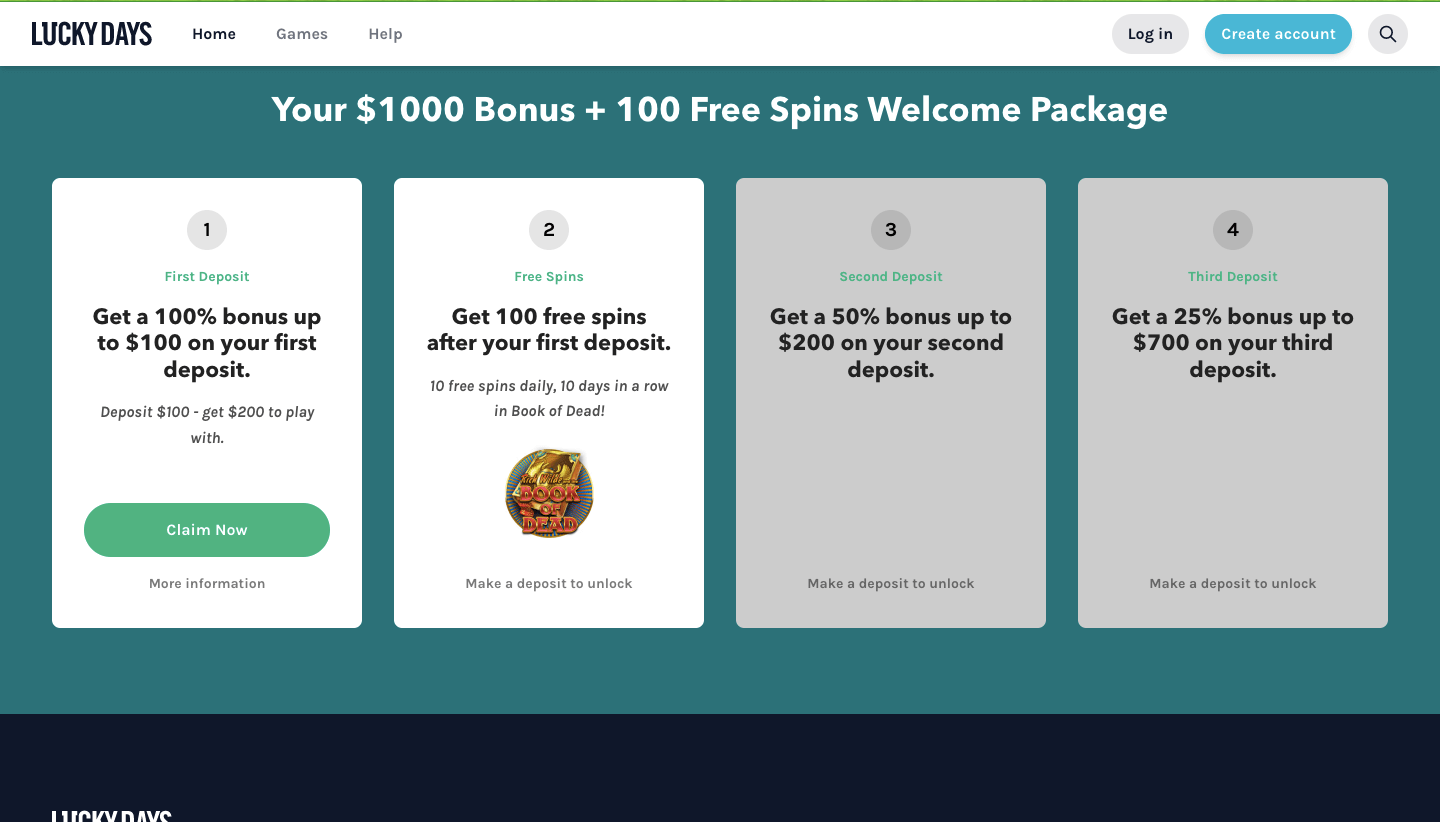 Lucky Days is another casino with an invite-only VIP scheme. If you're a high-roller, the support staff may reach out to you to offer special perks like exclusive offers and a personal account manager.
What Is A VIP bonus?
In short, VIP casino bonuses are rewards offered to players who enjoy games regularly.
Are VIP bonuses legal in the United Arab Emirates?
Even though gaming in itself is not permitted in the United Arab Emirates, online casinos operate from other jurisdictions catering to UAE players. Since these are located outside the UAE, they're free to offer VIP bonuses.
These casinos are usually regulated by authorities like the Malta Gaming Authority and Curacao. These authorities check that games are fair and the casinos are safe.
Don't forget to play responsibly and manage your bankroll accordingly. If you feel you're having gambling problems, please check organizations such as BeGambleAware for help.
How does a VIP bonus work?
The way these bonuses work varies from casino to casino, but they all share something in common: you play more, you get more bonuses.
Just by registering, you're participating in a loyalty program in some casinos; in others, it's by invitation only. You collect points by gambling, and when you reach a certain level, you get different bonuses, such as cashback or better withdrawal conditions, to name a few.
Can I win money with VIP bonuses?
Yes. For example, there might also be exclusive tournaments where you can participate for major prizes exclusive to VIP players. Additionally, some casinos like Dafabet offer raffles for VIPs only.
Benefits of Being a VIP Player
Of course, it's always better to be a VIP than not to be one. Here are some of the perks that come with it.
Deposit bonus with a huge amount
Many online casinos give you generous welcome bonuses, such as 100% of your deposit in bonus cash. However, if you're part of a VIP scheme, you'll sometimes get access to regular deposit match bonuses.
Higher deposit limits
When you first start at a casino, you usually have some limit on your deposits. These can be daily, weekly or monthly. If you join a VIP casino, you can get a higher deposit limit, as is the case with YYY Casino.
VIP Club membership
By participating in the loyalty scheme, you're a VIP club member granting you many benefits. Some clubs are more restrictive than others, and rewards are usually more interesting when this happens. However, that means the amounts you must wager are higher, too.
Special events, tickets, and other personal gifts
VIP bonuses are granted in all VIP casinos, but some casinos go the extra mile and offer extra incentives such as personal managers, invitations to real-life events, and more.
Exclusive tables for high rollers
If you're a VIP player, you can sometimes expect the availability of exclusive tables of popular live casino games such as poker, roulette, baccarat, blackjack, and others. One of the differences from the tables you can find in the regular casino is higher wagering options.
You might also get special features such as unique side bets or bonuses not found on the regular versions.
VIP Casino Bonuses vs. Other Bonuses
What is better, VIP bonuses or regular ones? Check the table below for some comparisons with typical VIP casino bonuses and others.
| | VIP Casino Bonus | Cashback | Welcome Bonus | No Deposit Bonus |
| --- | --- | --- | --- | --- |
| Exclusive features | ✔ | ✘ | ✘ | ✘ |
| Get money back | ✔ | ✔ | ✘ | ✘ |
| Higher withdrawal limits | ✔ | ✘ | ✘ | ✘ |
| Free Spins | ✔ | ✘ | ✔ | ✔ |
| Tournaments | ✔ | ✘ | ✘ | ✘ |
How to Reach the VIP Player Level
While it depends on each casino, below you'll find some information on how to become a preferred VIP player in most casinos.
Be a high-roller
High-rollers are very sought after by online casinos, so they're pampered with special features. Those casinos that operate by invitation usually look at the bet size, among other factors, when choosing potential VIP candidates.
Another hint when it comes to high-roller-preferred casinos is your deposit size. The bigger it is, the more you get the casino's attention to be selected.

Even in typical loyalty schemes, being a high-roller means you'll be going up the ladder faster, getting more and better bonuses along the way.
Be a constant small player
Another option to get into a VIP scheme is to play regularly. By just doing this, you'll accumulate points in any VIP program that lets you get nice rewards. Consistency is key when you're betting low since you'll accumulate points slowly over time.
The same goes for small deposits. If your deposits are small but regular, it gets noticed, too. This is good news since it means you don't need to bet a lot of money to get VIP casino bonuses.
You'll be a VIP if you're loyal to the casino
In the end, casinos want you to spend all your money with their platform and not the competition. This means that if you play regularly, you'll very likely join their VIP ranks soon enough.
Remember that being a VIP is a perk and not a must. Don't use it as a reason for gambling; always gamble responsibly.
How to Use a VIP Bonus
The first thing you need to check is whether you are eligible. This means checking the terms and conditions of the loyalty program.
If you are eligible, casinos offer different ways for you to get VIP bonuses. You may need to contact customer support in some cases. Since it depends on each casino, the best course of action is to check with the casino support team.
When to use the VIP bonus
They say there's no better time than now, and it can also be good advice for VIP casino bonuses. You can start benefiting from certain milestones as soon as you reach certain milestones, so it's recommended you activate them as soon as possible.
How to withdraw wins with a VIP bonus
When you're taking advantage of a VIP reward, you generally don't need to perform any extra steps. All you need to do is use the withdrawal function in the cashier section of your casino.
How to Choose the Best VIP Program For You
Not all casinos offer the same benefits; you'd be wise to analyze everything before joining. Here are some ideas on what to check:
Withdrawal limits
If you're on a VIP program, it means you play regularly or make high-value bets. In either case, the regular withdrawal limits might be too restrictive. It's key that the casino offers better withdrawal limits for VIP players.
Payment methods
Be mindful of checking each promotion's supported payment methods. If there's a bonus that works only with a certain method you don't use, you won't be able to take advantage of it.
Loyalty requirements
On top of wagering, some casinos also request a certain period to pass since you started being their customer. Check if this applies in your preferred casino, and if yes, how long you need to wait to be considered.
Variety of gifts
Some rewards look great, such as free tickets or access to events. But what if you don't care for those and would prefer better cashback? Consider the offerings before deciding.
Amount of the Bonus
It's not sufficient that a potentially good VIP bonus is advertised. You need to check exactly "how" good it is. For example, cashback can vary. Additionally, the higher the offer, the higher your own deposits usually need to be.
Available games with VIP Bonuses
Checking what games are available whenever you're granted a bonus is critical. This is because it won't do you any good if they offer great live table bonuses and you just like playing slots.
Solutions for Common Issues
Sometimes you'll run into issues when you're on a loyalty scheme. Here are some examples and what to do.
I'm eligible, but I didn't get anything
The first thing to do is to check whether you need to opt in or if there's a code you need to activate. Otherwise, you may need to ask customer support to consider you.
The VIP bonus is not working
There's a good chance that either the game you're playing doesn't apply for the promotion or your payment method is not eligible. Double-check the terms and conditions.
Frequently asked questions
If you're in the United Arab Emirates and you were able to join the casino, you can participate in its loyalty scheme.
No, this is typically free in most online casinos. You do need to wager regularly to become a part of the VIP list, though, if it's invite-only.
You need to check with your casino since not all games might be covered, and some game types contribute differently to the points you earn.
Many loyalty schemes grant you access to a personal manager on higher tiers.
Author
Casino Expert
Raguia is the Content Writer for the UAE market. She has been a writer since the early 2000s, specializing first in journalism, then social media and now content writing. She likes to follow casino trends and stay up to date with the ins and outs of the gaming industry. She plans her next trip if she isn't trying, testing and reviewing casinos. She speaks five languages, has visited 37 countries, and will keep travelling while playing online.