What You'll Find in this Aviator Crash Game Review
We've left no stone unturned in our quest to provide you with the most comprehensive Aviator review. We've tested the crash game extensively, exploring its features, gameplay, and betting strategies.

Here's what we've covered:
Game statistics, including min/max bet, max win, RTP, and features
Detailed explanation of the game's mechanics
Our personal opinion on the game's graphics and sound
Step-by-step guide on how to play the game
Solutions for potential issues
Suggestions for similar games
Aviator Statistics

Before we dive into the gameplay, let's take a look at some key statistics of the Aviator:
AVIATOR STATS
Min bet: $0.01
Max bet: $100
Max win: Variable
RTP: 97%
Autoplay: ✅
Free Play: ✅
Features: Auto Cashout, Live Bets, Live Statistics, In-game Chat
Min/Max Bet, Max Win

Aviator allows a minimum bet of $0.01 and a maximum bet of $100, providing a wide range for players of all budgets. The max win is variable, depending on when you decide to cash out before the plane crashes.
RTP
With an impressive RTP of 97%, Aviator offers a high return to players, making it a potentially rewarding choice for gamblers.
Autoplay Option
The Autoplay feature in Aviator allows you to set the system to automatically place bets, providing a convenient option for those who prefer a hands-off approach.
Enjoy a unique game experience!
The Aviator game delivers a thrilling gambling encounter. The remarkable RTP of 97% significantly enhances the attainability of victory, while the convenient autoplay feature adds an extra layer of convenience.
Game Features
Aviator crash game comes packed with several exciting features:
Auto Cashout: This feature allows you to set a predetermined cashout point, automating the cashout process.
Live Bets: You can view the live bets of other players, adding an extra layer of excitement to the game.
Live Statistics: This feature provides real-time statistics, helping you make informed betting decisions.
In-game Chat: Connect and strategize with other players using the in-game chat feature.
Aviator Graphics & Sound
| | |
| --- | --- |
| Graphics | Simple yet effective, creating an immersive gaming environment |
| Optimized for Mobile | 👍 |
| Music | The sound effects add to the tension and excitement of the game, enhancing the overall gaming experience. |
| Special features | Auto cash-out |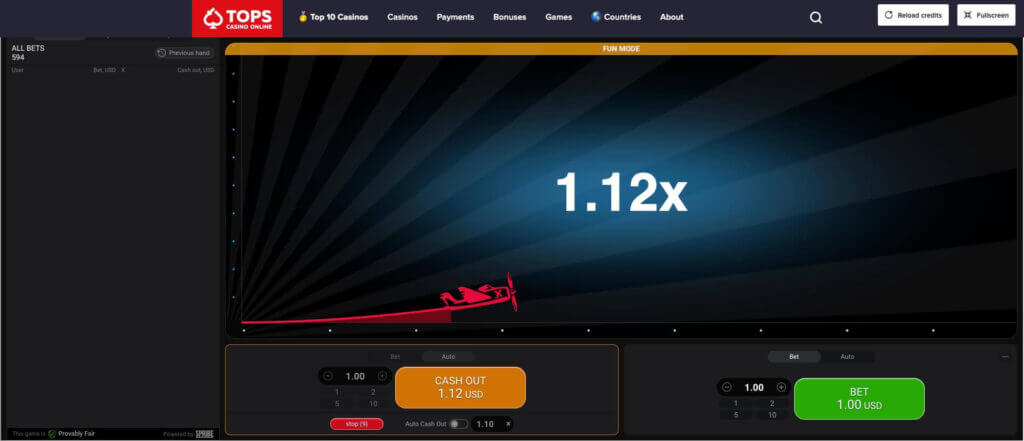 Aviator's graphics and sound seamlessly blend
The graphics and sound of Aviator work together to create an immersive and thrilling gaming experience. The simplicity of the graphics allows for an easy understanding of the game, while the sound effects add a layer of excitement and tension.
How to Play Aviator

Playing Aviator is simple and straightforward. Here's a step-by-step guide:
Register at an online casino that offers Aviator.
Select the amount you wish to bet.
Place your bet and watch the plane's trajectory.
Decide when to cash out before the plane crashes. The higher the plane goes, the higher your potential winnings.
If you cash out before the plane crashes, you win!
Solutions if You Have Some Issues with the Game
If you encounter any issues while playing Aviator, here are some solutions:
Should your gameplay be disrupted, fear not – a simple session restart allows you to dive back into the game round.
Should the replay option fall short of your needs, the online casino's dedicated support team stands ready to assist.
In the unlikely event of gaming hardware or software glitches, rest assured that any impacted bets and payouts will be nullified, with refunds promptly issued for all affected wagers.
Soaring High with Aviator
In conclusion, Aviator offers a unique and thrilling gambling experience. With its high RTP, exciting features, and simple gameplay, it's a game that can provide both entertainment and potential rewards. Whether you're a seasoned gambler or a newbie, Aviator is worth a try.
Other Crash Games to Play if You Like Aviator
Frequently asked questions
Aviator Crash Game is a popular online gambling game where players bet on the trajectory of a plane. The goal is to cash out before the plane crashes.
To play Aviator Crash Game, you need to place a bet, watch the plane's trajectory, and decide when to cash out before the plane crashes.
The RTP of Aviator Crash Game is 97%.
Yes, Aviator Crash Game is optimized for mobile play.
Some similar games to Aviator Crash Game include Bitcoin Crash Game, Ether Crash Game, and Bustabit.
If you encounter any issues while playing Aviator Crash Game, you can try replaying the game round, contacting the online casino's support team, or in the case of a malfunction, your bets and payouts may be refunded.
Author
Casino Expert
Raguia is the Content Writer for the UAE market. She has been a writer since the early 2000s, specializing first in journalism, then social media and now content writing. She likes to follow casino trends and stay up to date with the ins and outs of the gaming industry. She plans her next trip if she isn't trying, testing and reviewing casinos. She speaks five languages, has visited 37 countries, and will keep travelling while playing online.