BC.Game Review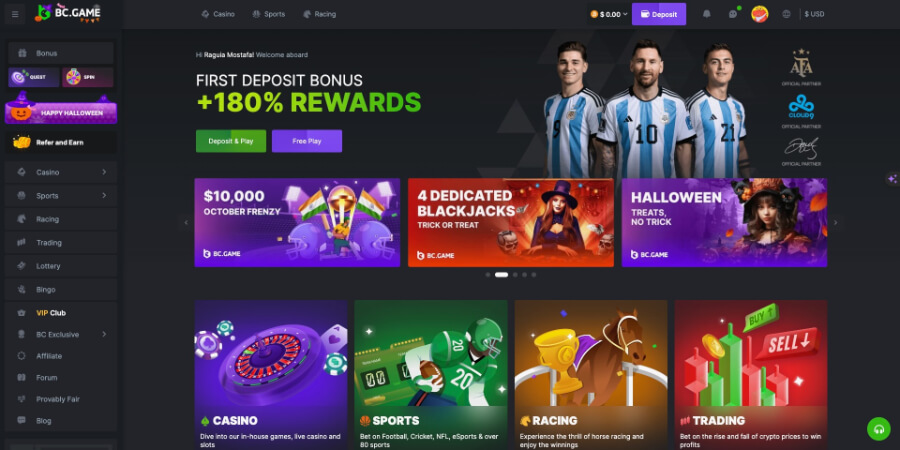 Embarking on a journey through BC.Game Casino, we meticulously scrutinised every corner to unveil its true essence. Our exploration was systematic, focusing on safety, licensing, bonus offerings, user experience, and various other critical aspects to provide a comprehensive insight into the crypto casino's environment.
It's vital for Emirian players to check the casino reviews before they choose a UAE Casino to play in. Here's how we reviewed BC.Game:
BC.Game Casino licensing, safety and trustworthiness
Navigating through the virtual halls of BC.Game, one is met with a sense of security and transparency. The casino operates under a licence from Curacao, ensuring a regulated gaming environment.
BC.Game Casino – Complete list of Licences
Curacao (Commercial register of Curaçao no.158182, Emancipatie Boulevard Dominico F. "Don" Martina 31, Curaçao)
What makes BC.Game Casino safe
Safety of funds: Enhanced by the robustness of blockchain technology.
Security of personal information: Fortified with two-factor authentication.
Fairness of games: Ensured by certified RNG mechanisms.
BC.Game Awards and Recognitions
Crypto Casino of the Year at Sigma Award 2022
AIBC Blockchain Gaming Platform of the Year for 2022
A Fortress of Security and Fair Play
BC.Game Casino manifests a strong commitment to providing a secure and fair gaming environment. The recognitions and awards stand as a testament to its credibility and excellence in the crypto casino realm.
Welcome offers and Promos – Grab a Bonus at BC.Game Casino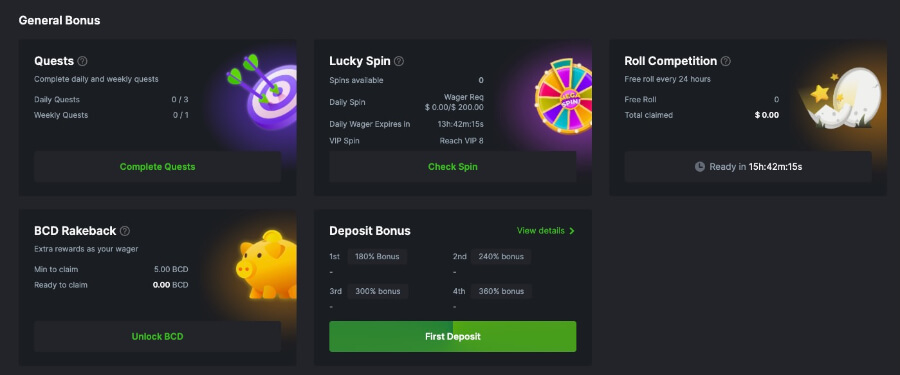 BC.Game welcomes its players with a cascade of casino bonuses and promotional offers, ensuring an enriched gaming experience from the onset.
BC.Game New Player Bonus
New players are greeted with a generous 180% match welcome bonus of up to $20,000, enhancing the initial gaming experience. All this can be yours with just a minimum $30 deposit, and you can even push up the match bonus to 300% if you manage to make your first deposit within 7 minutes of completing registration. This welcome bonus offer comes with a 40x wagering requirement.
BC.Game Free Spins Offer
Daily free spins are a constant delight, allowing players to explore the casino's diverse range of slots without any deposit requirements.
BC.Game No Deposit Bonus
Currently, BC.Game Casino does not offer a no deposit bonus. However, the plethora of other bonuses compensate for this absence.
BC.Game Cashback Bonus
A 'Rakeback' bonus is available as their cashback bonus, allowing players to regain a portion of their wagers, enhancing the sustainability of the gaming experience.
BC.Game Promotions and Tournaments
Regular tournaments and promotions keep the gaming environment vibrant, offering players numerous opportunities to amplify their winnings.
BC.Game VIP Programme
BC.Game Casino rolls out the red carpet for its regular players through its exquisite VIP and SVIP programmes. The casino's VIP club is a realm of luxury, offering a cascade of rewards that flow as players immerse themselves in real money games.
The structure of the VIP programme is meticulously tiered, ensuring that each wager contributes to a delightful ascent through the levels of exclusivity. Each level grants you a different kind of VIP Bonus.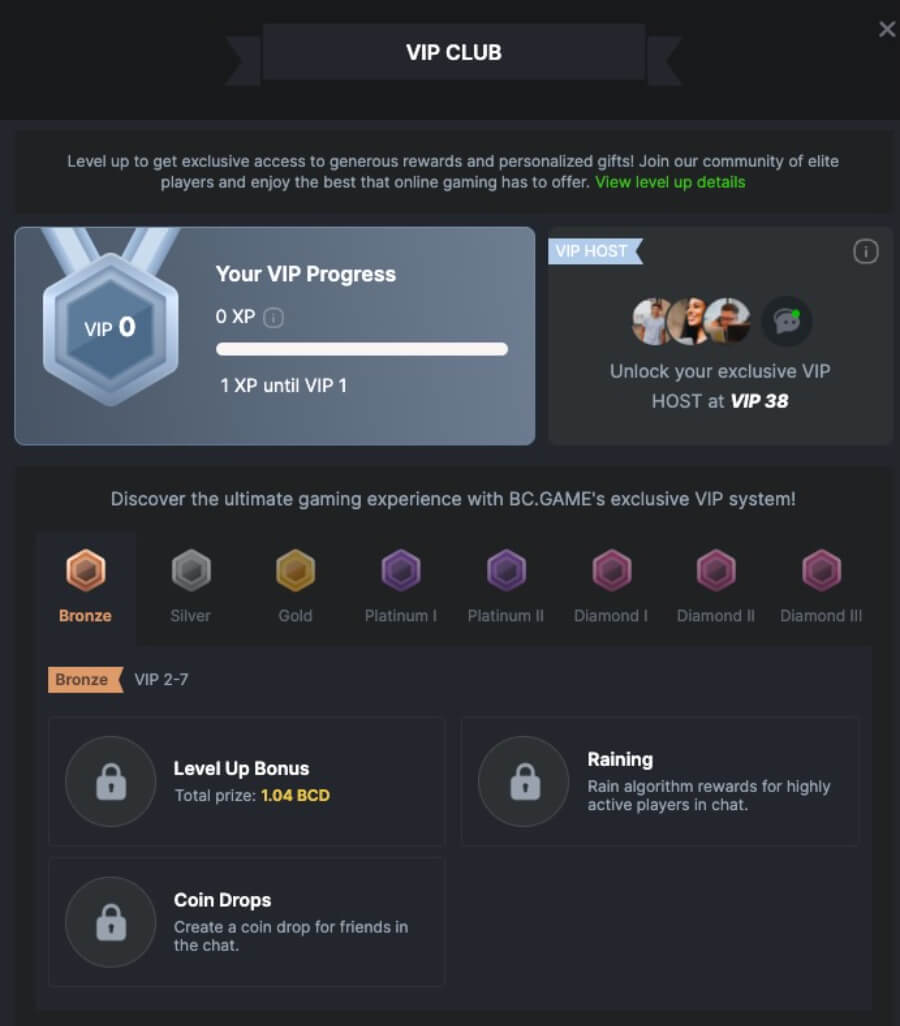 | VIP Level | VIP Benefits |
| --- | --- |
| Bronze card (1-7) | Daily complimentary coins, access to hidden treasures, dedicated VIP host |
| Silver card (8-21) | Daily complimentary coins, access to hidden treasures, dedicated VIP host |
| Gold card (22-37) | Daily complimentary coins, access to hidden treasures, dedicated VIP host |
| Platinum card (38-69) | Daily complimentary coins, access to hidden treasures, dedicated VIP host |
| Diamond card (SVIP 1-SVIP 33) | All VIP benefits, SVIP Genie In A Bottle, The SVIP Code, SVIP Trips, SVIP Life Is Suite, SVIP Party |
A Symphony of Luxury and Rewards
BC.Game Casino's VIP programme is not merely a programme; it's a curated experience that makes every wager a step towards a realm of exclusive benefits and royal treatments. The SVIP levels, in particular, are a symphony of extraordinary perks, playing the tunes of global trips and opulent hotel suites.
How to register a new account with BC.Game?
Embarking on your gaming journey with BC.Game Casino is a breeze. A simple and swift registration process awaits, where entering basic details unveils a realm of gaming excellence. The entire procedure is streamlined, ensuring that you can dive into the action in no time.
Documents and information you need to share with BC.Game Casino to open an account
To ensure a secure gaming environment, BC.Game may require certain documents for account verification. Here's a list of potential documents that you might need to provide:
Valid Email Address
Unique Password
Personal Details (such as name and contact information)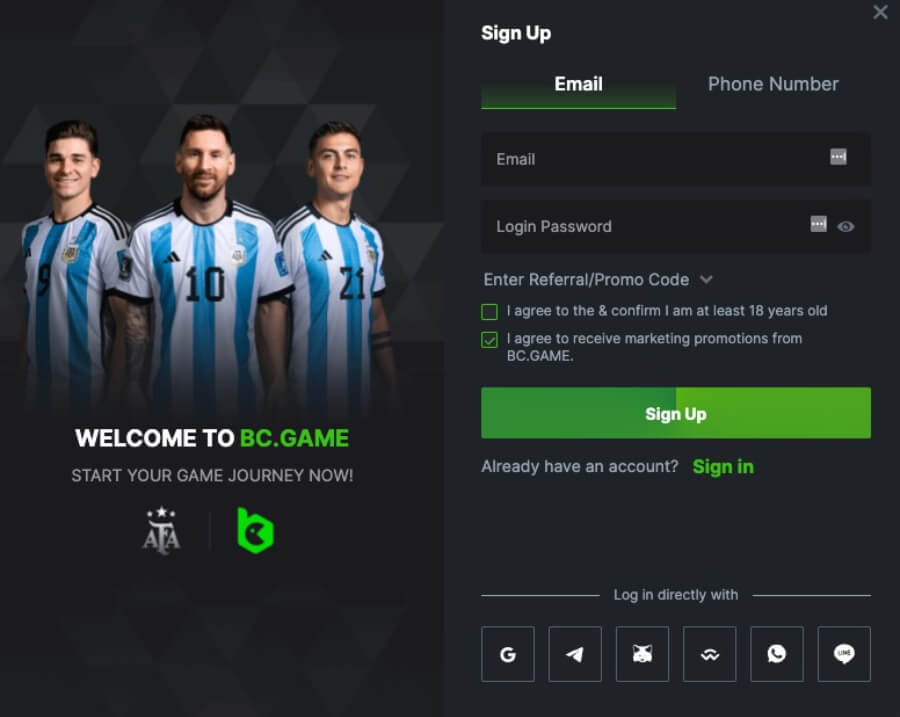 Seamless Registration for an Enhanced Gaming Experience
BC.Game Casino simplifies the entry into its gaming universe with a straightforward registration process. The minimalistic approach, requiring only essential information, ensures a hassle-free start, allowing players to quickly immerse themselves in the gaming offerings. The clarity in the documentation required further solidifies the casino's commitment to providing a user-friendly experience.
BC.Gaming Payment methods
BC.Game Casino offers a variety of payment methods, ensuring flexibility and convenience for its players. From traditional fiat currencies to a wide array of cryptocurrencies, the casino accommodates various preferences for deposits and withdrawals. Players may only use fiat currencies to buy Cryptocurrencies and use them to play.
Diverse Payment Options for Enhanced Flexibility
BC.Game Casino excels in providing a multitude of payment options, catering to a diverse range of player preferences. The inclusion of various cryptocurrencies alongside traditional payment methods signifies a modern approach, ensuring that every player finds a convenient way to manage their funds. This flexibility enhances the overall gaming experience, allowing players to focus more on enjoying the games.
Cryptocurrencies available at BC.Gaming
BC.Game Casino stands out as a cryptocurrency haven, offering a vast array of digital currencies for transactions. With 86 different cryptocurrencies available, the casino ensures that players have immense flexibility and a wide range of options when it comes to deposits and withdrawals.
| Cryptocurrency | Min Deposit | Max Withdrawal | Average Deposit Time | Average Withdrawal Time |
| --- | --- | --- | --- | --- |
| Bitcoin (BTC) | N/A | Changes with VIP level | 5 – 10 minutes | 10 min -24 hrs |
| ETH | N/A | Changes with VIP level | 5 – 10 minutes | 10 min -24 hrs |
| USDT | N/A | Changes with VIP level | 5 – 10 minutes | 10 min -24 hrs |
| XRP | N/A | Changes with VIP level | 5 – 10 minutes | 10 min -24 hrs |
| DOGE | N/A | Changes with VIP level | 5 – 10 minutes | 10 min -24 hrs |
| TRX | N/A | Changes with VIP level | 5 – 10 minutes | 10 min -24 hrs |
| LTC | N/A | Changes with VIP level | 5 – 10 minutes | 10 min -24 hrs |
| XLM | N/A. | Changes with VIP level | 5 – 10 minutes | 10 min -24 hrs |
| POT | N/A | Changes with VIP level | 5 – 10 minutes | 10 min -24 hrs |
| USDC | N/A | Changes with VIP level | 5 – 10 minutes | 10 min -24 hrs |
A Cryptocurrency Oasis in the Online Casino Desert
BC.Game Casino is a trailblazer in cryptocurrency gaming, offering a remarkable variety of digital currencies for transactions. This vast array of options not only enhances flexibility but also makes the casino a standout choice for crypto enthusiasts. The casino's approach aligns perfectly with modern trends, ensuring players can transact with their preferred cryptocurrencies, enhancing convenience and user experience.
Games you can play at BC.Game
BC.Game offers an extraordinary array of games, ensuring every player finds something that suits their taste. From slots to table games, and crypto-centric titles that include Crash Games, BC.Game boasts one of the most diverse game portfolios for Emirati casino players.
Dive into a world of over 10,000 titles and find your favourite casino game today.
Exclusive Games and Branded Tables
BC.Game stands out with its exclusive games and branded tables, offering unique gaming experiences you won't find anywhere else. Titles such as Tower Legend and Cave of Plunder are exclusive to BC.Game, ensuring that players have access to unique content that sets the casino apart from the rest.
Recommended slots you can play at BC.Game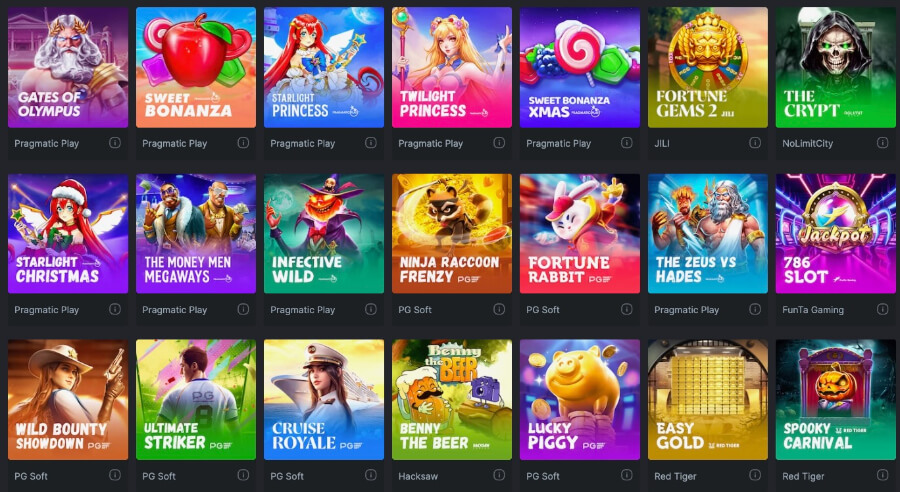 BC.Game boasts a variety of slot games that promise excitement and substantial rewards. Players can discover anything in the range of Megaways, Hold and Win games, Progressive Jackpots, and Bonus Buy Slots.
UAE casino players can explore new slot titles as well as classic ones. Here are some recommended slot games:
Exquisite live dealer table available in BC.Game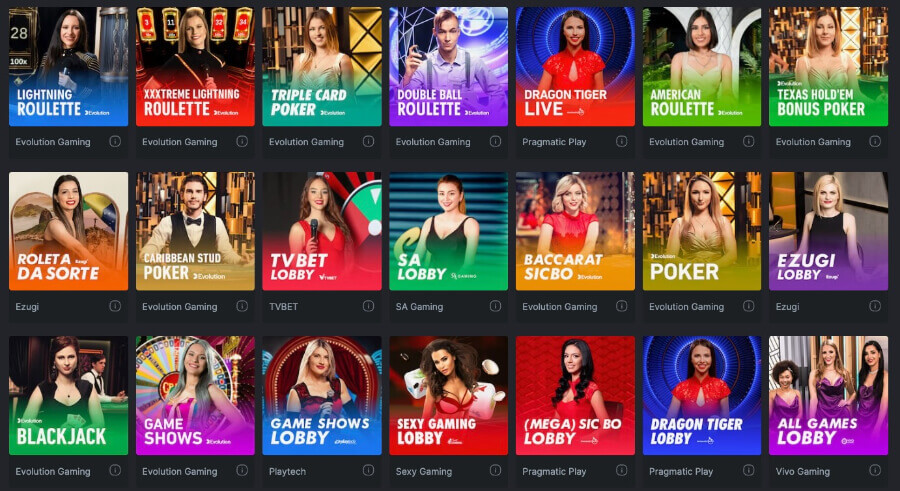 Experience the thrill of a real casino with BC.Game's live dealer tables. With offerings from renowned providers like Evolution Gaming and Pragmatic Play, players can indulge in an immersive live casino experience with games like Lighting Baccarat and VA Roulette.
Game Shows you can play in BC.Game
BC.Game brings the excitement of live game shows to your screen. Engage in lively games like Dream Catcher and Spin-to-Win, where the thrill of the game show experience is recreated with high energy and substantial rewards.
Popular Game Providers BC.Game works with
BC.Game collaborates with some of the most reputable game providers in the industry, such as Microgaming, NetEnt, and Play'n GO. These partnerships ensure that players have access to a diverse range of high-quality games, enhancing the gaming experience.
A Diverse Gaming Experience at BC.Game
BC.Game offers a diverse and extensive gaming library that caters to all types of players. The exclusive games and branded tables are a unique feature that sets the casino apart, providing a unique gaming experience. The collaboration with top game providers ensures a high-quality gaming experience, making BC.Game a top choice for casino enthusiasts.
Time to collect your winnings? Here's How to withdraw your money from BC.Game
Withdrawing your winnings from BC.Game is a straightforward process, ensuring that Emirati players can easily access their earnings. The casino offers various withdrawal methods, including cryptocurrencies, to cater to different preferences.
Step-by-step guide on how to withdraw from BC.Game
Go to 'My Wallet': Access your wallet from the dashboard where you manage your funds.
Select 'Withdraw': Choose the withdrawal option to initiate the process.
Choose Currency: Select the currency you prefer for the withdrawal, whether it be EUR or cryptocurrencies.
Enter Amount: Specify the amount you wish to withdraw.
Complete Verification: Follow the verification process, which may include 2FA (Two-Factor Authentication) or other security measures.
Confirm and Process: Confirm the details and process the withdrawal. Your funds will be transferred to your specified account.
Step-by-step guide on how to withdraw cryptocurrencies from BC.Game
Access 'My Wallet': Navigate to your wallet from the main dashboard.
Choose 'Withdraw': Opt for the withdrawal function to start the process.
Select Cryptocurrency: Choose the cryptocurrency you want to use for the withdrawal.
Input Wallet Address: Provide the address of your cryptocurrency wallet.
Specify Amount: Enter the amount of cryptocurrency you wish to withdraw.
Verify Transaction: Complete the necessary verification steps, such as 2FA.
Confirm and Withdraw: Confirm all details and finalise the withdrawal. The cryptocurrency will be sent to your wallet.
Other important information to know when withdrawing
Ensure you are aware of the minimum withdrawal amounts and any other rules or conditions that may apply. You can find detailed information regarding withdrawals, including terms and conditions, on BC.Game's official website.
Ease of Withdrawal at BC.Game
BC.Game offers a seamless withdrawal process, a significant advantage for Emirati players. The option to withdraw cryptocurrency earnings is a commendable feature, catering to the modern, tech-savvy player. The clear and straightforward steps, coupled with robust security measures such as 2FA, enhance the overall user experience, making the withdrawal process at BC.Game efficient and reliable.
BC.Game's Customer Support
BC.Game offers a comprehensive customer support system, ensuring players receive timely assistance and support through various channels.
| | | |
| --- | --- | --- |
| | Contact: | Average Answer Time |
| email | [email protected] | Two hours |
| phone | NA | NA |
| live chat | Available on website | Five Seconds |
| Twitter | NA | NA |
| Facebook | NA | NA |
Languages Supported
Customer support at BC.Game is currently available in English.
Help Centre
An extensive help centre is available, providing valuable articles and information that cover most aspects of the casino's operations and features.
Other Resources
Additional resources, such as terms of service and detailed guidelines, are provided to assist players further.
Efficient and Responsive Customer Support
BC.Game offers efficient customer support, with the live chat feature providing almost instant responses. The help centre is also quite comprehensive, offering valuable resources and information to assist players.
The overall play experience in BC.Game
BC.Game provides a sleek and user-friendly online casino experience, boasting an expansive library of up to 10,000 game titles. The casino offers a multitude of bonuses, casino offers and promotions, enhancing the overall player experience.
BC.Game mobile experience
BC.Game does not explicitly detail its mobile gaming experience. Still, given the modern design of the website, it is likely optimised for mobile use, ensuring players can enjoy games on the go.
Sleek Design and User-Friendly Interface
The casino's website is sleek and user-friendly, likely offering an excellent mobile gaming experience, allowing players to easily navigate and enjoy the vast collection of games.
Responsible Gambling in BC.Game
BC.Game is committed to promoting responsible gambling, partnering with organisations like the Crypto Gambling Foundation and the Responsible Gambling organisation to support and promote safe gaming practices.
Strong Commitment to Responsible Gambling
BC.Game shows a strong commitment to responsible gambling, providing tools and partnerships to promote safe and responsible gaming practices among its players.
Spinning into the Crypto Future with BC.Game
BC.Game stands out as a crypto casino with a vast array of games, robust customer support, and a strong commitment to responsible gambling. The casino's extensive use of cryptocurrencies offers a unique and secure gambling experience.
Other casinos to play at if you like BC.Game
Frequently asked questions
BC.Game Casino accepts a wide variety of cryptocurrencies, including but not limited to Bitcoin (BTC), Ethereum (ETH), Litecoin (LTC), and Ripple (XRP), allowing for flexible and secure transactions.
BC.Game operates under a sublicense in Curaçao, ensuring that it adheres to gambling regulations. Additionally, the casino utilizes blockchain technology and offers two-factor authentication, enhancing the security of players' information and transactions.
Currently, BC.Game does not offer a no deposit bonus. However, they offer various other bonuses and promotions, such as deposit bonuses and free spins.
While there isn't specific information about a dedicated mobile app, BC.Game's website is designed to be mobile-friendly, allowing players to access and play games seamlessly on various mobile devices.
BC.Game boasts a vast collection of games, including slots, table games, and live casino games, ensuring a diverse and engaging gaming experience for players.
BC.Game promotes responsible gambling by partnering with organizations such as the Crypto Gambling Foundation and the Responsible Gambling organization. They also provide tools to help players gamble responsibly, such as self-exclusion options.
Author
Casino Expert
Raguia is the Content Writer for the UAE market. She has been a writer since the early 2000s, specializing first in journalism, then social media and now content writing. She likes to follow casino trends and stay up to date with the ins and outs of the gaming industry. She plans her next trip if she isn't trying, testing and reviewing casinos. She speaks five languages, has visited 37 countries, and will keep travelling while playing online.