Rotten review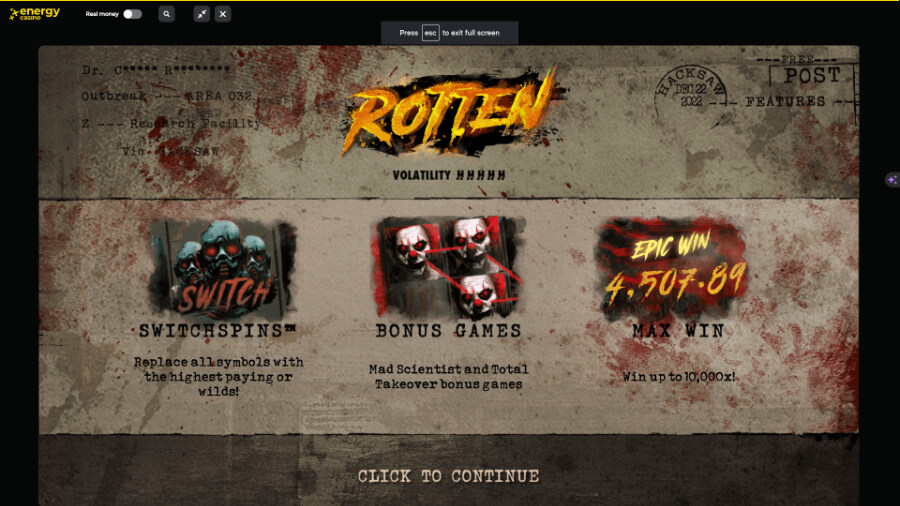 Discover the Hidden Treasures of Decay
The Rotten slot offers a unique blend of mystery and excitement. Its intriguing symbols and innovative features create a captivating gaming experience that keeps players on the edge of their seats, eagerly anticipating the treasures that each spin might unveil.
Rotten Symbols and Payouts
In the Rotten slot game, the symbols are meticulously designed to immerse players in a terrifying zombie-infested fair. The game features a variety of symbols, each with its own unique value and function within the game.
Base Symbols: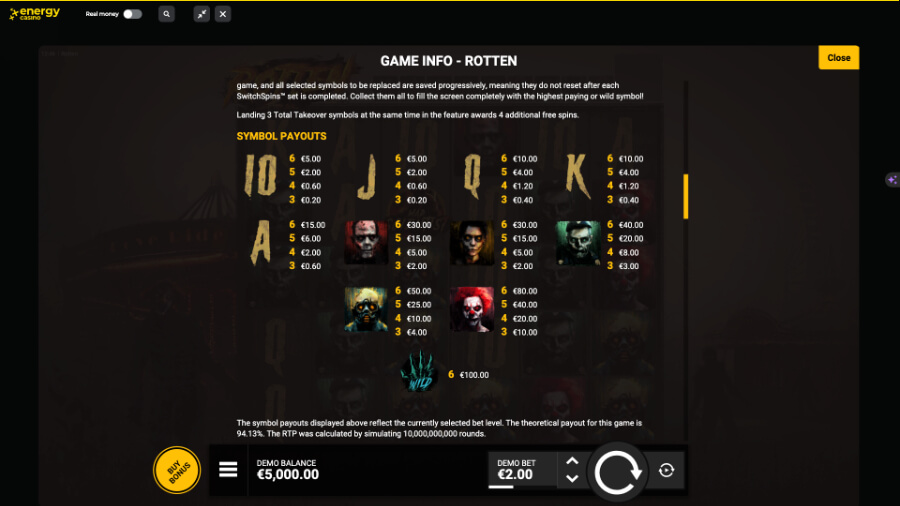 Lower-Paying Symbols: The game includes the traditional playing card symbols 10, J, Q, K, and A, which are the lower-paying symbols. A full line of six matching symbols from this category can pay between 2.5x to 7.5x the bet.
Higher-Paying Symbols: The higher-paying symbols are represented by zombies in various colours and forms. Landing six of these symbols can reward players with payouts ranging from 15x to 40x the bet.
Special Symbols:

Wild Symbol: The Wild symbol, depicted as a stretching hand, can substitute for all other paying symbols, enhancing the potential for winning combinations. A full line of Wilds can pay up to 50x the bet.
Switch Symbol: This symbol activates the SwitchSpins feature, where random symbols are replaced with either the highest-paying symbol or the Wild symbol, increasing the chances of higher payouts.
Mad Scientist Scatter Symbol: Landing three or more of these symbols triggers the Mad Scientist Bonus Game, offering players additional chances to win through free spins and enhanced features.
Total Takeover Scatter Symbol: This symbol activates the Total Takeover Bonus Game, a super bonus feature that increases the chances of landing Switch symbols and accumulating higher payouts.
Rotten Slot special features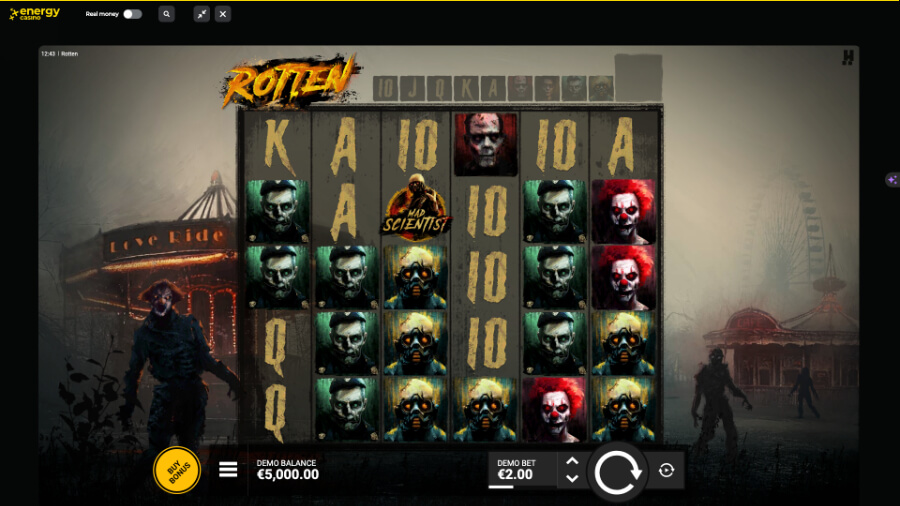 Rotten, a spine-chilling slot game developed by Hacksaw Gaming, invites players into a terrifying amusement park overrun by zombies. This game is not just about surviving the horrors but also about unlocking a crypt of special features that enhance the gameplay experience, making each spin a thrilling adventure.
Free spins
In the gloomy world of Rotten, free spins emerge as a beacon of hope. The Mad Scientist Scatter Symbol triggers a bonus game where players are awarded 10 free spins, increasing the chances of landing the Switch symbols and triggering the Switchspins feature.
This cascade of free spins allows players to dive deeper into the horror-filled amusement park, enhancing their chances of survival with more opportunities to win. For more on free spins, visit the Free Spins Bonuses page.
Bonus Buy
For those eager to confront the terror head-on, Rotten offers a Bonus Buy feature. Players can leap directly into the action, choosing between various options to activate the bonus games or increase the odds of triggering them.
The costs range from 3x to 250x the bet, allowing players to tailor their horror experience based on their bravery and budget. Explore more on this topic on casino bonuses and our casino offers and promotions pages.
Hold and Win
Although Rotten doesn't specifically feature a Hold and Win mechanic, the Switchspins and other bonus features collectively contribute to holding players' attention and increasing winning potential.
Switchspins
Switchspins is a unique feature in Rotten, activated by landing a Switch Scatter symbol. It awards players between 1 to 10 respins, during which random symbols are replaced with either the highest-paying symbol or the Wild symbol, creating a tumultuous atmosphere of unpredictability and excitement.
A Terrifyingly Thrilling Experience
Rotten is a masterful blend of horror and excitement. The game's eerie theme, paired with a multitude of special features, ensures a gameplay experience that is as thrilling as it is terrifying. The Switchspins feature, in particular, stands out, adding a unique twist that keeps each spin unpredictable and engaging.
Rotten Graphics & Sound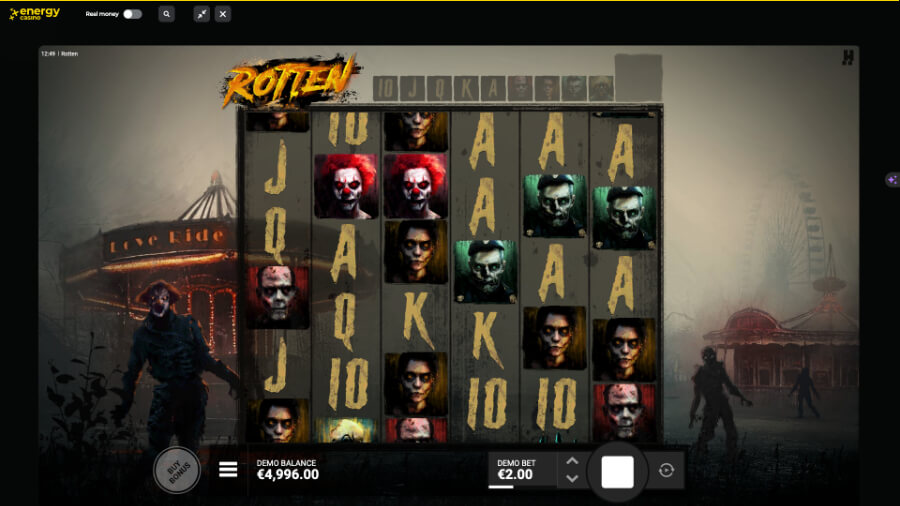 Dive into the apocalyptic world of Rotten where the grim atmosphere of a zombie-infested fair is brought to life with meticulous graphics and immersive sounds. The slot game, developed by Hacksaw Gaming, offers a visually thrilling experience, ensuring every spin is as suspenseful as the last.
Graphics
3D
Optimised for Mobile
👍
Music
Sinister-sounding instrumental piece of music, enhancing the horror theme.
Special features
SwitchSpins mechanic
Mad Scientist Bonus Game
Total Takeover Bonus Game
Bonus Buy Feature
Rotten mobile experience
Rotten ensures a seamless gaming experience across all devices, including mobiles. The game's compatibility with common mobile devices allows players to dive into the horror-filled amusement park anytime, anywhere.
A Thrilling Dive into the Apocalypse
The game's design, filled with grim visuals and a haunting soundtrack, creates a captivating atmosphere that keeps players on the edge of their seats. The innovative features, such as the SwitchSpins mechanic and various bonus games, add a layer of excitement, making the gameplay not only engaging but also rewarding.
Rotten pros & cons
Navigating through the grim world of Rotten, players are met with a blend of exciting advantages and a few drawbacks. Here's a breakdown to guide your gaming experience.
| Advantages | Disadvantages |
| --- | --- |
| ✓ Engaging Zombie Theme | ✗ High Volatility |
| ✓ Innovative Bonus Features | ✗ Bonus Buy Options Can Be Costly |
| ✓ Mobile Compatibility | ✗ Lack of Progressive Jackpot |
| ✓ High RTP of 96.27% | ✗ Might Be Too Grim for Some Players |
| ✓ Max Win of 10,000x Bet | ✗ Limited Symbol Variety |
A Ghoulishly Gripping Game
Rotten offers a uniquely grim yet captivating gaming experience. The innovative features and the high winning potential make it a standout choice for thrill-seekers. However, the high volatility and the somewhat macabre theme might not appeal to everyone, making it a slot that's best suited for those who enjoy high stakes and a haunting atmosphere.
Best Online Casinos to Play Rotten in UAE
Explore the horrifyingly thrilling world of Rotten at some of the best online casinos. Find more options on our Best Online Slots page.
Solutions if you have some issues with a game
Game Interruptions: If Rotten unexpectedly stops or freezes during play, try refreshing the game or restarting your playing session to resume from where you left off.
Support Assistance: For persistent issues or complexities not resolved by simple troubleshooting, reaching out to the customer support team of the casino is advisable for professional guidance.
Technical Malfunctions: In the unfortunate event of a software or hardware malfunction affecting the game's operation, rest assured that all affected bets would be refunded, ensuring fair play and integrity.
Final Verdict: A Spine-Chilling Spin Experience
With a generous RTP and a max win that promises bountiful loot, Rotten ensures that the brave souls who dare to embark on this terrifying adventure are well-rewarded for their courage. However, tread carefully, for the high volatility and the macabre ambience are not for the faint-hearted. Dive in if you dare, and experience the unspeakable horrors and unimaginable rewards that await in the Rotten slot game.
Other slots to play if you like Rotten slot
Frequently asked questions
Playing online slots like Rotten depends on the regulations of the specific emirate you are in. Always ensure you are complying with local laws regarding online gambling.
Most online casinos will allow currency conversions, but it's best to check with the specific casino to ensure AED is accepted or if currency conversion fees apply.
Online casino availability varies based on local regulations. Always choose casinos that are compliant with the laws of the emirate you are in.
The availability of Rotten in Arabic depends on the casino. Many online casinos offer multiple language options, including Arabic.
The minimum bet in Rotten is €0.1, but ensure to check the casino for currency conversion rates and minimum bet limits specific to the UAE.
The RTP of 96.27% and high volatility of Rotten is universal. UAE players should consider these factors to determine if the slot aligns with their risk tolerance and playing style.
Author
Casino Expert
Raguia is the Content Writer for the UAE market. She has been a writer since the early 2000s, specializing first in journalism, then social media and now content writing. She likes to follow casino trends and stay up to date with the ins and outs of the gaming industry. She plans her next trip if she isn't trying, testing and reviewing casinos. She speaks five languages, has visited 37 countries, and will keep travelling while playing online.