Blood Suckers review
Welcome to our comprehensive review of the Blood Suckers slot game. This vampire-themed slot from NetEnt has been a fan favorite since its release in 2009, thanks to its high-quality graphics, chilling audio effects, and exciting gameplay. The game is offered at EnergyCasino. Let's delve deeper into its features, payouts, and overall gaming experience.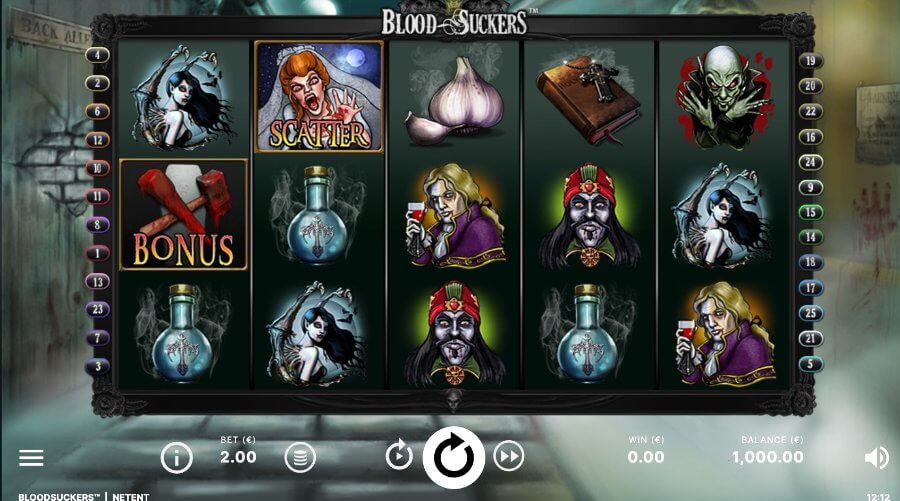 What you'll find in this Blood Suckers Review
In our comprehensive review, we leave no stone unturned. We've examined the game's symbols, betting range, RTP, volatility, hit frequency, jackpot, and special features. We've also tested the game extensively to provide you with an accurate and detailed review. Here's what we've covered:
For more slot reviews, visit our online slots page.
Play Blood Suckers with the best bonus
Ready to take on the vampires? Check out our offers and promotions page for the best bonuses to boost your gameplay.
Blood Suckers Symbols & Payouts
Blood Suckers offers a variety of symbols, each with its own unique payout. From Count Dracula to holy water and garlic, each symbol adds to the game's eerie atmosphere.
The symbols
The game features a variety of symbols, including Count Dracula, Jonathan, Mina, and Renfield, along with holy water, a bible, a crossbow, garlic, and fangs. The Vampire bite, Wooden stake, and Vampire bride act as the Wild, Bonus, and Scatter symbols, respectively.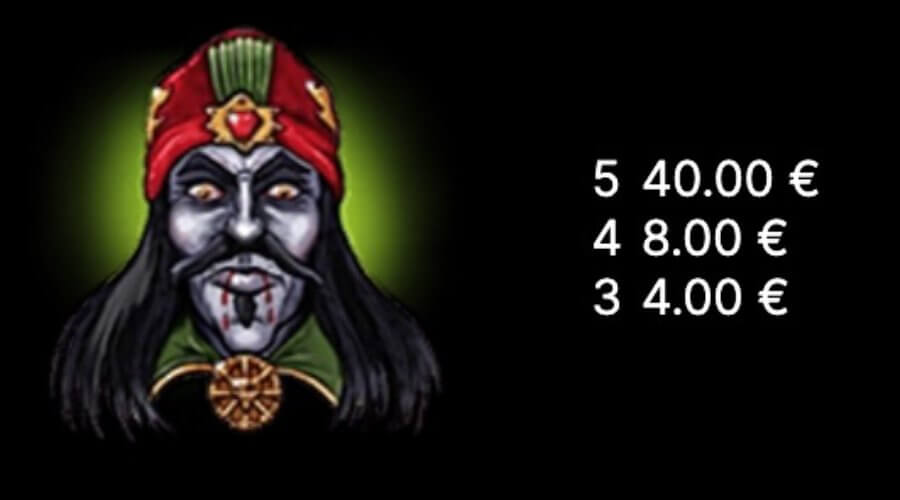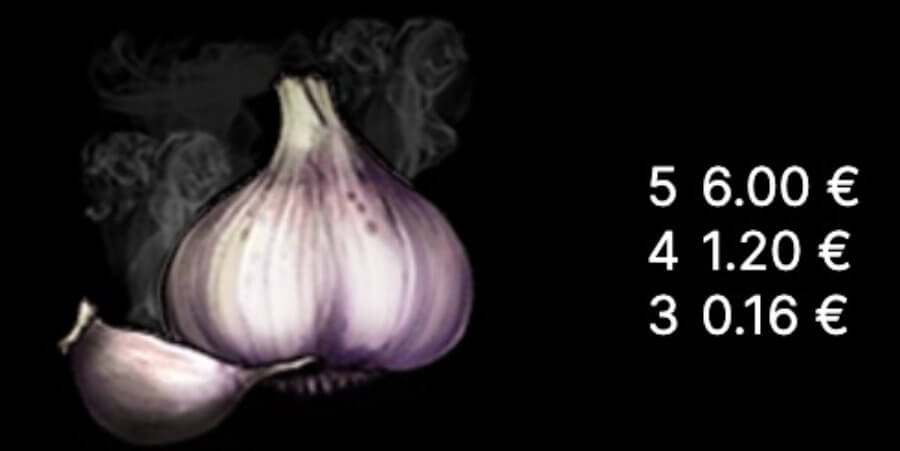 Paylines
Blood Suckers has 25 paylines, offering numerous ways to win. The game pays from left to right, and only the highest payout per combination is awarded.
Min/max bet, autoplay option
The game allows a minimum bet of $0.01 and a maximum bet of $5. An autoplay feature is also available for those who prefer to sit back and watch the action unfold.
Blood Suckers RTP
With an RTP of 98%, Blood Suckers offers one of the highest payout rates in the industry, ensuring frequent wins for players.
Volatility
The game has low volatility, meaning that while the profits may be smaller, they occur more frequently.
Jackpot and/or maximum win
While Blood Suckers does not feature a progressive jackpot, it does offer a maximum win of 50,730 coins, providing players with the opportunity for substantial wins.
Thrilling Gameplay & Fast Payouts
Blood Suckers offers a thrilling gaming experience with its high RTP and low volatility. The game's symbols and payouts are well-designed, adding to the overall enjoyment of the game.
Game Features
The Blood Suckers slot game from NetEnt is a thrilling journey into the world of vampires, offering a range of features that enhance the gameplay and increase winning chances.
Wilds, re-spins, and other features

Blood Suckers is a game that thrives on its features. It includes wilds, scatters, bonus, and free spins rounds which all create more winning chances with many wagers available. The wild symbol is represented by a chilling image of Dracula feasting on his victim, and it can substitute for all other symbols except the scatter and bonus symbols. This means it can help to form winning combinations, increasing your chances of a payout.
Bonus Buy
Unfortunately, Blood Suckers does not offer a bonus buy option. However, it more than makes up for this with its other features.
You can check other slots with this feature on our bonus buy page.
High Payout Rate
One of the standout features of Blood Suckers is its high payout rate of 98%, one of the highest around. This means that you're likely to see plenty of wins throughout your gameplay. These might not always be big wins, but they'll keep your balance ticking over nicely.
Free Spins and Multipliers

The game comes with 10 free spins with a 3x multiplier that is really hard to catch, but when that mad vampire bride scatter shows up on your screen, it's the closest you'll get to feeling like you could truly win something big. Walking away with 50x or higher your bet is not uncommon, though 30x is probably a fairer average. For more information, check out our free spins page.
Click Me Bonus Game

The click-me bonus game is a frequent feature in Blood Suckers. In this feature, you pick coffins to reveal sleeping vampires which you end with a bloody stake to the heart. There's a lot of blood in the Blood Suckers game, adding to the overall theme and atmosphere.
Really Exciting Features
Blood Suckers is a video slot that offers a high RTP rate and a range of exciting features. If you like horror stories and an adrenaline rush, then this slot should be the right choice for you because Blood Suckers will surely send chills down your spine.
Graphics & Sound
| | |
| --- | --- |
| Graphics | The graphics of Blood Suckers are 2D, but they are well-designed and perfectly match the game's eerie vampire theme. |
| Optimized for Mobile | 👍 Yes, the game is optimized for mobile play, ensuring a seamless gaming experience on any device. |
| Music | The game features a chilling soundtrack that complements its vampire theme perfectly. |
| Special features | The game includes wilds, scatters, bonus, and free spins rounds which all create more winning chances with many wagers available. |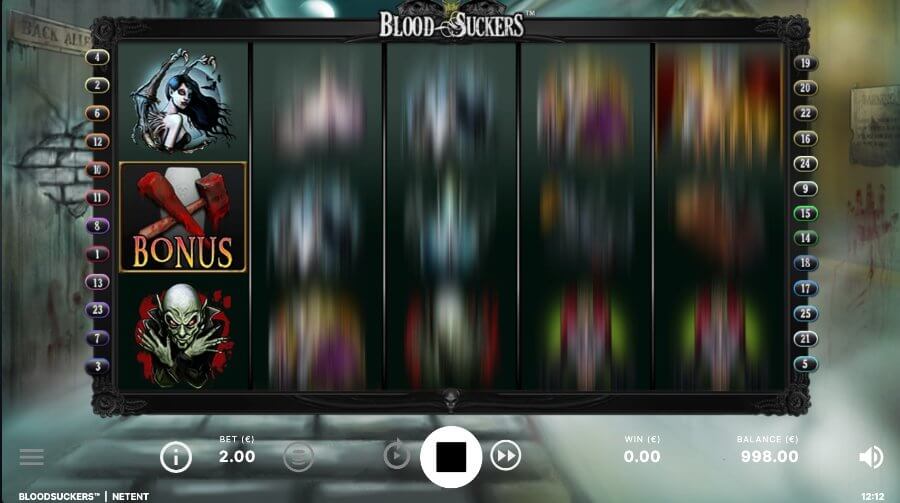 A Spine-Chilling Audio-Visual Experience
The graphics and sound of Blood Suckers contribute to an immersive gaming experience. The game's eerie soundtrack and well-designed graphics perfectly match its vampire theme. Despite being 2D, the graphics are engaging and add to the overall enjoyment of the game. The game is also optimized for mobile play, which is a big plus.
Troubleshooting Game Issues
Should you encounter any problems while playing the game, here are some solutions:
Interruptions: If your game session is interrupted, you can resume and replay the round once you restart the session.
Insufficient Replay Functionality: If the replay feature doesn't resolve the issue, feel free to reach out to the support team of the gaming website.
Hardware/Software Malfunction: In the unfortunate event of a hardware or software failure, all bets and payouts affected by this malfunction will be nullified, and the corresponding bets will be refunded.
A Blood-Curdling Adventure Awaits
Blood Suckers is more than just a slot game – it's a journey into a world of darkness and mystery. Its captivating graphics, eerie soundtrack, and engaging gameplay offer a gaming experience like no other. Whether you're a fan of horror themes or just looking for a game with a difference, Blood Suckers is a game that's worth sinking your teeth into.
Other slots you can play if you like Blood Suckers
FAQs
What is the theme of the Blood Suckers slot game?
The game has a vampire-inspired theme, complete with chilling graphics and a haunting soundtrack.
Is Blood Suckers optimized for mobile play?
Yes, the game is fully optimized for mobile play, allowing you to enjoy the game on the go.
What special features does Blood Suckers offer?
The game offers a variety of special features, including Wild Substitutions, Free Spins, and a Bonus Game.
What is the maximum win in Blood Suckers?
The maximum win is 1014.6x your stake.
Can I play Blood Suckers for free?
Yes, you can play the game for free in demo mode on the NetEnt website.
What is the RTP of Blood Suckers?
The RTP (Return to Player) of Blood Suckers is 98%, which is quite high compared to other slot games.
How many paylines does Blood Suckers have?
The game has 25 paylines.
Author
Casino Expert
Raguia is the Content Writer for the UAE market. She has been a writer since the early 2000s, specializing first in journalism, then social media and now content writing. She likes to follow casino trends and stay up to date with the ins and outs of the gaming industry. She plans her next trip if she isn't trying, testing and reviewing casinos. She speaks five languages, has visited 37 countries, and will keep travelling while playing online.