Kingdoms Rise: Guardians of the Abyss review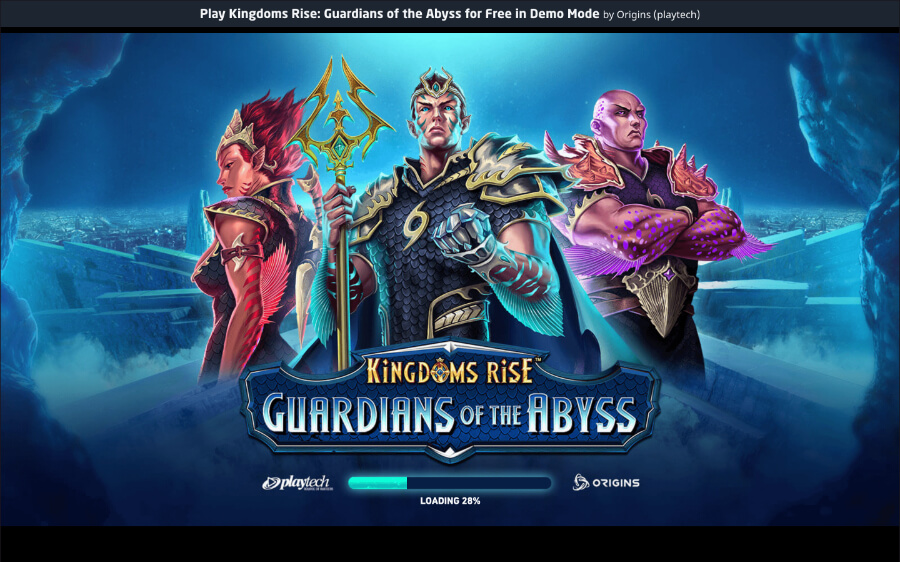 Guardians of the Abyss is not your ordinary slot game. It is part of Playtech's Kingdoms Rise series, known for captivating storylines, unique features, and a shared progressive jackpot system. The game stands out with its unique theme, 25 paylines, and a high RTP of 96.26%.
What You'll Find in this Kingdoms Rise: Guardians of the Abyss Review
We've taken a deep dive into Guardians of the Abyss, exploring its features, gameplay, and rewards, to bring you an extensive review. In this slot review, we'll cover:
Play Kingdoms Rise: Guardians of the Abyss with the best bonus
Take the plunge into an underwater kingdom full of treasures waiting to be discovered. Don't forget to check out our casino offers and promotions and our casino bonuses pages to add extra value to your adventure in Kingdoms Rise: Guardians of the Abyss.
Kingdoms Rise: Guardians of the Abyss Symbols & Payouts
Let's dive deeper into the ocean to uncover the symbols and payouts of this alluring slot. From the weapons of the guardians to the guardians themselves, each symbol holds a particular value.
The symbols
In this aquatic realm, the symbols are as enticing as the setting. Gemstones in various colors represent the lower-value symbols, while a double-edged sword, a pair of razor-sharp knives, and a powerful trident signify higher values. The three Guardians – Odeon, Akali, and Jax – make up the high-paying symbols, with Jax yielding the most, up to 40 times your stake.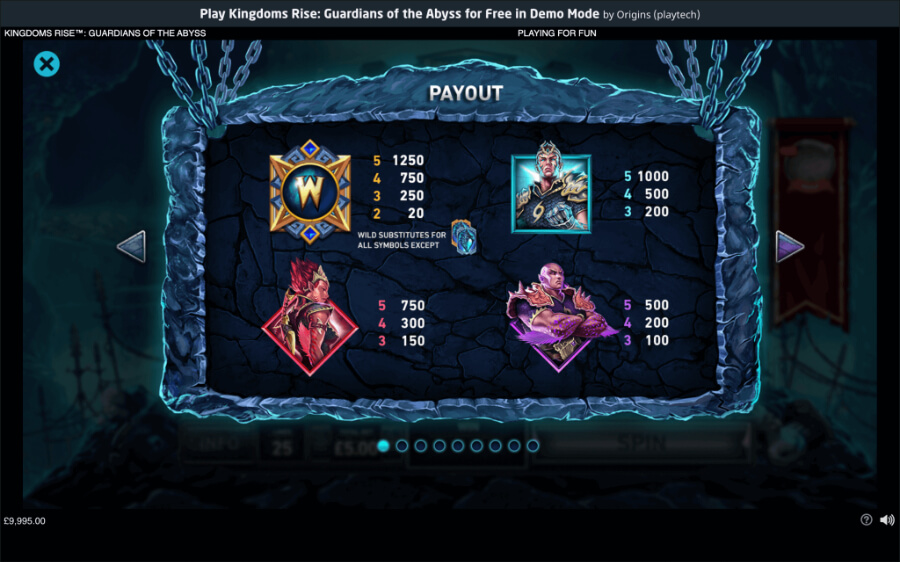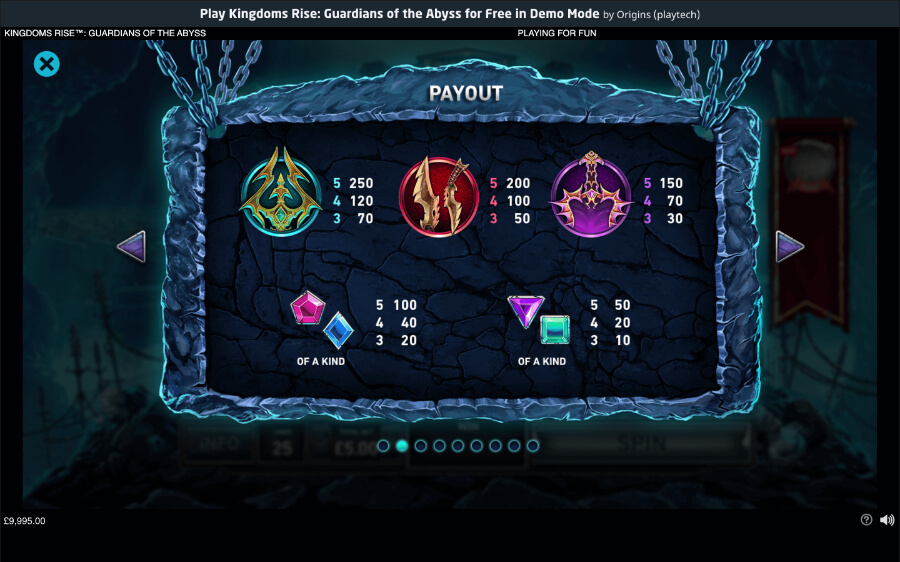 Paylines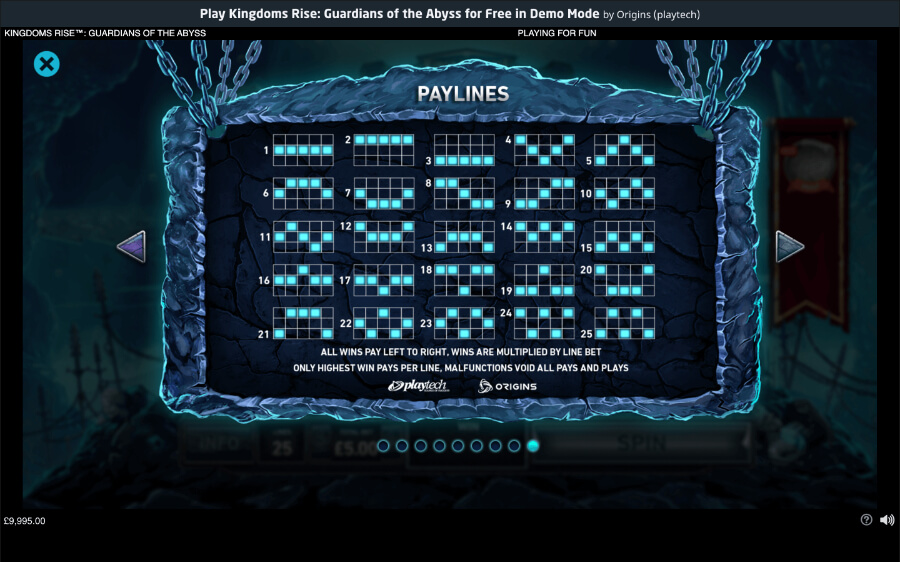 The Kingdoms Rise: Guardians of the Abyss slot game boasts 25 fixed paylines, providing numerous opportunities for winning combinations. Winning combinations can be formed from left to right on the reels.
Min/max bet, autoplay option
From the novice to the high roller, everyone can take a dip in this underwater slot. The betting range starts as low as 10p, going up to a staggering £300 per spin. The game also includes an autoplay option for a more relaxed gaming experience.
Kingdoms Rise: Guardians of the Abyss RTP
Playtech's Kingdoms Rise: Guardians of the Abyss offers a competitive RTP of 96.26%. This ensures fair and potentially rewarding gameplay for all players.
Volatility
This enticing underwater slot has a medium volatility, meaning that it strikes a balance between frequency and size of payouts. This can lead to an exciting and suspense-filled gaming experience.
Jackpot and/or maximum win
If that's not enough to lure you in, consider this: the game features not one, but three progressive jackpots. With each spin, you stand a chance of winning a life-changing amount. Furthermore, you could potentially win up to 7,500 times your stake, thanks to the Jax feature.
Guardians and their Rewards
In my opinion, the symbols and payouts in Kingdoms Rise: Guardians of the Abyss are thoughtfully designed and rewarding. The guardian symbols add depth to the narrative, and the chance to win up to 7,500 times your stake in the Jax feature is particularly compelling. With medium volatility and multiple progressive jackpots, this slot offers a balanced mix of risk and reward.
Game Features
Kingdoms Rise: Guardians of the Abyss is brimming with exciting game features. Let's explore the unique bonus rounds and features that make this slot stand out.
Wilds, re-spins and other features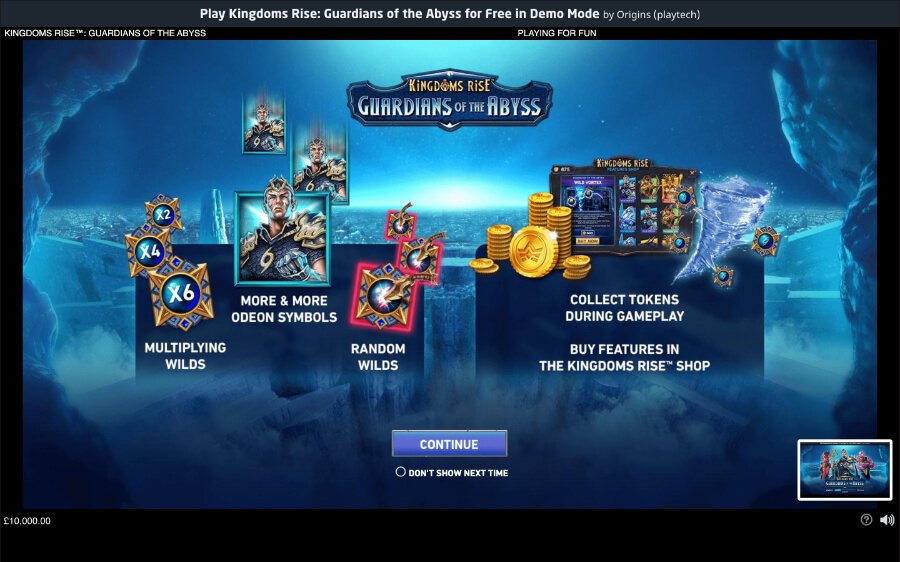 This slot game features a wild symbol that substitutes for all symbols except for the scatter, and landing five on a payline will reward you with 50 times your stake. Beyond this, the game boasts a multitude of engaging features, including three unique Guardian Bonus features activated by scatter symbols and Wild Vortex Respins that you can purchase from the Kingdoms Rise Shop.
Bonus Options
Guardian Bonus features Triggered by landing three or more scatter symbols anywhere on the reels, each Guardian Bonus feature offers a different form of the bonus round.
Odeon Bonus Feature: Odeon, the trident-wielding Guardian, will summon numerous copies of himself onto the reels, providing opportunities for substantial wins.
Akali Bonus Feature: With her powerful knives, Akali can slash at the reels and create additional wild symbols. The more scatters you landed to trigger the feature, the more wild she adds.
Jax Bonus Feature: In Jax's feature, a wheel will appear on the screen. The wheel can award multipliers of up to 25x, and if you're lucky enough, you might trigger the repeat spins function that can lead to a whopping 7,500 times your stake.
Free Spins
The game also offers a Free Spins feature, triggered by landing three scatter symbols anywhere on the reels. Depending on the guardian chosen at the beginning of the free spins round, you can receive a varying number of free spins with additional bonus features, increasing your chances of major wins.
A World of Features
The wide range of features in Kingdoms Rise: Guardians of the Abyss makes every spin exciting and unpredictable. The unique Guardian Bonus Features cater to different play styles and preferences, and the Bonus Buy feature allows for more controlled and strategic gameplay. However, as with all slots, it's crucial to be mindful of your spending when using the Bonus Buy.
Kingdoms Rise: Guardians of the Abyss Graphics & Sound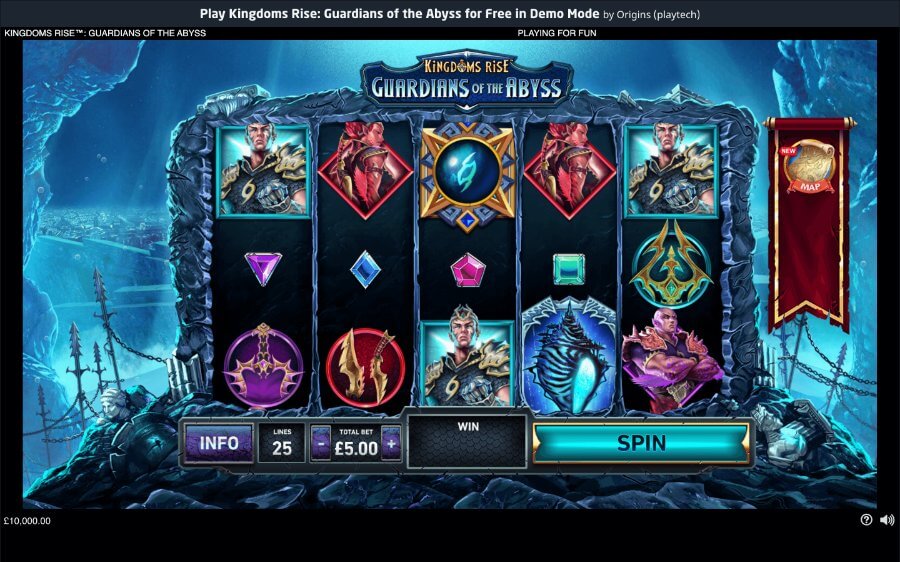 Playtech has done a fantastic job in the design of this game. The graphics are immersive, with detailed and vibrant animations of the underwater kingdom and its guardians. The sound design enhances the ambiance, creating an adventurous and mystical mood that perfectly complements the visual elements.
| Graphics | 3D |
| --- | --- |
| Optimized for Mobile | 👍 |
| Music | Ambient underwater music with mystical tones |
| Special features | 3D Graphics, Free Spin Features, Progressive Jackpots, Kingdoms Rise Shop |
The Enthralling Underwater Odyssey
Kingdoms Rise: Guardians of the Abyss' graphics and sound design are truly remarkable. The 3D graphics immerse players into an underwater world that is beautifully crafted, while the ambient music helps set a mystical, adventurous mood. I found this combination to be an integral part of what makes this game so captivating and enjoyable to play.
Solutions if you have some issues with the game
If the game is interrupted during play, try to refresh the page to restart the session.
In case the game fails to load or becomes unresponsive, clearing your browser cache and cookies can help resolve the issue.
If the problem persists, reach out to the gaming website's support team for assistance.
Diving Deep Into Final Impressions
Kingdoms Rise: Guardians of the Abyss offers an exceptional gaming experience with its immersive graphics, captivating music, and an array of enticing bonus features. While the progressive jackpots may not appeal to everyone, the potential for high payouts is undeniably attractive. Its well-optimized mobile gameplay also ensures that players can enjoy this underwater adventure anytime, anywhere. The Kingdoms Rise shop is a unique feature that adds an extra layer of depth and strategy to the gameplay. Whether you're a novice or an experienced slot player, this game is definitely worth diving into.
Other slots to play if you like Kingdoms Rise: Guardians of the Abyss slot
Moon Princess Trinity by Play'NGo
Author
Casino Expert
Raguia is the Content Writer for the UAE market. She has been a writer since the early 2000s, specializing first in journalism, then social media and now content writing. She likes to follow casino trends and stay up to date with the ins and outs of the gaming industry. She plans her next trip if she isn't trying, testing and reviewing casinos. She speaks five languages, has visited 37 countries, and will keep travelling while playing online.