Tombstone R.I.P review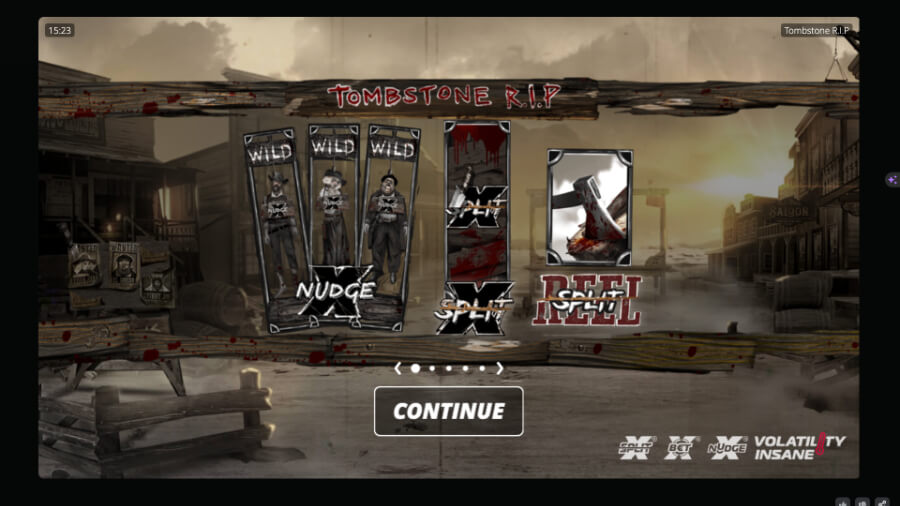 An Eerie Encounter with Ghostly Rewards
Tombstone RIP by NoLimit City offers a hauntingly thrilling experience that stands out in the realm of online slots. The game's ghost town theme, paired with its spectral symbols and eerie soundtrack, immerses players in a supernatural Wild West adventure. The unique features, such as Justice Spins, Gunslinger Spins, and Bounty Spins, add a layer of excitement and unpredictability, making each spin a mysterious journey.
Tombstone R.I.P Symbols and Payouts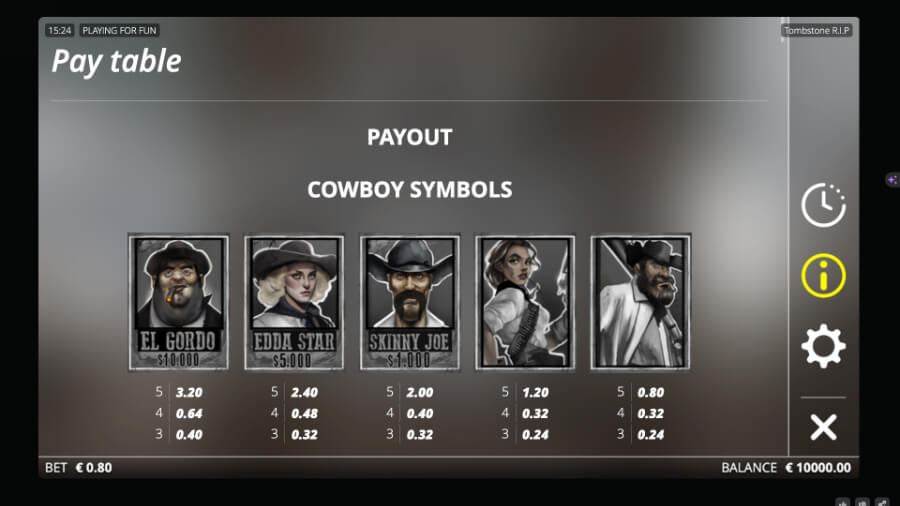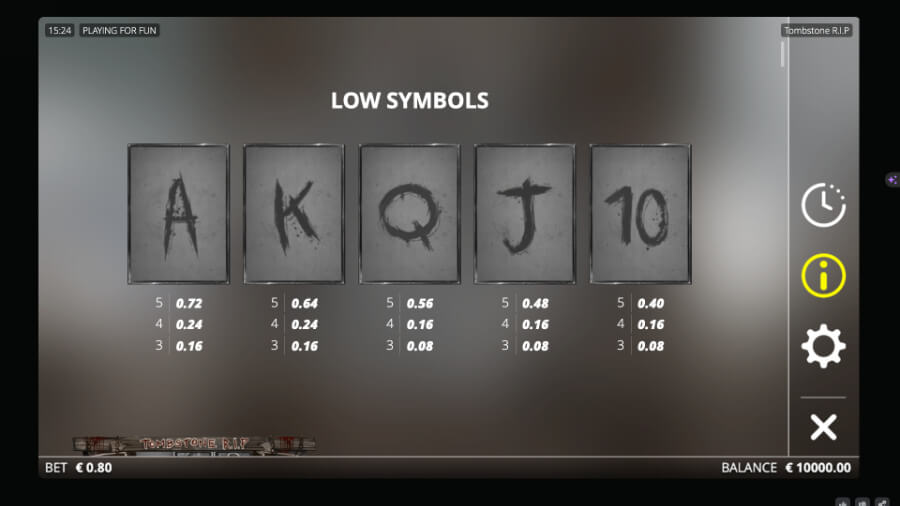 In Tombstone RIP, each symbol is meticulously crafted to resonate with the ghost town theme. The game features a variety of symbols, including the classic low-value card suits, adorned with Western embellishments, and high-value symbols like the Sheriff Badge, Money Bag, and Dynamite, each bringing the spectral essence of the Wild West to life.
The Outlaw Wilds and the trio of Scatters—the Marshal Badge, the Deputy Badge, and the Money Bag—not only enhance the chances of striking a win but also unlock the doors to the game's intriguing features. These symbols, each with their own distinct payouts, collectively contribute to a gameplay experience that is as rewarding as it is mysterious.
As usual, it's important to read slot reviews, especially when it comes to new online slots before playing to ensure you're going to like the slot.
Tombstone RIP Slot Special Features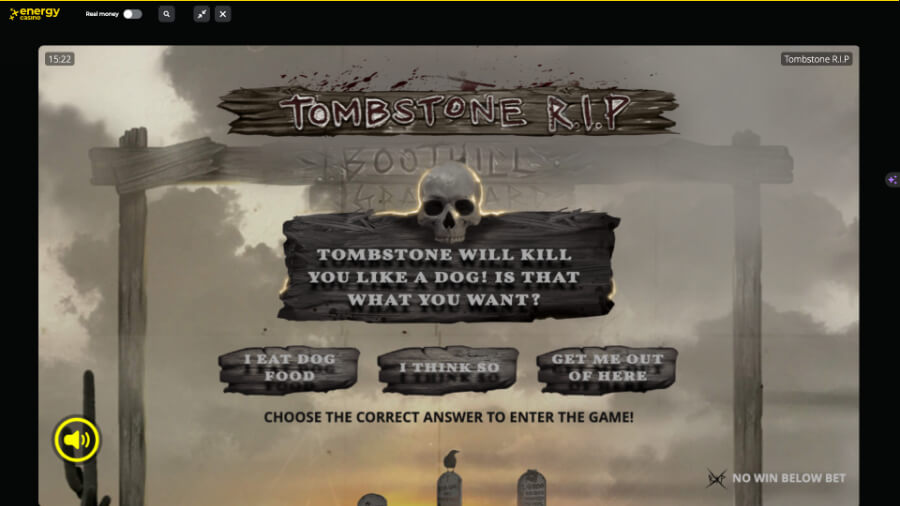 Dive into the ruthless world of Tombstone RIP, a slot game that brings the Wild West's brutality to the forefront. Nolimit City has packed this slot with a plethora of features that promise an intense and thrilling gaming experience.
Free Spins
Tombstone RIP offers two compelling free spins features, each with its unique set of rules and rewards. The Hang 'em High Free Spins feature is triggered by landing three Hang 'em High scatter symbols, offering eight free spins and a chance to increase the win multiplier. On the other hand, the Boothill Free Spins feature, though rare, unleashes a storm of multipliers and wild transformations, making it a gateway to staggering wins.
Bonus Buy
This Bonus Buy slot introduces the Nolimit Bonus feature, allowing players to buy direct entry into the free spins features. The cost varies, with entry to the Hang 'em High feature priced at 70x the stake and the Boothill feature demanding a hefty 3,000x the stake.
xNudge Wilds and Splitting Wilds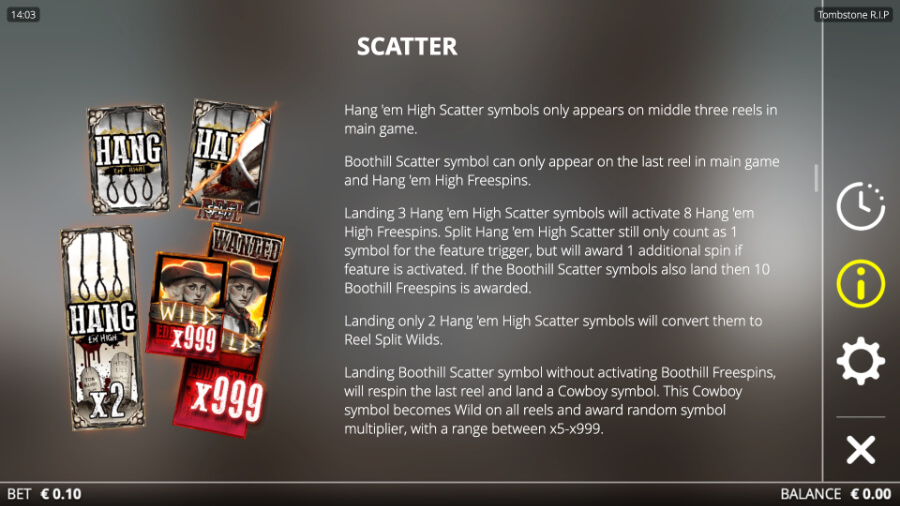 The xNudge Wilds feature in Tombstone RIP ensures that wild symbols are fully visible, increasing the wild multiplier with each nudge. The game also boasts Splitting Wilds, where wilds can split symbols, increasing the ways to win and adding a layer of excitement to the gameplay.
Enhanced Bet Feature
An Enhanced Bet feature is also present, allowing players to boost their stake by 10% to increase the chances of triggering the free spins features, enhancing the overall RTP and making the free spins features more accessible.
A Brutal, Unforgiving Journey to the Wild West
Tombstone RIP is not for the faint-hearted. The game's intense volatility, paired with a multitude of features, makes it a rollercoaster of highs and lows. The graphic depiction of the Wild West's harsh realities might be unsettling for some, but it undoubtedly adds a layer of authenticity and grit to the gaming experience.
Tombstone RIP Graphics & Sound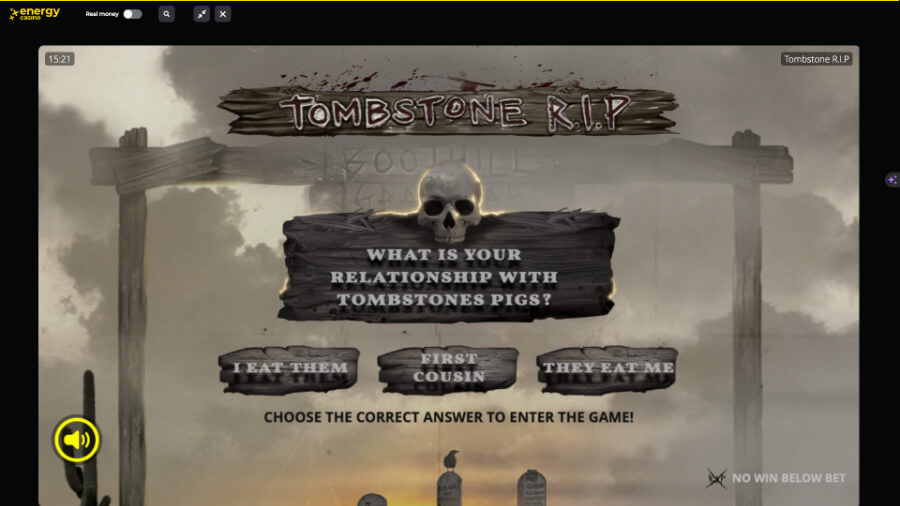 Tombstone RIP by Nolimit City immerses players in a gritty and brutal representation of the Wild West, where the visuals and sounds collaborate to create a raw and intense gaming atmosphere.
| Aspect | Details |
| --- | --- |
| Graphics | 2D with detailed and thematic illustrations |
| Optimised for Mobile | 👍 |
| Music | Traditional western soundtrack with intense overtones |
| Features | xNudge Wilds, Splitting Wilds, Free Spins, Bonus Buy, Enhanced Bet Feature |
Tombstone RIP Mobile Experience
Tombstone RIP is crafted using the latest HTML5 technology, ensuring a seamless gaming experience across various devices, including mobiles and tablets. The game's dark and intense storyline, paired with its rich graphics, is best enjoyed on larger screens, but it still holds its own on smaller mobile devices.
A Vivid Yet Dark Mobile Gaming Experience
Tombstone RIP offers a mobile experience that doesn't compromise on the intensity and rawness of its theme. The graphics and sounds transition well onto smaller screens, ensuring that the game's brutal atmosphere is not lost. The mobile optimization is well executed, ensuring that the Wild West's harsh and unforgiving landscapes are always within reach, no matter where you are.
Tombstone RIP Pros and Cons
Tombstone RIP by Nolimit City is a brutal and intense slot game that takes players on a Wild West adventure filled with outlaws, amputations, and hangings. Let's delve into the advantages and disadvantages of playing this slot.
| Advantages | Disadvantages |
| --- | --- |
| ✓ Brutal and Unique Western Theme | ✗ Extremely High Volatility |
| ✓ Max Win of 300,000x Stake | ✗ Controversial and Gory Visuals |
| ✓ Multiple Bonus Features | ✗ Low Hit Frequency (9.08%) |
| ✓ Detailed and Atmospheric Graphics | ✗ Complex Gameplay with Various Features |
| ✓ Mobile Optimization | ✗ Not Suitable for Low-Risk Players |
A Ruthless Rollercoaster in the Wild West
Tombstone RIP is a slot that doesn't hold back on delivering a ruthless and brutal gaming experience. The game's extreme volatility and intense theme make it a rollercoaster of highs and lows, suited for players who crave adrenaline and are open to taking significant risks. The controversial and gory visuals, paired with a multitude of features, make it a unique but complex slot that might not appeal to everyone.
Best Online Casinos to Play Tombstone RIP in UAE
Embark on a wild west adventure with Tombstone RIP at some of the best online casinos. Experience the brutal and intense gameplay filled with unique features and massive winning potential. Best Online Slots
Troubleshooting Tombstone RIP
If gameplay is halted unexpectedly, try refreshing the session to resume and complete the interrupted game round.
For issues not resolved by refreshing or replaying, reaching out to the customer support team of the gaming website is advisable.
Should there be a failure in the game's hardware or software, bets and payouts influenced by this malfunction will be nullified, and the affected bets will be reimbursed.
The Last Stand – Tombstone RIP Unveiled
In the gritty landscapes of Tombstone RIP, brutality and ruthlessness reign supreme. This slot, a savage odyssey through the Wild West, offers a tumultuous journey filled with controversial visuals and a staggering 300,000x stake max win. Its arsenal of features, extreme volatility, and immersive graphics craft an unforgettable, albeit complex, gaming saga. Tombstone RIP is not for the faint-hearted but a treasure for thrill-seekers ready to duel with the notorious outlaws of the gaming world.
Explore the Wild West: Slots Similar to Tombstone RIP
For those enchanted by the Wild West adventure in Tombstone RIP, there are more frontiers to explore. Dive into similar realms of outlaws and intense action with slots like Dead or Alive II, Wild West Gold, and Wild 1. These slots offer a blend of Western themes with unique features and gameplay for the UAE market.
Frequently asked questions
Yes, as long as the online casino you are playing at is licensed and regulated by a reputable gaming authority.
Tombstone RIP offers a staggering maximum win of 300,000x your total stake per spin.
Tombstone RIP can be played at various licensed online casinos that accept players from the UAE, such as Rabona and EnergyCasino.
Absolutely, Tombstone RIP is optimisFor those enchanted by the wild west adventure in Tombstone RIP, there are more frontiers to explore. Dive into similar realms of outlaws and intense action with slots like "Dead or Alive," "Wild West Gold," and "Desperados Wild." These slots offer a blend of western themes with unique features and gameplay for the UAE market. ed for play on various devices, including mobiles and tablets.
Tombstone RIP is extremely volatile, rated 10/10, making it a high-risk but high-reward slot.
Yes, the slot boasts several features like xNudge Wilds, Reel Split Wilds, and two free spins features.
Author
Casino Expert
Raguia is the Content Writer for the UAE market. She has been a writer since the early 2000s, specializing first in journalism, then social media and now content writing. She likes to follow casino trends and stay up to date with the ins and outs of the gaming industry. She plans her next trip if she isn't trying, testing and reviewing casinos. She speaks five languages, has visited 37 countries, and will keep travelling while playing online.