Lucky Halloween review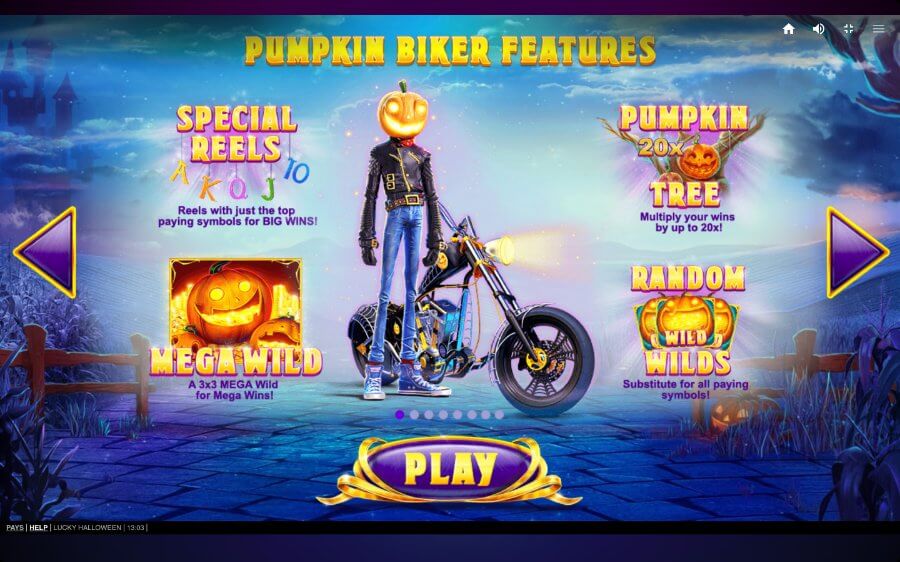 🎃 Lucky Halloween Slot – A Spooky Delight!
Lucky Halloween by Red Tiger Gaming immerses players in a haunting experience. The eerie ambiance, combined with the meticulous attention to detail in the graphics, sets the tone for a thrilling gaming session and potential big wins for UAE players. With its features like the Pumpkin Biker and the Full Moon Bonus, it's more than just a seasonal play; it's both fun and rewarding.
Lucky Halloween Symbols & Payouts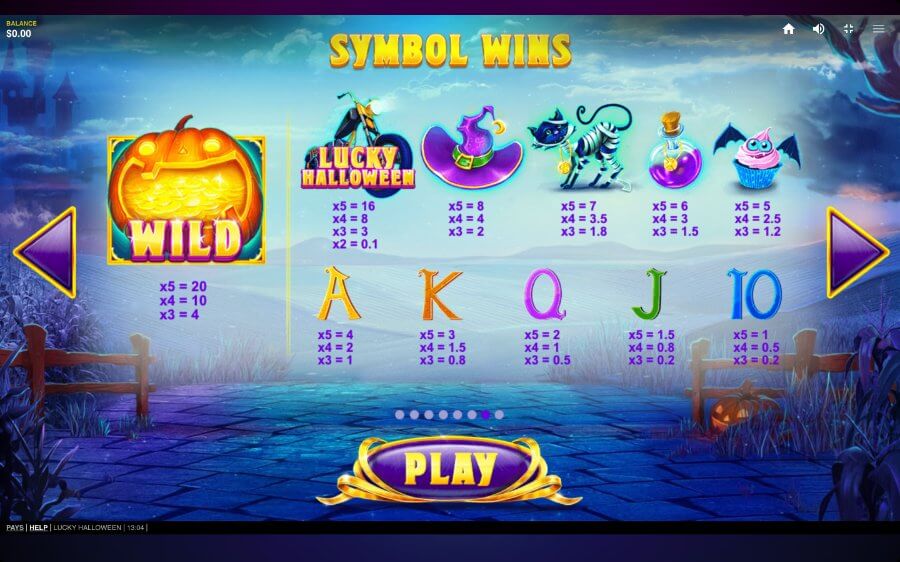 The game boasts a variety of symbols inspired by this spooky holiday. The high-paying symbols in Lucky Halloween Slot online start off with a motorcycle, a purple witch's hat, a cat wrapped in bandages, a potion bottle, and a spooky but cute cupcake. The low-paying symbols show the five basic playing card symbols of A, K, Q, J, and 10.
UAE casino players should also keep their eyes peeled for Lucky Halloween's two special symbols. The Wild Symbol shows a ginning pumpkin, which can substitute for any other paying symbol on the reels. This also acts as a paying symbol itself, giving a 20x win should 5 Wilds land on a winning payline. The candy-filled cauldron acts as this slot online's Scatter symbol, which is key to unlocking the Free Spins bonus round. An additional Bonus symbol depicting a castle tower is also available to activate a hidden bonus feature.
Lucky Halloween Special Features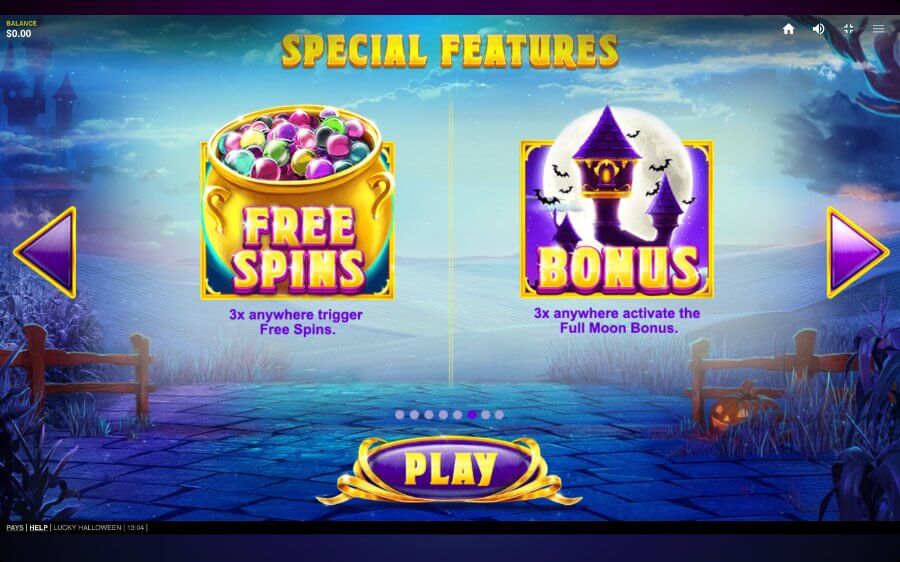 Lucky Halloween is not just about its spooky theme; it's packed with special features. From the Full Moon Bonus, which can multiply your stake by up to x800, to the Free Spins feature, there's always something to look forward to.
Free Spins: A Cauldron of Opportunities
The Pumpkin Biker is not just a regular visitor but a bearer of bountiful gifts. When he graces the reels, expect one of four thrilling features to ignite your gameplay. He might introduce Special Reels, populated with high-paying symbols, or unveil a massive 3×3 Mega Wild. Alternatively, he could sprinkle Random Wilds across the reels or light up the Pumpkin Tree, unlocking multipliers that can amplify your wins by up to 20 times!
Full Moon Tower Bonus: A Trail of Treasures
Embark on a haunting journey with the Full Moon Tower Bonus. Trigger this feature by landing three castle symbols, each bathed in the light of a full moon. Navigate the Halloween Trail, where every step brings you closer to the pinnacle reward—a staggering 800x multiplier. This bonus trail is laden with surprises, ensuring that every spin is a step towards a realm of extraordinary wins.
Pumpkin Biker Features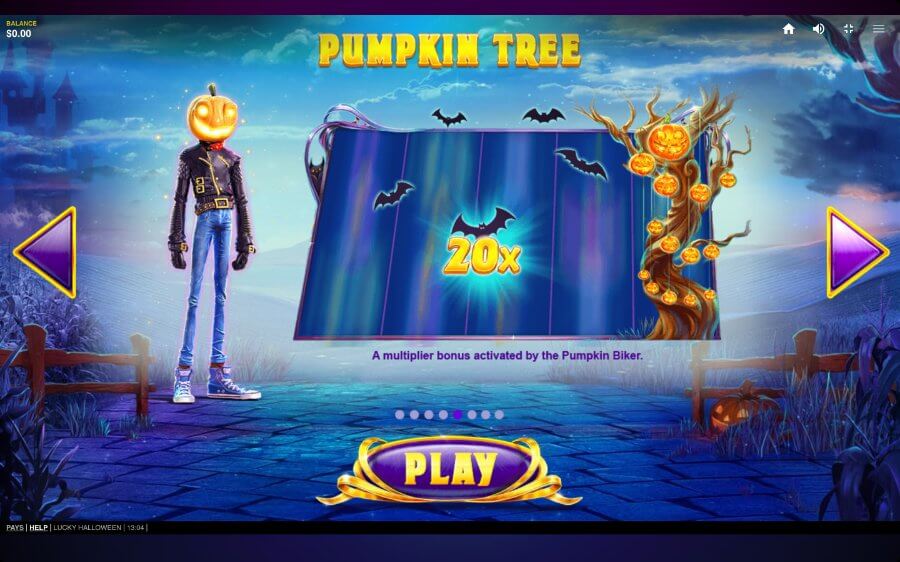 The Pumpkin Biker is the star, bringing with him four exciting features: Special Reels, Mega Wild, Pumpkin Tree, and Random Wilds. These features can significantly boost your winnings, with potential multipliers of up to x20.
This includes four distinct features:
Special Reels: Filled with high-paying symbols
Mega Wild: A massive 3×3 wild symbol dragged onto the reels
Random Wilds: Additional wilds scattered across the reels
Pumpkin Tree: A multiplier bonus where wins can be multiplied by up to x20
Special Features of Lucky Halloween
The special features in Lucky Halloween are what truly set it apart from other slots. The Pumpkin Biker's random appearances add an element of surprise, ensuring that no two gaming sessions are alike. The Full Moon Bonus, with its potential x800 multiplier, is a tantalizing prospect for any player. However, it's the combination of all these features that ensures a thrilling, unpredictable gaming experience every time.
Lucky Halloween Graphics & Sound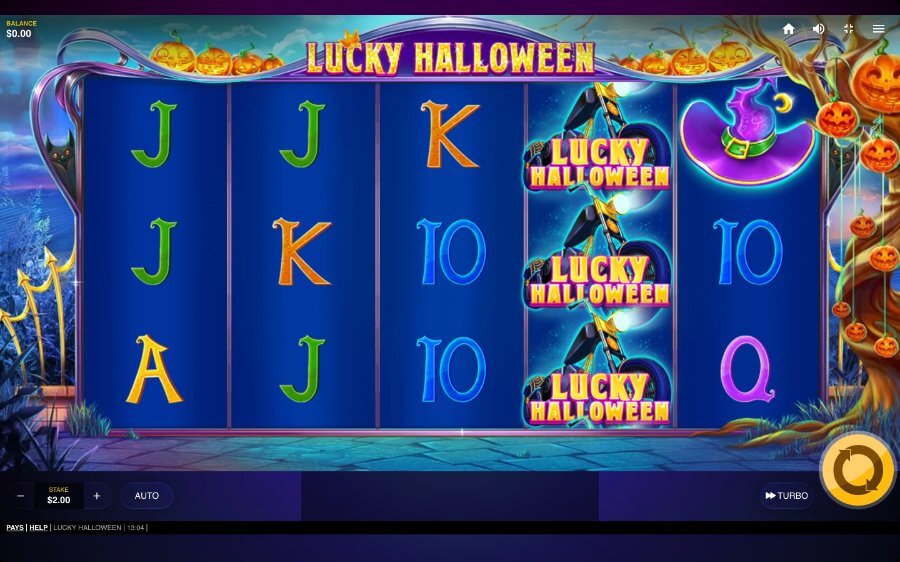 The Lucky Halloween online slot by Red Tiger Gaming offers a visually captivating experience, blending eerie Halloween aesthetics with high-quality graphics and sound.
---
| Feature | Description |
| --- | --- |
| Graphics | 3D with 2D elements |
| Optimised for Mobile | 👍 |
| Music | Mysterious and haunting melodies reminiscent of classic Halloween themes |
| Special features | Pumpkin Biker: Special Reels, Mega Wild, Pumpkin Tree, Random Wilds |
| | Full Moon Bonus: Potential x800 stake wins |
| | Free Spins: Selectable cauldrons reveal spin numbers. |
| | Cauldron: Triggers Free Spins |
| | Castle: Bonus symbol set against Full Moon. |
Lucky Halloween Mobile Experience
The Lucky Halloween slot provides a seamless and immersive mobile experience, ensuring players can enjoy the spooky thrills on the go. Whether you're accessing it through Mobile Casinos or dedicated Casino Apps, the game's responsive design ensures top-notch gameplay on various devices.
---
Mobile Gameplay of Lucky Halloween
The mobile adaptation of Lucky Halloween truly stands out. Its intuitive interface combined with the atmospheric graphics and sound makes it one of the best mobile slot experiences. The game's responsiveness on mobile platforms ensures that players get the same thrilling experience as on desktop, making it a top choice for on-the-go gaming.
Lucky Halloween Pros & Cons
The Lucky Halloween slot by Red Tiger Gaming offers a unique blend of spooky aesthetics and engaging gameplay mechanics. However, like all games, it has its strengths and areas for improvement.
| Advantages | Disadvantages |
| --- | --- |
| ✓ Engaging Halloween Theme | ✗ High Variance |
| ✓ Multiple Special Features | ✗ Might be Overwhelming for New Players |
| ✓ Atmospheric Sound Effects | ✗ No Progressive Jackpot |
| ✓ High Multiplier Potential | ✗ Base Game Payouts Can Be Low |
| ✓ Mobile-Optimized Gameplay | ✗ Requires Patience for Big Wins |
---
The Dual Nature of Lucky Halloween
Lucky Halloween stands out with its rich theme and plethora of special features, making it a treat for seasoned slot enthusiasts. The high variance nature means that while big wins are possible, they might not be frequent, requiring patience. However, the sheer variety of features and the potential for high multipliers make it worth the wait for those big win moments.
Best Online Casinos to Play Lucky Halloween in UAE
For those in the UAE looking to experience the thrill of Lucky Halloween, several top-tier UAE Casinos offer this slot. For a comprehensive list of the best slot games, check out our Best Online Slots page.
Solutions if You Have Issues with the Game
Experiencing technical glitches while playing can be frustrating. Here are some quick solutions:
If the game is interrupted during play, you can replay the game round after restarting the session.
In situations where the replay functionality doesn't resolve the issue, contact the gaming website's support team.
If there's a malfunction in the gaming hardware/software, all affected game bets and payouts are rendered void, and all affected bets are refunded.
The Final Verdict on Lucky Halloween
"Lucky Halloween" by Red Tiger Gaming is a delightful blend of spooky aesthetics and thrilling gameplay. Its rich features and high multiplier potential make it a must-try for slot enthusiasts. However, its high variance nature means players need a bit of patience. Overall, it's a slot that promises both fun and potential rewards.
Other Slots to Play if You Like Lucky Halloween Slot
If Lucky Halloween has piqued your interest, several other slots might catch your fancy. For UAE players seeking similar spooky thrills, consider trying out
Frequently asked questions
The Return to Player (RTP) of the Lucky Halloween slot is 95.1%, which is fairly competitive, offering players a decent chance of getting a return over an extended playtime.
Yes, Lucky Halloween is optimized for mobile play. Players in the UAE can enjoy a seamless gaming experience on various devices, including smartphones and tablets.
Lucky Halloween boasts multiple special features such as the Pumpkin Biker, Full Moon Bonus, and Free Spins, enhancing the gameplay with additional surprises and opportunities to win.
The game has a medium-high volatility, meaning that it offers larger but less frequent payouts, suitable for players who are comfortable with higher levels of risk.
In the UAE, you can play Lucky Halloween at various online casinos such as Energy Casino, LuckyDreams Casino, and Casombie.
Players can start betting with as low as 0.2 EUR, and the maximum stake goes up to 100 EUR, accommodating a wide range of betting preferences.
Yes, many online casinos offer a free play or demo version of the Lucky Halloween slot, allowing players to experience the game without risking real money.
If you face any issues, such as game interruptions, you can try restarting the session. For unresolved issues, contacting the casino's support team is recommended, and in the case of technical malfunctions, affected bets and payouts are usually refunded.
Author
Casino Expert
Raguia is the Content Writer for the UAE market. She has been a writer since the early 2000s, specializing first in journalism, then social media and now content writing. She likes to follow casino trends and stay up to date with the ins and outs of the gaming industry. She plans her next trip if she isn't trying, testing and reviewing casinos. She speaks five languages, has visited 37 countries, and will keep travelling while playing online.