12 Most Popular Craps Variants
Craps is arguably the most popular dice game online. The crap rules, albeit simple, may change considerably across craps variations. Learn the main differences between them below.
Crapless Craps
In this variant, craps numbers (2, 3, and 12) always win a Pass Line Bet. This type of bet has a house edge between 1.41% and 5.38%. The rules were invented by Bob Stupak, and you'll also find this game as "Ruse Craps" or "Never Ever Craps".
High Point Craps
High Point Craps is considerably more favorable to players than other variants due to its slim house edge: only 2.35%. The rules here diverge from the original game, ignoring craps numbers 3 and 2 if they land on the come-out roll, in which case, the dice must be rolled again.
Simplified Craps
Here, the shooter only rolls the dice once. Betting options were also narrowed to Pass/Don't Pass, Natural, or Craps numbers. Players can win with total numbers of 12, 11, 10, 4, 3, and 2, and the house edge is 2.8%.
Die Rich Craps
Die Rich Craps stands out for being played with only one die, resulting in much more straightforward gameplay. Here are the payouts: if a win is made on the first roll (1/1), between the second and fourth rolls (2/1), while proposition bets pay 4/1. In the come-out roll, 6 grants an instant win to the player, and a 1 means instant defeat.
New York Craps
This variant is also popular in the Bahamas and the UK, as well as New York, of course. It uses a different table, compared with the original version, with added Don't Come/No Come options, among other features. There's a 5% fee on every win, which is paid to the casino.
Diceless Craps
This game was created to bypass restrictive laws on dice gambling in certain regions. Instead, you play with a deck of playing cards while following pretty much the same basic rules as the original game.
Craps With Both Cards and Dice
This self-explanatory variant is quite popular in the United States. Here, one die is combined with a deck of playing cards in the gameplay.
Open Craps, Fading Craps, or Money Craps
The casino will charge you a 5% and 7% fee in this variant. The table is also different, showing Win and Lose lines quite clearly. All bets are placed against the book.
Scarney Craps
This variant doesn't include Come/Don't Come bets, and your winnings aren't charged any fee. The rules were created by a gambling expert, Jon Scarves, to benefit American casinos.
Low Limit Craps
This version's the best way to start playing for those unfamiliar with the game or those who prefer making smaller bets. This variant is known for its low betting limits, allowing for more conservative gameplay.
High Limit Craps
This version is the opposite of the previous one, and it's designed for high-rollers. You can place high bets while playing with standard rules.
Bubbles Craps Machines
These machines recreate electronic versions of the game and are gaining popularity in land-based casinos. Some machines also allow you to choose between standard craps or craps with integrated Sic Bo.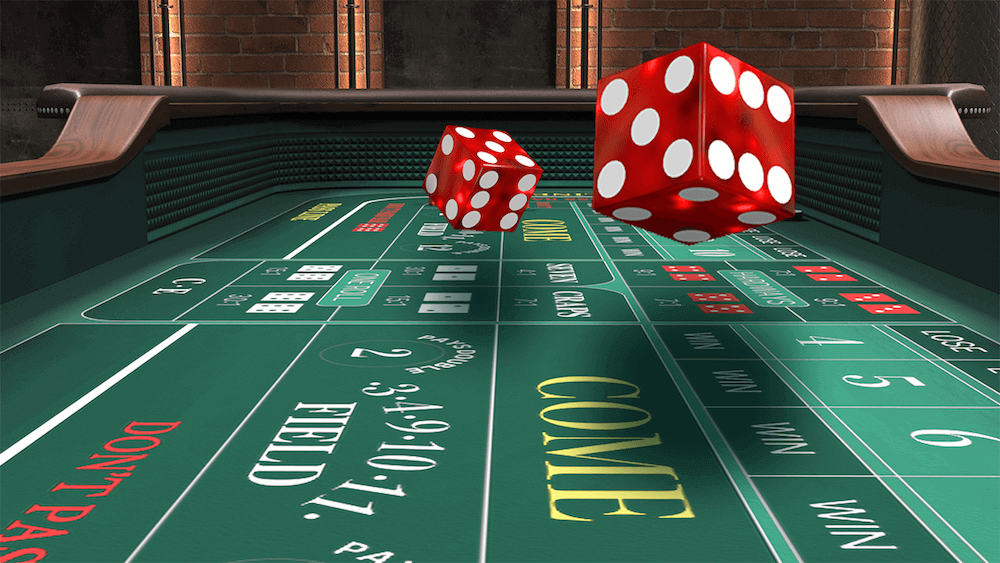 Which Craps Variation Should You Choose?
The best part for UAE players about having so many variations available is that you can choose the craps strategy that better suits your knowledge and risk appetite. Some strategies might work better in some variations than in others. Here are a few tips.
Craps variants with the best odds
Keeping risk at a minimum level is always a good gambling strategy. Luckily, there are a few variants with low house edges (sometimes referred to as 'odds') available. Check the relevant options in the table below.
| Craps Variation | Best Odds |
| --- | --- |
| Standard Craps | 1.41% |
| High Point Craps | 2.35% |
| Simplified Craps | 2.8% |
Craps variations that payout the most
You may prefer to choose the variations with the highest payout rates. Learn more about them here.
High Limit Craps
High Limit Craps allow you to place substantial amounts of money on a single bet. Aces and Twelves bets can payout a possible 30:1.
High Point Craps
This variation also offers UAE players the possibility of landing a 30:1 payout if they bet on Aces or Midnight/Boxcar (aka Twelves) and get lucky.
The best variants to try when you're new to a casino
If you're new to this game or have just signed up for a new casino, the best thing to do is to stick to the basics. Even if you already know the game well, in this situation, it would be better to start with something more familiar. Check a few options below.
Conventional Craps
Simplified Craps
Die Rich Craps
Types of Craps to play if you're a pro
More experienced UAE players may find the versions above limited and unsurprising. Luckily for them, there are also more challenging versions available. Try the ones below if that's your case.
New York Craps
High Point Craps
Craps variations you should avoid
You might want to avoid those variations with high house edges and overly-complex rules. Steer away from those variations when you see them:
Crapless Craps
Open Craps
The Final Roll
As you can see, many ways to enjoy a game of craps exist. All the craps variations mentioned here are pretty popular online. As a rule of thumb, you should try craps variants with small house edges and straightforward rules.
The simplified version is an excellent starting point for beginners in the UAE, but there are variations for all levels of knowledge and risk appetite. Play responsibly and have fun!
Frequently asked questions
Yes! There are countless free versions to play online. Try any of our recommended casinos for free craps demos.
High Point Craps have a 2.35% house edge, but Crapless Craps' house edge can vary between 1.41% and 5.38%.
Pick simplified or conventional versions so that you can practise the rules. Keep your risks at a minimum, playing variations with high payout percentages and low betting rates. Consider trying low-limit craps at this point, and bets with a low house edge, like Pass/Don't Pass.
Casinos available to UAE players may not all have the same variations of craps available, so check our reviews to find a site with a version you'd like to try.
Author
Casino Expert
Raguia is the Content Writer for the UAE market. She has been a writer since the early 2000s, specializing first in journalism, then social media and now content writing. She likes to follow casino trends and stay up to date with the ins and outs of the gaming industry. She plans her next trip if she isn't trying, testing and reviewing casinos. She speaks five languages, has visited 37 countries, and will keep travelling while playing online.