Ali Baba's Luck Megaways review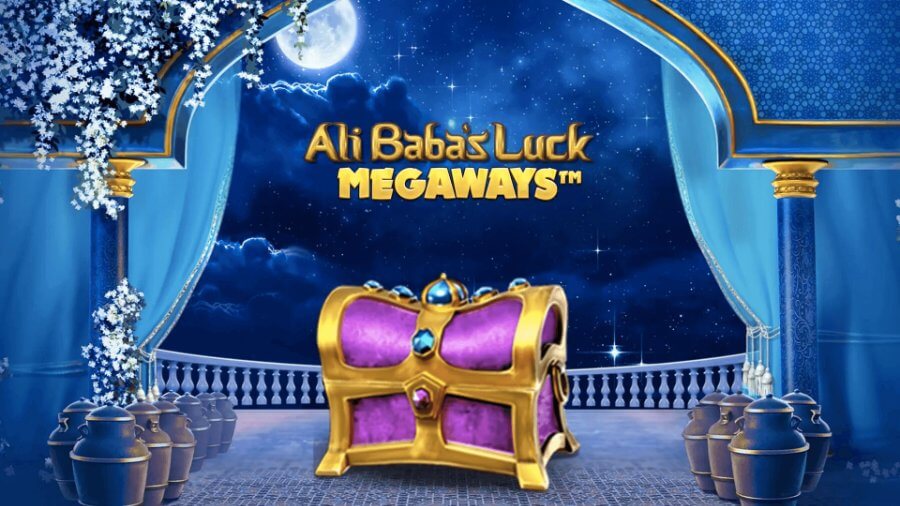 Ali Baba's Luck Megaways is a slot machine created by Red Tiger Gaming and Max Win that offers up to 15,625 ways to win. The game has growing symbols and free spins. The RTP of this game with a high volatility is 96.09%, and the jackpot is worth 20,336x the wager.
What you'll find in this Ali Baba's Luck Megaways slot review
Play Ali Baba's Luck Megaways with the best bonus
In Ali Baba's Luck Megaways, there are up to 15,625 ways to win, as each reel can display up to five symbols simultaneously. This is a bit lower than we're used to seeing from Megaways games, but a few bonus elements can help you win more often. Check out our bonuses and promotions pages for more information on casino bonuses.
Ali Baba's Luck Megaways Symbols and Payouts
When you hit a winning combination in Ali Baba's Luck Megaways, the expanding symbols function is activated. The winning symbol lights up in the meter above the reels and if it is engaged in a winning combination on the next spin, three things will happen: It turns into a golden sign. No longer required to appear on adjacent reels to reward a win, the symbol will grow to cover the whole reel it is on.
The Symbols
The action unfolds on a six-reel machine. Each reel can include between 2 and 5 symbols. More symbols equal more Megaways. If all six reels are filled with symbols, there will be 15,625 Megaways in play.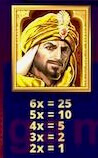 Paylines
You won't be playing the game with the standard 10 paylines; rather, you'll be playing on reels that provide up to 15,625 different ways to win.
Minimum/ maximum bet and autoplay option
The minimum bet for this slot is 0.020, the maximum bet is 4, and there is no autoplay option.
Ali Baba's Luck Megaways RTP
Ali Baba's Luck Megaways has a return to player percentage of 96.09%, which is referred to as the RTP. In addition, it has a high variance and offers a top reward worth more than 20,000 times the wager.
Volatility
At 96.09%, the Ali Baba's Luck Megaways RTP is about average. The volatility is certainly not typical. This is a highly volatile slot machine. The volatility of Ali Baba's Luck Megaways is commensurate with a rating of 5 out of 5. The maximum win on a single spin is 20,336 times your total wager.
Jackpot and maximum win
While there is no jackpot combination, and the maximum win is 4EUR per spin, you still have a high chance of winning 20,336x your bet.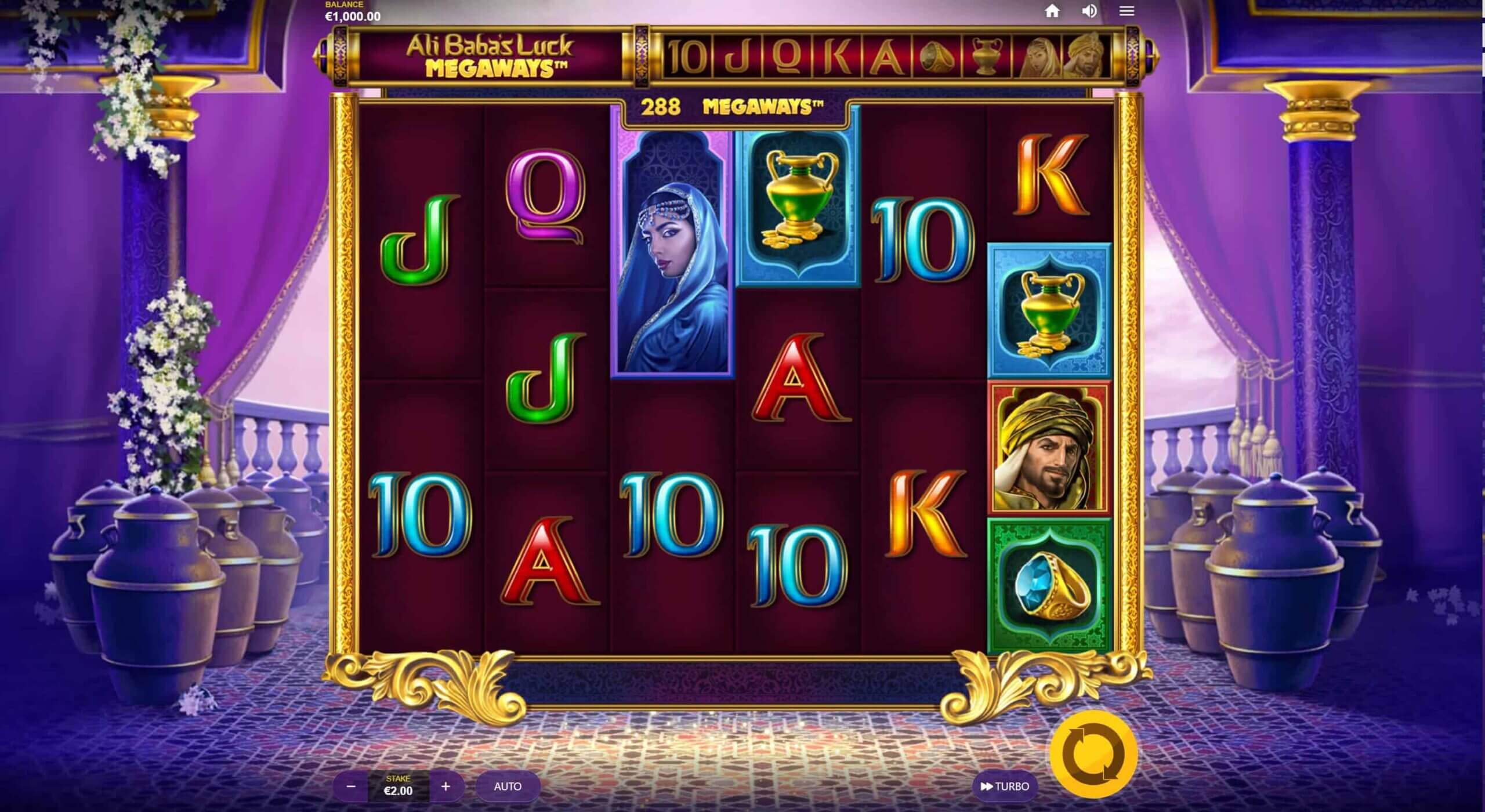 Did you know?
The Thousand and One Nights story, "Ali Baba and the Forty Thieves," stars Ali Baba, who quietly watches 40 criminals hide their wealth in a cave that can only be opened by saying, "Open, Sesame!" He lives well by stealing cave wealth with this magic phrase.
Game Features
The 6-reel Megaways grid in the middle of the room stands out. Despite having more symbols and winning ways than its predecessor, it appears smaller. Each reel can carry 2-5 symbols when maxed out, allowing 15,625 chances to win. Max Win Gaming replaced a cascade/reaction element with a growing symbol dynamic after victories.
Wilds, re-spins, and other features
To win, you need to get two matching high pays or three low pays next to each other on the first reel. As was already said, this doesn't cause cascades, but it does turn on another feature.
Wilds
This game doesn't have a wild symbol, which is a symbol that can be used to replace any other symbol on the reels (except the scatter) to make winning combinations.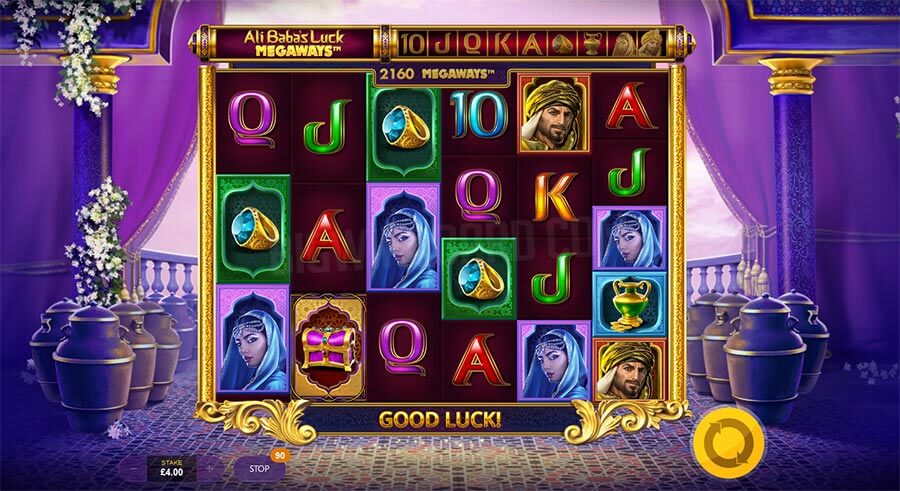 Multiplier
You get four free spins and 1x multiplier.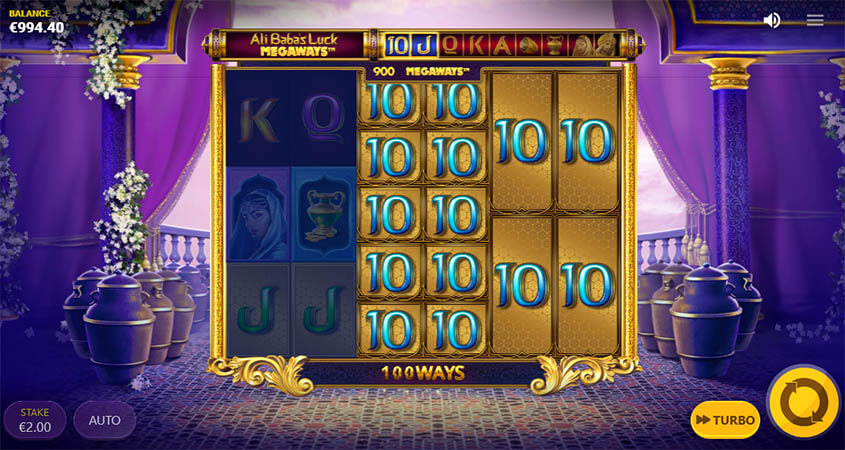 Bonus Buy
Unfortunately, this slot doesn't offer a bonus buy option.
Hold and Win
Each reel can hold anywhere from 2 to 5 symbols. The number of symbols on each reel changes with each spin, giving you up to 15,625 ways to win. Red Tiger didn't add a cascade or reaction feature to this game. Instead, the symbols grow after a win.
Ali Baba's Luck Megaways Graphics & Sound
| | |
| --- | --- |
| Graphics | 3D realistic |
| Optimised for mobile | 👍 |
| Music | Great captivating sountrack that takes you straight to Persia |
| Special Features | high volatility, big wins |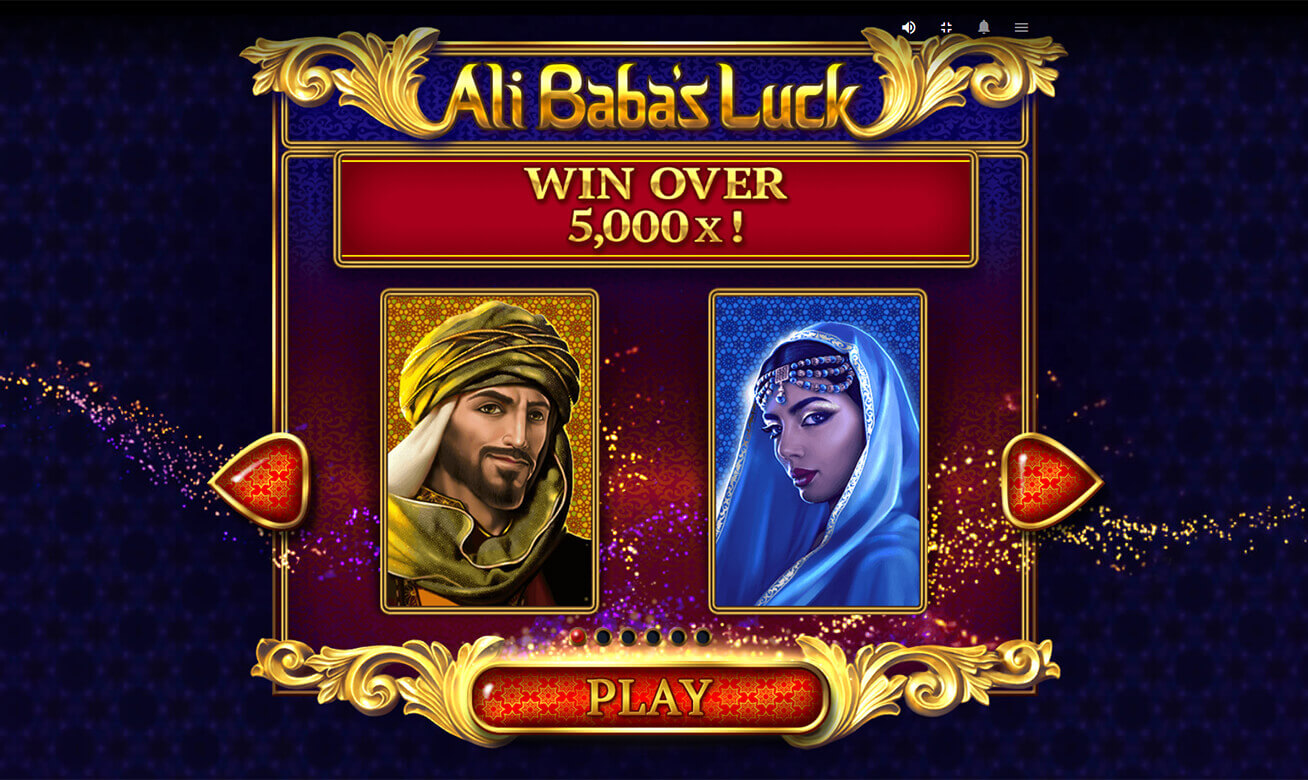 Impreccable graphics and sound!
Middle Eastern-based games tend to fall into the trap of having cliché graphics and sound, but Red Tiger really nailed it with this game!
Solutions if you have some issues with the game
If the game is stopped in the middle of a round, you can play it again after starting the session over.
If the ability to replay a game isn't enough, you can contact the support team of the gaming website.
If the gaming hardware or software breaks down, all bets and payouts for the affected games are canceled, and all bets are refunded.
Go against the 40 thieves
Red Tiger Gaming's Ali Baba's Luck is a pleasant online slot, and the Megaways facelift doesn't significantly change the gameplay. It has a higher RTP (96.09% versus 95.89%) and a bigger top win (20,336x vs 5362x), but the gameplay is same. Overall, it's fun. Even though it's similar to the original Ali Baba's Luck, it's distinct from most Megaways games, so it's worth playing if you like Megaways slots but want something different.
Other slots to play if you like Ali Baba's Luck Megaways
FAQs
Can I play Ali Baba's Luck Megaways in the UAE?
While gambling isn't legal in the United Arab Emirates yet, you can still access your favorite slot games and casinos using a VPN.
How many winning ways are there in this slot?
In Ali Baba's Luck Megaways, there are a total of 15,625 different ways for you to win.
What is the biggest win available on Ali Baba's Luck Megaways?
The maximum possible payout on Ali Baba's Luck Megaways is 20,336x.
How do expanding symbols in this game function?
Whenever you land a win, the winning symbol transforms into a golden symbol. Then, if it is involved in a win on the subsequent spin, the symbol will expand to span the entire reel. Throughout the duration of the free spins bonus, the golden symbols remain golden.


Author
Casino Expert
Raguia is the Content Writer for the UAE market. She has been a writer since the early 2000s, specializing first in journalism, then social media and now content writing. She likes to follow casino trends and stay up to date with the ins and outs of the gaming industry. She plans her next trip if she isn't trying, testing and reviewing casinos. She speaks five languages, has visited 37 countries, and will keep travelling while playing online.