Ancient Disco review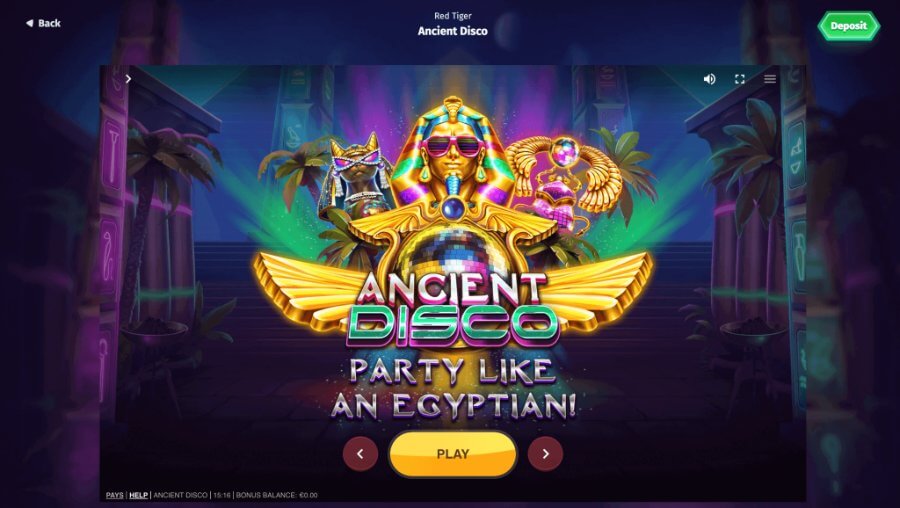 Ancient Disco is a unique and entertaining slot game that combines disco aesthetics with ancient mythology, providing a fresh gaming experience to players. When it comes to online slots, it's important to do your research before heading to your favorite online casino and playing.
What you'll find in this Ancient Disco Review
Our in-depth review of Ancient Disco covers everything you need to know about this captivating slot game, including:
Play Ancient Disco with the best bonus
Explore Ancient Disco and take advantage of our exclusive offers and promotions tailored for UAE players. Check out our casino offers and promotions and our casino bonuses pages.
Ancient Disco Symbols & Payouts
Discover the lively symbols and payouts in Ancient Disco, from funky disco dancers to ancient relics. Ancient Disco features a unique set of symbols with a vibrant mix of ancient Egyptian imagery and disco elements. Players can enjoy the blend of traditional icons and modern party vibes in this engaging slot game.
The symbols
The symbols in Ancient Disco include Pharaohs wearing shutter shades, hieroglyphs, and disco balls. These colorful and creative symbols add a lively atmosphere to the game and keep players entertained.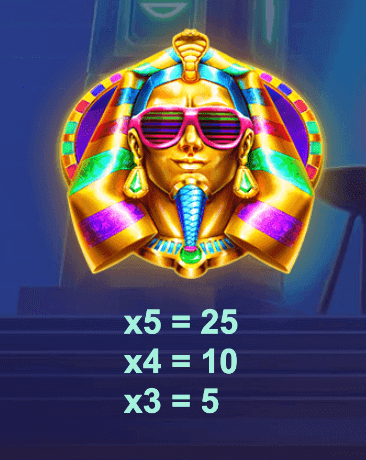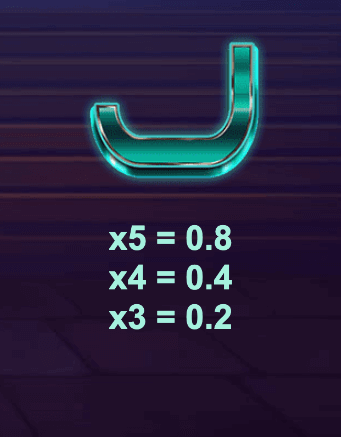 Paylines
Ancient Disco has a grid-based pay system, where winning combinations are formed by landing the required number of Ancient Disco scatter symbols on the grid.
Min/max bet, autoplay option
Players can choose from a range of bet sizes between €0.2 and €4 to suit their preferences, and the autoplay option allows for uninterrupted gameplay at the chosen bet level.
Ancient Disco RTP
The RTP of Ancient Disco is around the industry average, providing players with a fair chance of winning during their gaming sessions. The volatility is very high, and the return to player is 95.74%. Filling the grid with 15 disco balls yields the maximum payout of 22500 times the wager.
Volatility
Ancient Disco has a high volatility level, offering a balanced mix of smaller wins and the potential for larger payouts during the special features.
Jackpot and/or maximum win
The maximum win in Ancient Disco is an impressive 22,500x the bet when 15 Ancient Disco scatters are on the board, and the Prize Ladder is increased to its highest level.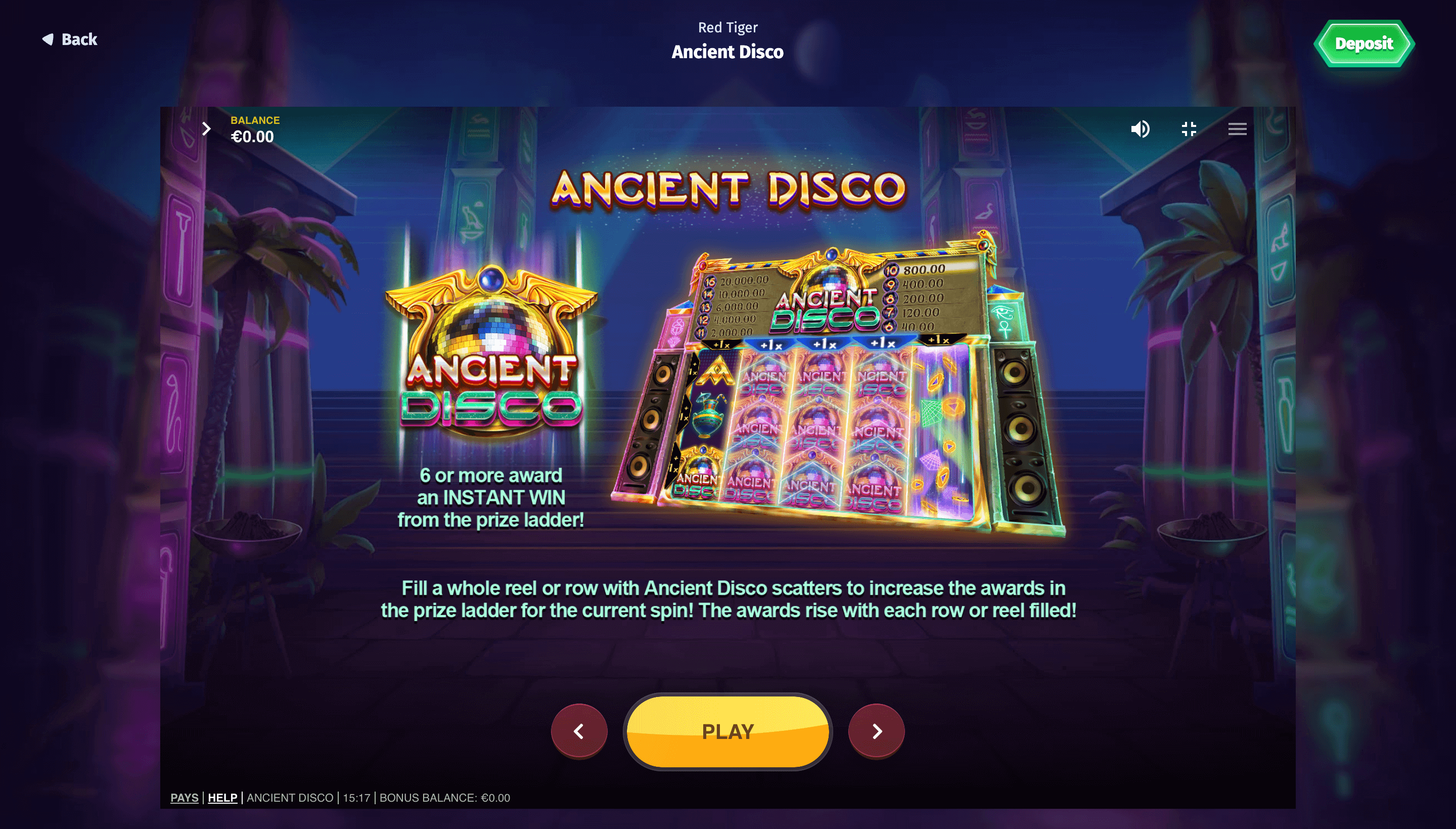 Vibrant Symbols and Exciting Payouts
Ancient Disco's unique combination of ancient Egyptian and disco-themed symbols is visually appealing and adds an extra layer of excitement to the gameplay. The payout system, which revolves around the Prize Ladder and scatter symbols, keeps players engaged and eager to unlock the game's full winning potential.
Game Features
Ancient Disco by Red Tiger offers players a variety of exciting game features such as instant cash prizes, Pyramid Spins, and a Bonus Buy option, providing multiple ways to win big.
Wilds, re-spins, and other features
Ancient Disco focuses on instant cash prizes through the Ancient Disco symbols and re-spins through the Pyramid Spins feature. These unique features offer players the chance to multiply their bets and increase their winnings.
Ancient Disco Symbols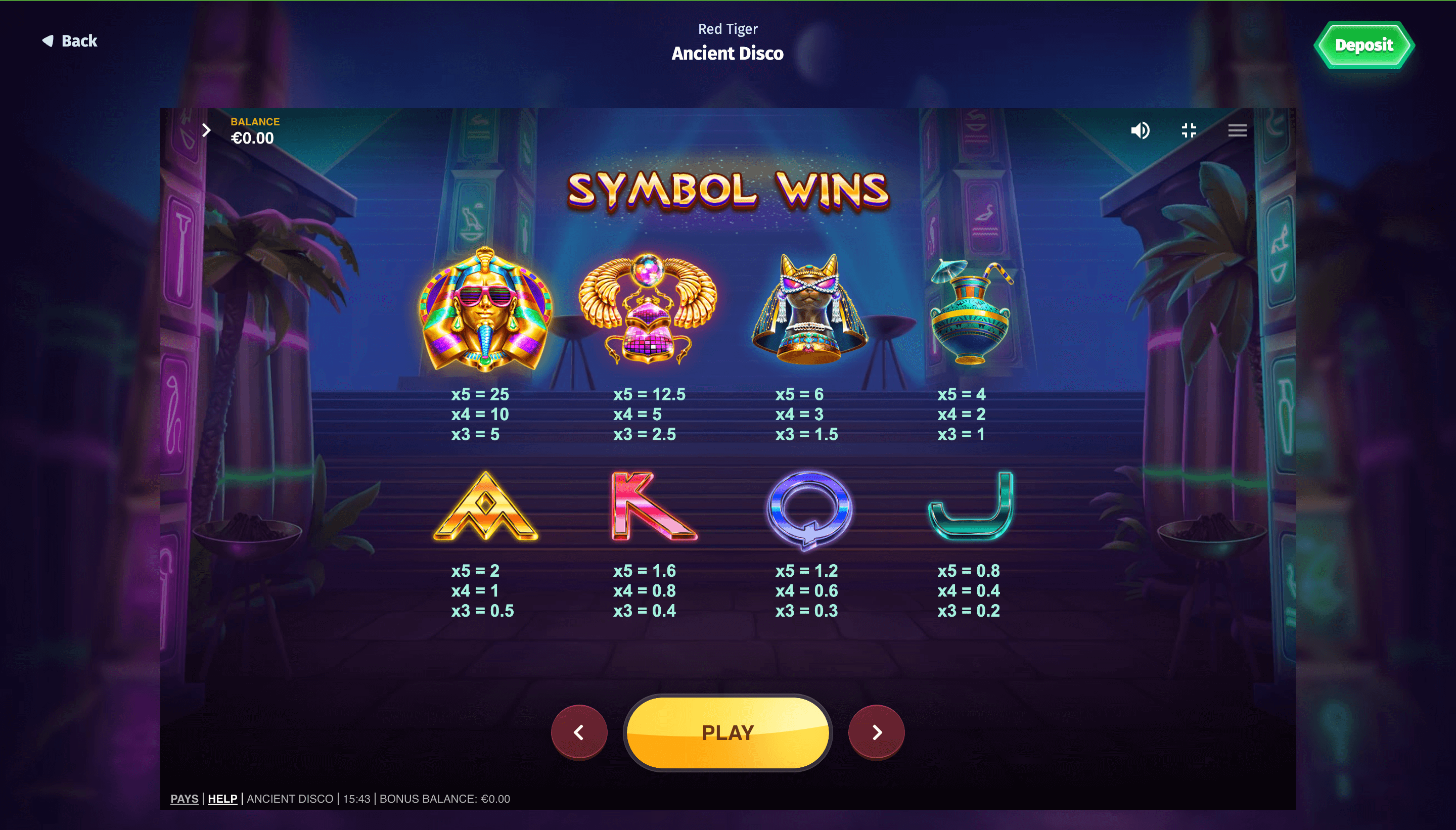 Landing 6 or more Ancient Disco symbols awards instant cash prizes, with multipliers increasing as more symbols are collected. Filling the entire grid with these symbols can result in a 9x multiplier, awarding the maximum win of 22,500x the bet.
Pyramid Spins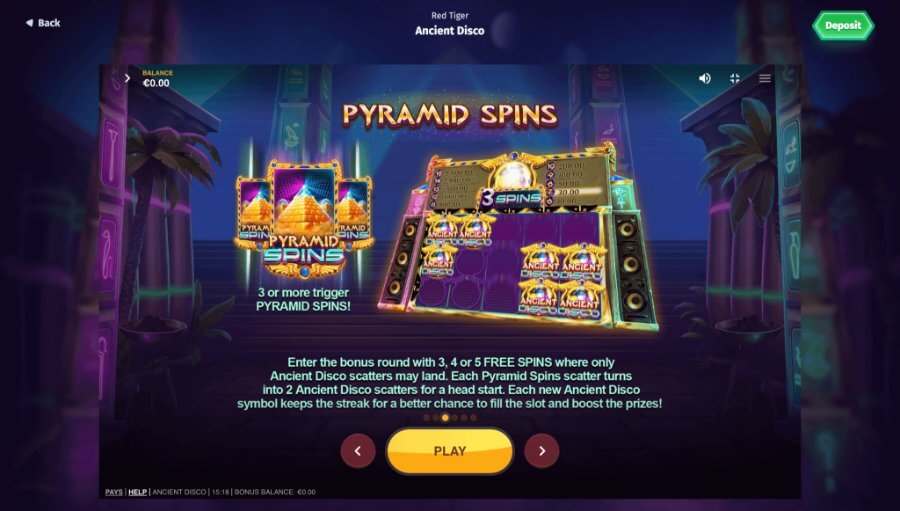 Triggered by landing 3 or more Pyramid Spins symbols, this feature starts with 3, 4, or 5 respins depending on the number of triggering symbols. Each Pyramid Spins symbol is divided into two Ancient Disco symbols, which become sticky for the duration of the feature. The spins reset whenever an Ancient Disco symbol lands, continuing until the grid is filled or no more spins remain.
Bonus Buy
Ancient Disco offers a Bonus Buy option, allowing players to purchase features for a set cost. For 15x the bet, players can buy the Ancient Disco feature, guaranteeing at least 6 Ancient Disco symbols on the grid. The Pyramid Spins feature is also available for purchase at 90x the bet, providing players a chance to win big through respins and sticky symbols.
Ancient Disco Graphics & Sound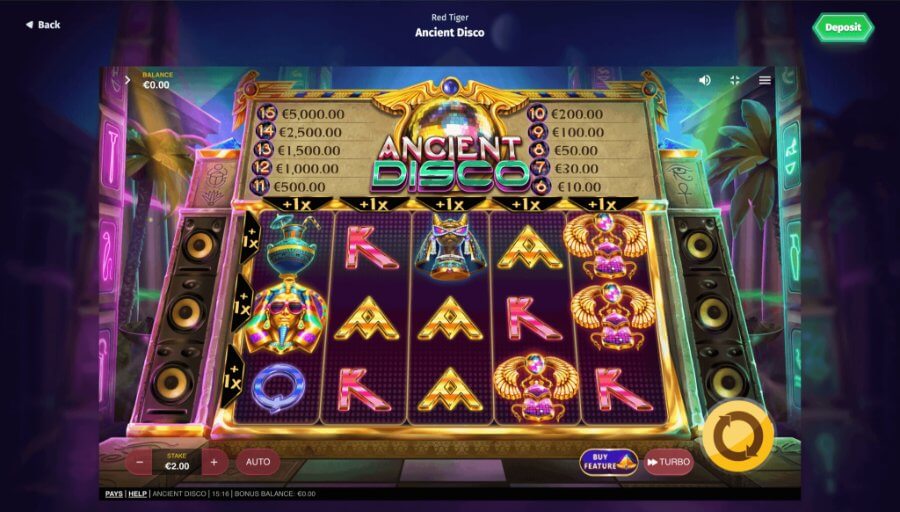 | | |
| --- | --- |
| Graphics | 2D |
| Optimized for Mobile | 👍 |
| Music | Rhythmic, dance-party music |
| Special features | Bold colors, hieroglyphs, spinning disco ball |
Vibrant Party Atmosphere
Ancient Disco's graphics and sound create a unique and captivating atmosphere, combining Ancient Egypt's mystique with the energy of a modern dance party. The bold colors, hieroglyphs, and rhythmic music all contribute to an engaging gaming experience that sets this slot apart from others. The absence of a Wild symbol doesn't take away from the game's overall appeal, as the other features and visuals more than make up for it.
Troubleshooting Tips for Game Issues
If the game is interrupted during play, try restarting the session and replaying the game round.
If the replay functionality isn't sufficient, reach out to the gaming website's support team for assistance.
In case of malfunctioning gaming hardware or software, be aware that all affected game bets and payouts may be voided, and affected bets could be refunded.
Ancient Disco: A Party in Ancient Egypt
Ancient Disco by Red Tiger is a unique slot game that successfully combines the mystique of Ancient Egypt with a modern dance party atmosphere. With its vibrant visuals, rhythmic music, and entertaining gameplay, it caters to both form and function. The game offers a lighthearted, enjoyable experience that doesn't take itself too seriously, and its instant prize feature and high winning potential make it an attractive choice for players.
The game's unique theme sets it apart from the countless Egyptian-themed slots, offering a fresh alternative to players looking for something different. Ancient Disco's exciting features and impressive maximum win of 22500x the bet make it a must-try for slot enthusiasts.
Similar Slots with an Ancient Egyptian theme to Explore
Frequently Asked Questions
What is the maximum win in Ancient Disco?
The maximum win in Ancient Disco is 22500x the bet.
Does Ancient Disco have a Wild symbol?
No, Ancient Disco does not have a Wild symbol.
What are the key features of Ancient Disco?
The key features of Ancient Disco include instant cash prizes, Pyramid Spins, and Bonus Buy.
What is the theme of Ancient Disco?
Ancient Disco combines the theme of Ancient Egypt with a modern dance party.
Is Ancient Disco optimized for mobile devices?
Yes, Ancient Disco is optimized for mobile devices.
What should I do if the game is interrupted or malfunctioning?
Try restarting the session, contacting the gaming website's support team, or checking for any refunds on affected bets.
Author
Casino Expert
Raguia is the Content Writer for the UAE market. She has been a writer since the early 2000s, specializing first in journalism, then social media and now content writing. She likes to follow casino trends and stay up to date with the ins and outs of the gaming industry. She plans her next trip if she isn't trying, testing and reviewing casinos. She speaks five languages, has visited 37 countries, and will keep travelling while playing online.