What You'll Learn From Our Guide to Baccarat Strategies
Knowing some of the baccarat strategies are vital, but not because it will guarantee a win. The best baccarat strategy helps you manage your bankroll, but ultimately it's a game of chance. However, unlike games like roulette, baccarat still has some minor elements of skill, as you play with a set number of cards.
4 Important Tips When Starting
Before you dive into this game, follow the tips below to understand what to expect when playing better.
Always learn the game's rules first, which include the odds, bet types, and payouts.
Pick a variant after making an informed decision on the house edge and available bets.
Determine the bankroll you can comfortably spend and stick to it.
Decide how much time you can afford to play safely and don't go over that timeframe.
10 Popular Baccarat Strategies
Experts invented baccarat strategies to try and beat the odds and ensure a win. However, while there are some strategies which you can use to try and predict the outcome, none provide a sure-fire winning method.
Instead, you use it to protect your bankroll or make the game more interesting as you try the best baccarat strategy out. Below, we briefly look at 10 different methods and how they work.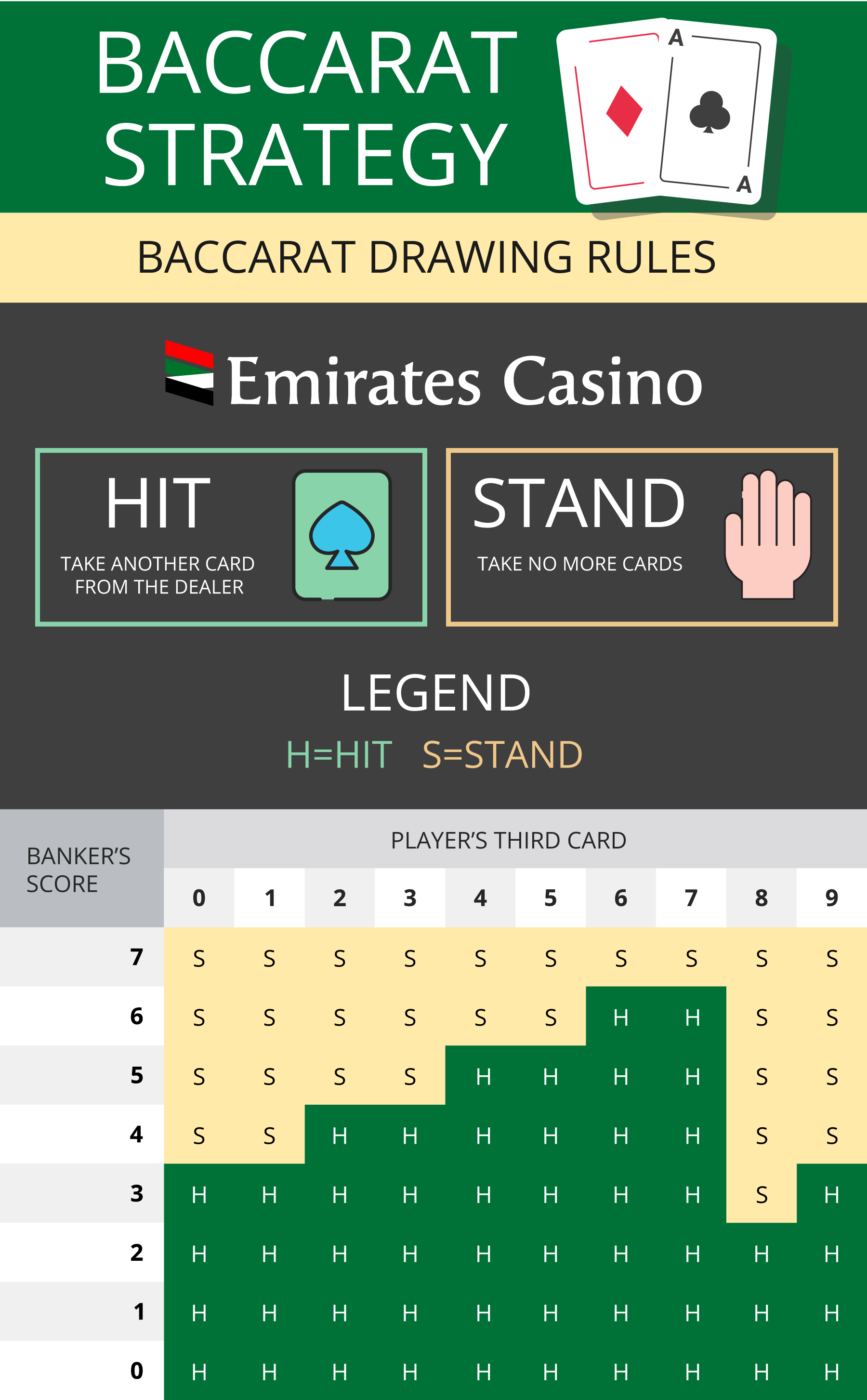 Baccarat strategy n°1: The One-Sided Strategy
The one-sided gambling strategy means you choose a hand, the player or banker, and stick to it. So for the entirety that you're playing the game, you bet on only one side of the table. The idea with this method is that both offer similar odds of winning, and you can hopefully make a small profit at the end of the game.
Baccarat strategy n°2: The Trend Switch Combat
This game has two main trends: zigzag (player wins, then banker wins, then player, etc) and streaks (e.g., the player wins a few times, then the banker wins). The Trend Switch baccarat gambling strategy means you switch between trends one and two as you play. You make flat bets, and when you've lost twice using a specific trend's method, you switch to the other one.
Baccarat strategy n°3.: Breaking the Doubles Strategy
This idea is to bet on the zigzag trend. Once you lose, double down once, meaning if you lost on the player, then bet the player again once with double your first bet. If you lose that bet, reset the trigger and start the system again.
Baccarat strategy n°4: Card Counting
Ed Thorp was a dedicated baccarat player who devised his own card counting system. Using Thorp's system might give you a minor advantage over the banker, but it's not enough to make sense.
The amount a player has to bet to use Thorp's system isn't realistic or usually worth it considering the possible winnings. As such, many experts believe that card counting isn't a suitable strategy for baccarat.
Baccarat strategy n°5: 1-3-2-4 System
The idea behind the baccarat strategy 1-3-2-4 is the amount you bet. So at the start of the game, you decide on a unit, which can be 30 AED, 40 AED, 100 AED, or whichever amount you prefer.
You start to bet with one wager, and each time you lose, you reset the bet to one stake. If the wager is successful, you bet three units, moving to two and then four units for successful bets.
Baccarat strategy n°6: The Martingale System
This system generally requires a larger bankroll, as you double your wager after each loss. If you land a winning stake, then you start over at your initial stake. The idea is that you will eventually win and make back all the money you lost. However, it remains a high-risk gambling strategy.
Baccarat strategy n°7: The Fibonacci Strategy
This method hinges on the Fibonacci number system (1, 1, 2, 3, 5, 8, 13, 21, 34, etc). You start the bet with one unit, and each time your wager fails, you add the sum of the previous two bets together for your next stake. The method is completed when you're back to betting one unit.
Baccarat strategy n°8: The Paroli System
The Paroli system states that you double your stake after each win, so it's a positive progression method. Once you have three consecutive wins, you revert your bet to the initial amount. If you lose, you also revert your stake to the original amount.
Baccarat strategy n°9: The Labouchere System
In this system, you decide how much you're aiming to win, say 1,000 AED, and then divide this number into smaller numbers equalling it together, say 10, 20, 10, 40, 20. You combine the far left and right numbers to create your first bet. If you win, you cross off the numbers, but if you lose, you add the bet amount to the right of the sequence.
Baccarat strategy n°10: The D'Alembert System
This strategy increases your bet after a loss like Martingale, but only by one unit. So if you bet 10 AED and lose, then you change it to 11 AED. Once you win, you revert to the original bet. You don't need as big a bankroll as with Martingale, but like all negative progression methods, it does carry more risk than other systems.
Deciding Which Baccarat Gambling Strategy You Should Choose
The method you use can depend on the baccarat variants, your bankroll size, player style, and how much experience you have with the game.
The Best Baccarat Strategies If You're New to Casino Games
If you're new to baccarat, we recommend strategies more suited for smaller bankrolls, so you can get used to the gameplay before risking a large amount of your bankroll.
Paroli System: It's a short strategy that has a clear goal.
One-Sided System: It's straightforward, and you can use it with any bet amount.
Baccarat Strategy 1-3-2-4: Follows a set sequence making it easy to understand.
Baccarat Strategies Fit for a Pro
Pros can try their hand at more risky baccarat strategies, as they know the dangers.
Martingale System: It's a high-risk with a possible high-reward system for players looking for a thrill.
Labouchere System: Requires remembering the pattern, which makes it better for players looking to spice up the gameplay.
Breaking the Doubles: A slightly more complicated method, offering a change to regular gameplay.
Baccarat Strategy With the Most Wins
No strategies guaranteed to win exist, but we look at some of the most significant wins of this game here. In the 1990s, Crown Casino presented high-stakes baccarat games, where Asian gamblers cleared the casino of 55 million USD (~202,000,000 AED) in the span of a few months.
While it's unknown what strategies they used, it shows the possibility of high wins using baccarat strategies. However, it should never be expected while playing, and players must remember to follow responsible gambling policies.
Common Beginner Mistakes Easy to Avoid
Baccarat is a straightforward game many players enjoy. However, when you start playing the game, it can be easy to make simple mistakes an experienced player can avoid.
One is to never bet on a tie, as experts have deduced that banker bets have a 45.84% of winning, the player bets a 44.61% chance, while draws, or tie bets, have a mere 9.45% chance of winning.
Enjoy the game!
Frequently asked questions
No, ultimately it's a game of chance rather than skill, and the methods are more geared towards how you use your bankroll, as it can't influence the game.
Generally, the most popular strategies are the Paroli, Martingale, Fibonacci, and D'Alembert systems with this game.
One of the most advanced methods is the Labouchere system, which requires calculating numbers and remembering patterns as you play.
Yes. Although there are no casinos in the UAE itself, plenty of international casino sites accept UAE players and have a variety of baccarat games available.
Author
Casino Expert
Raguia is the Content Writer for the UAE market. She has been a writer since the early 2000s, specializing first in journalism, then social media and now content writing. She likes to follow casino trends and stay up to date with the ins and outs of the gaming industry. She plans her next trip if she isn't trying, testing and reviewing casinos. She speaks five languages, has visited 37 countries, and will keep travelling while playing online.