The Classic and Most Popular Roulette Variants
It would be remiss of us not to mention the classic roulette variants available to players in the UAE before we dive into the nitty-gritty details of the various online versions before you go play at an online roulette casino.
Below are the classic games, which most other variations are based on. These three are also the oldest versions of roulette.
European Roulette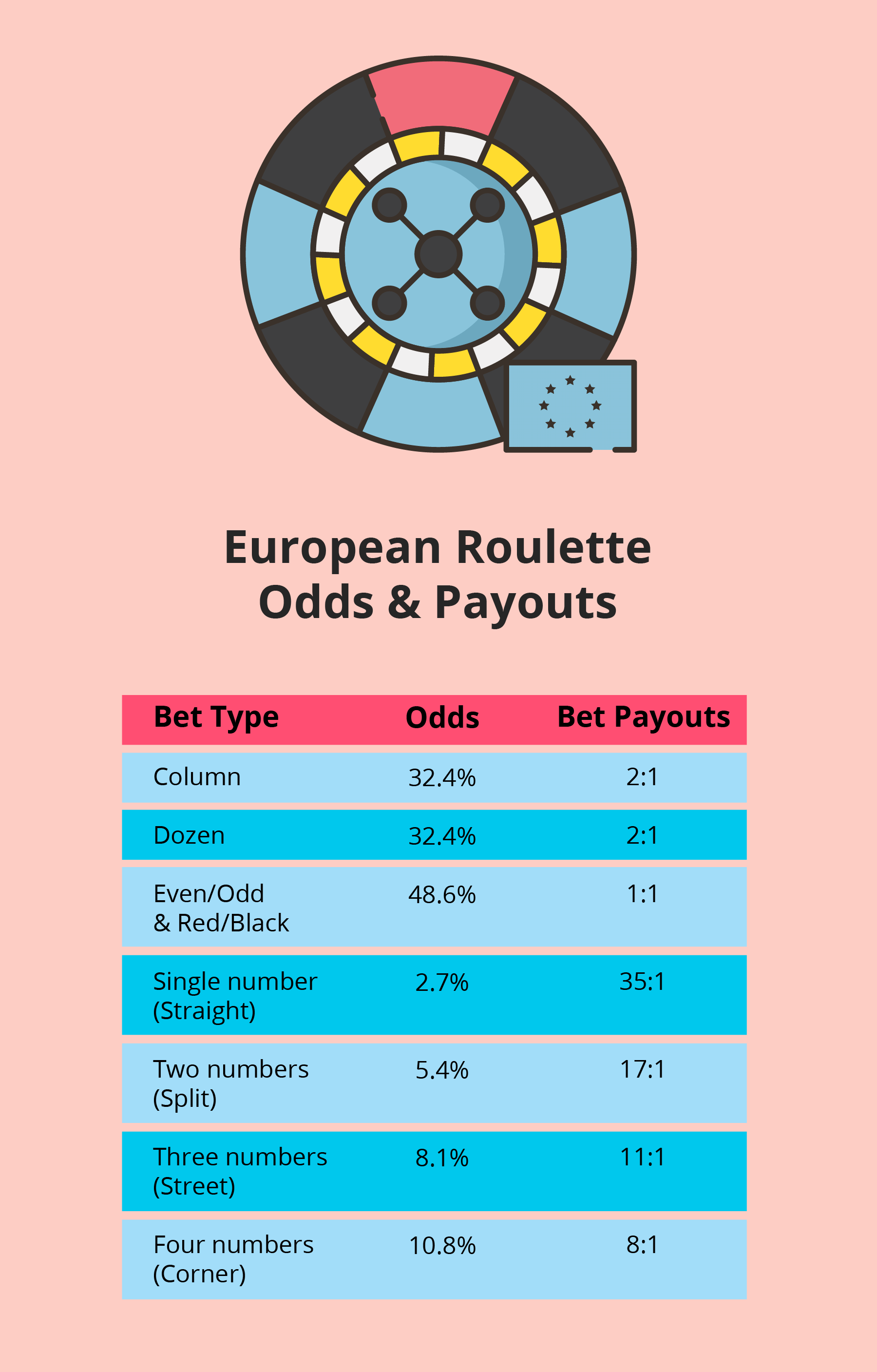 The European version is the standard one all other variations come from. The wheel has 37 pockets, with a zero pocket and numbers 1 to 36.
The pockets alternate between red and black and the numbers aren't listed chronologically. Thanks to being a single-zero game, it has a much higher RTP than some others.
There are inside and outside bets, with inside wagers placed on specific numbers or sets of numbers, while outside ones are even-money bets.
American Roulette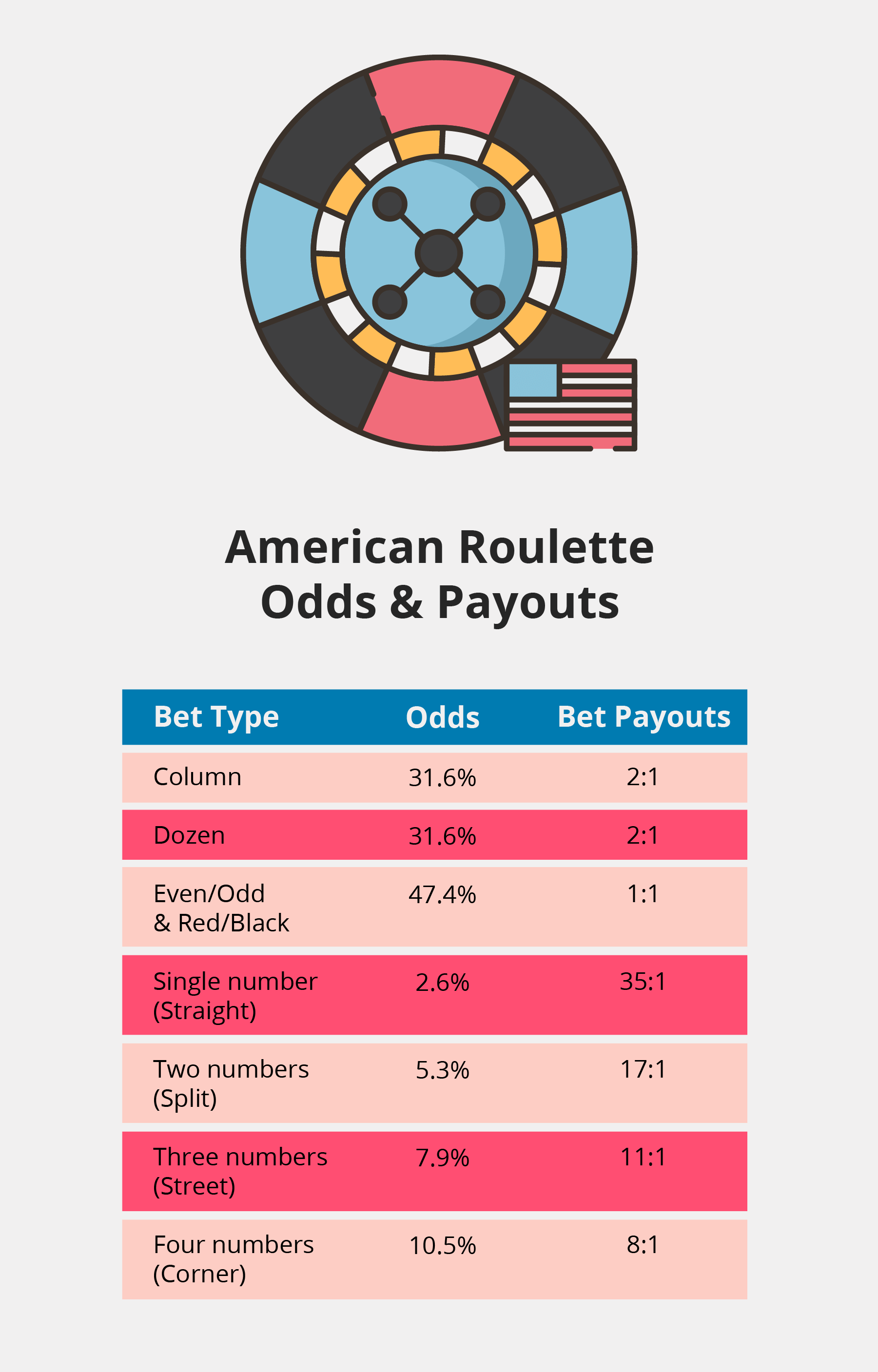 The American version is the same as the European one regarding its rules and bets, but there's one crucial difference.
The American wheel is a double-zero wheel, meaning there are 38 pockets, with one being a green zero and the other a green double zero. These zero pockets mean that the house edge is considerably higher, and generally, it's a game for high-rollers.
French Roulette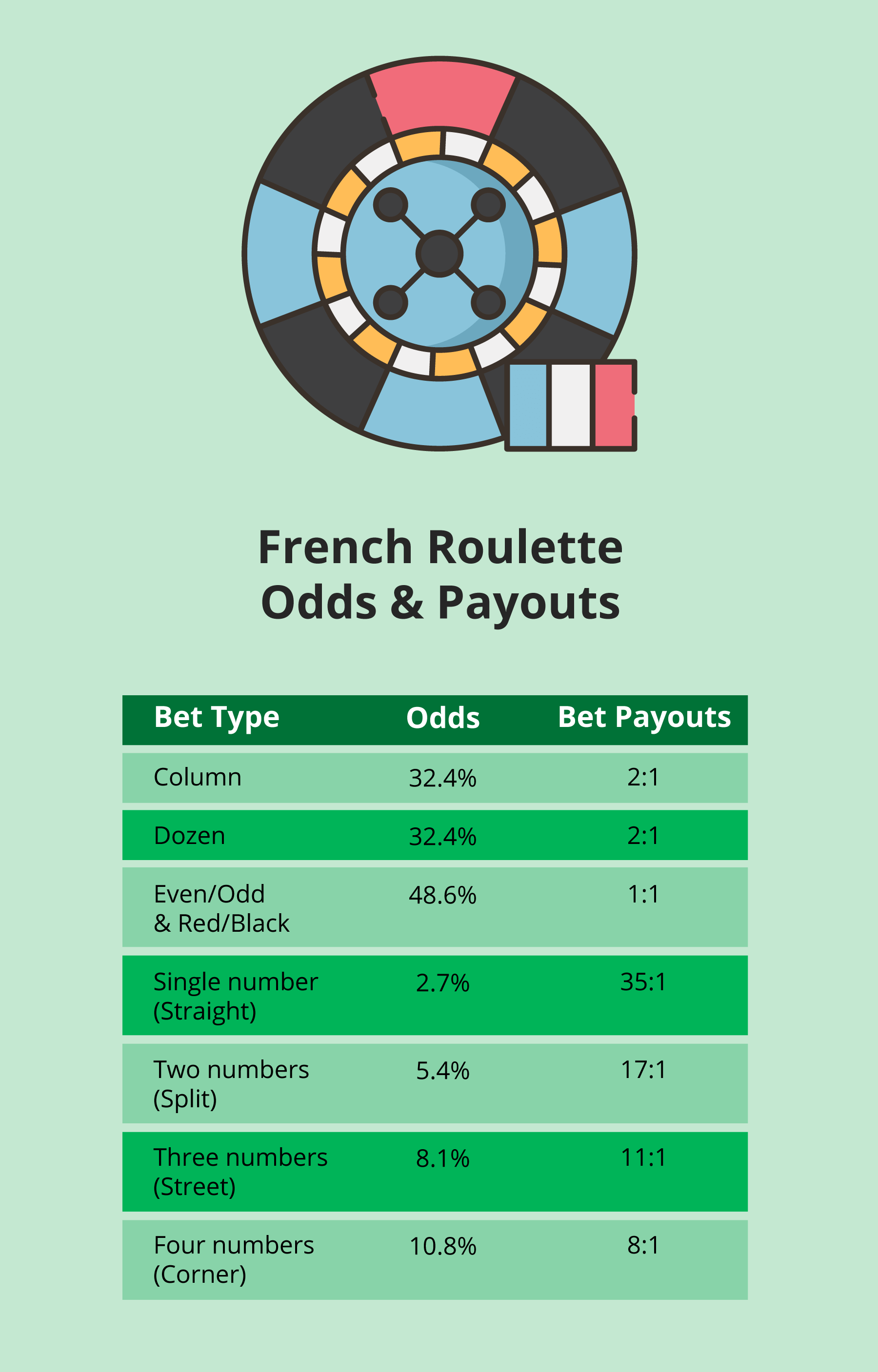 The French game is one of the roulette variants almost identical to the European game, except it adds two rules to the gameplay.
La Partage is a rule that applies to even money bets. If your even-money bet results in the ball landing on zero, the croupier splits the wager and gives you back half your stake.
En Prison is valid on the same bets, but instead of splitting the bet, they hold it for the next wager. If your next bet wins, then they return the initial stake.
Roulette Variants for Online Players
As the game became more popular and online casinos more prevalent, many online roulette variations started popping up. Whether you're a novice or a pro player, there'll be titles for you to enjoy. Below is a list of some of the most popular ones.
Live Roulette
The live versions can be almost any type but are presented on an online casino site using an HD stream and live croupier. The live croupier will be in a studio that looks like a casino, or an actual casino, and have access to a real wheel and ball.
UAE players will have a chat they can use to communicate with the croupier and experience a more authentic casino atmosphere. However, since it's a live croupier, it's not available for free, and only popular versions are listed.
Mini Roulette
This game is a simplified and smaller version of the European one. The wheel has 13 pockets, with numbers 1 to 12 and a single zero. It doesn't offer all the same bets as the full versions and has a lower RTP. However, to make up for the lower RTP, you have a rule similar to the La Partage in effect.
Multi-Wheel Roulette
You play the Multi-Wheel variation with six to eight wheels in most cases. You can place a single bet that's eligible on all wheels, or you can deactivate some of the wheels. It ups the excitement of the game much more than one wheel can give, and various versions of this title exist.
Double Ball Roulette
The Double Ball game is a version where the croupier or software drops two balls into the wheel. It can be played with European and American wheels and features the same bets. You can also bet that both balls will fall on the same number, with a 1,300:1 payout. Overall, it gives you double the fun, though we advise playing it on a European wheel.
Triple Bonus Spin Roulette
This version might have some of the lowest RTP percentages among online roulette variants, as it features triple-zero pockets and larger pocket sizes. However, what keeps it interesting to players is the bonus feature that has a possible 12,000x payout if the players make a bonus side bet.
Lightning Roulette
The Lightning variant brings into effect lucky numbers, which the players can try and predict. Successfully predicting the numbers can award a payout between 50x and 500x your bet and the infamous lightning effect of the wheel. This title is one of the most popular versions, which you can often find in online casinos' live lobbies.
Roulette Royale
If you're a fan of jackpots, then this version is the one for you. It offers the same rules and wheel as European Roulette, except a progressive jackpot is also part of the game. Players must hit the same number five times consecutively to win the jackpot, as it can often reach up to millions of dirhams.
Astro Roulette
The Astro type is a game for all zodiac or horoscope lovers, as it features a 37-pocket wheel, with the numbers covered by the 12 zodiac signs and the zero instead an infinity sign. This unique wheel ensures players love it, especially as several bets involving the zodiac signs are available. However, it also means it can be a bit more complicated to grasp for new players.
Double Action Roulette
The Double Action wheel features inner and outer concentric rings, with the numbers arranged in opposing order. As such, there'll be two winning numbers each round, and the table layout is slightly different to account for both rings.
However, if you're making even money bets like black or red, then remember the ball must land in a pocket where both inner and outer rings have that color.
Age Of The Gods Roulette
The Age of Gods game offers four progressive jackpots with a Greek gods theme. The game can trigger the Mystery Jackpot at any time, and the table also has an additional field for an extra bet with a significant payout. However, these features make the house edge much higher.
Pinball Roulette
Instead of a wheel, this variation offers a pinball machine, with a digital ball shot through the field and bumping into various pins and bumpers. The standard numbers on a wheel are at the bottom of the pinball machine and keep rotating until the ball lands in one.
Key Bet Roulette
The Key Bet title gives players an extra bet they can make for payouts up to 100x your stake. It also features a spinning disc inside the wheel that'll award a multiplier or pot UAE players can win. The multiplier can reach up to 500x your stake, making this an exciting version.
Slingshot Roulette
This type merges live and online roulette, as it's an actual wheel you watch spinning in live time, but without a croupier present. The rules and bets are the same as the European game, and the RTP is on the higher end compared to different roulette types.
Which Roulette Type Should You Choose?
We've discussed the various versions, but how do you know which one to choose? Multiple roulette strategies are available when you play the game, and you must consider the title's odds, payouts, and bet types. It's important to know roulette rules before you put together your roulette strategy so you can play to win. Below, we go into more detail on choosing the perfect game.
Roulette Variations With The Lowest House Edge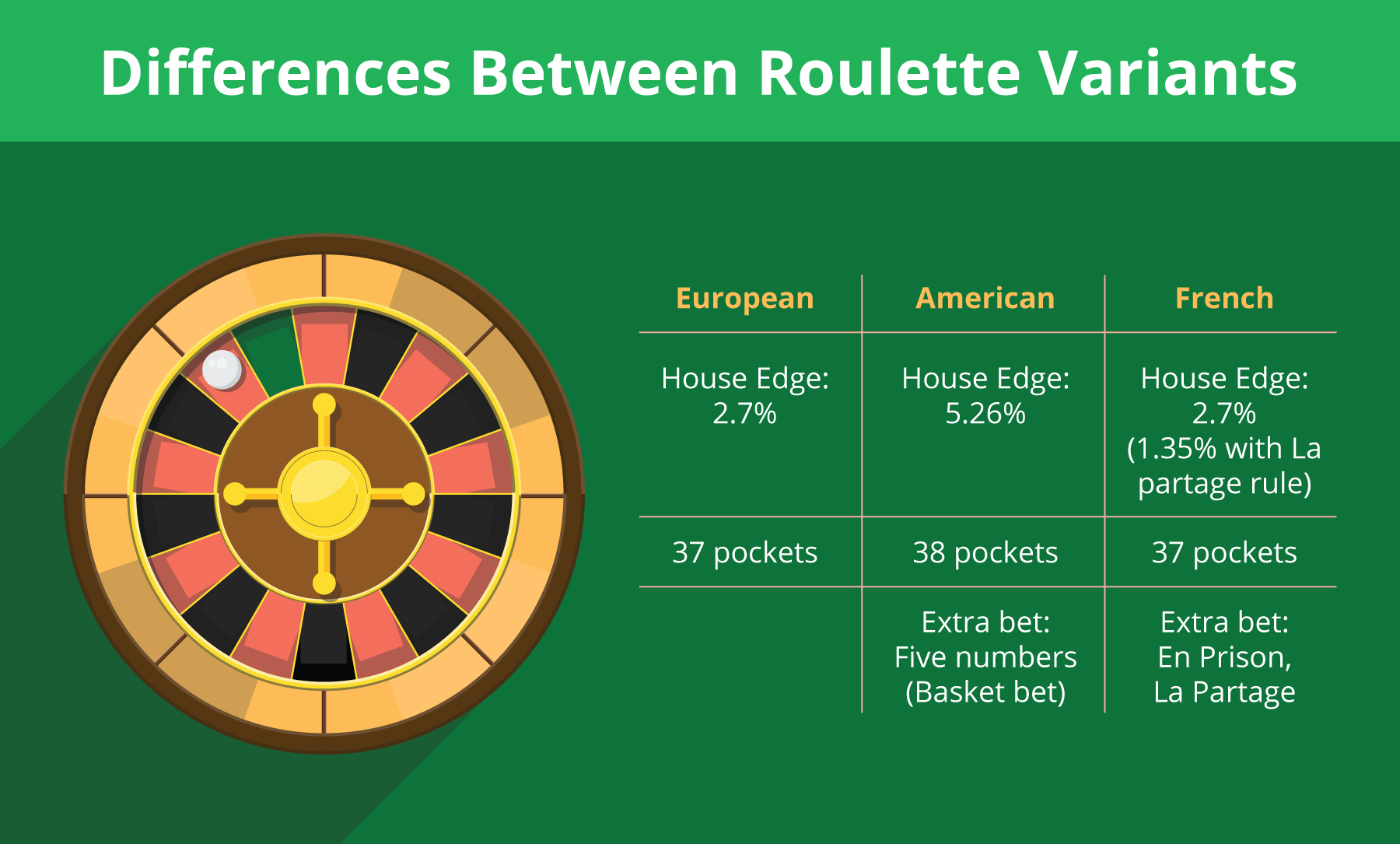 Choosing a variant with a low house edge puts the game a bit more in your favor. Below are three of the titles with the lowest house edges.
French: This version has the lowest house edge of 1.35%, thanks to the La Partage and En Prison rules.
European: The standard wheel offers a house edge of 2.70%, thanks to being a single-zero wheel.
Slingshot: This live and online mixed game has the same house edge as the standard wheel and offers the thrill of watching a live wheel.
Roulette Types That Payout The Most
While you should always play for entertainment, that doesn't mean you can't choose a type that pays out the highest amount. However, double-check the other rules and odds before you play the one with the highest payout.
Royale: The progressive jackpot is worth millions of dirhams, as unlikely as it is to win it.
Triple Bonus Spin: The bonus feature in this title lets you win up to 12,000x of your bet.
Age of Gods: The four mystery jackpots are progressive, making significant wins possible.
Top Variants To Try When You're New To Casino Games
If you're new to the scene, it's best to start slow with the following titles. Start with versions with a lower house edge or straightforward gameplay and bets to familiarise yourself with it.
European: This version is the standard game and helps you learn the rules and bets.
French: The game with the lowest house edge is an excellent way to learn the rules and manage your bankroll.
Key Bet: This title is easy to play and offers possible high multipliers, making it great for novices to try.
Types Of Roulette To Play If You're A Pro
Being an old hand at this game, you might be looking for a challenging or unusual version.
Astro: This exotic wheel featuring the zodiac will bring something new to the table for pro players.
Lightning: Pro players can spice up their bets by predicting a lucky number as they play.
Pinball: This title is nothing like the standard wheel, giving pro players a different gameplay to look forward to at online casinos.
Types Of Roulette You Should Avoid
Not all titles are equally excellent, and there are some you should avoid playing if possible. The reasons range from having a higher house edge to offering riskier bets.
American: The double-zero wheel means it has a higher house edge of 5.26%.
Mini: The mini version of this game gives a house edge of 3.85%, which is high compared to others.
Triple Bonus Spin: While it features a high payout and so had to be mentioned, the bonus bets often mean you have a higher chance of losing your money.
See Where the Ball Drops
The number of roulette variants available means you'll never be bored while playing this fun game. Many versions and gameplay options are available, from a pinball field to an exotic zodiac wheel. However, you must remember the game's possible drawbacks and play titles that suit your style.
Overall, roulette is a game both novice and pro players can enjoy!
Frequently asked questions
Multiple bet types are available, from inside to outside even-money bets, but many exotic titles also feature side bets, like the bonus bet.
The strategies depend on your playing style and help manage your bankroll, meaning you can choose between Paroli, Martingale, D'Alembert, and many others.
No, the RTP ranges depending on the version, with some of the lowest RTPs being around 94.74%, while some of the highest are 98.65%.
That depends on your playing style, but European, French, and Slingshot Roulette are all good options, with Slingshot offering a mixture of live and online gameplay.
Author
Casino Expert
Raguia is the Content Writer for the UAE market. She has been a writer since the early 2000s, specializing first in journalism, then social media and now content writing. She likes to follow casino trends and stay up to date with the ins and outs of the gaming industry. She plans her next trip if she isn't trying, testing and reviewing casinos. She speaks five languages, has visited 37 countries, and will keep travelling while playing online.