Explore Where to Play Online European Roulette
We test and review various casinos to find one that offers the best real money and free European Roulette games. We narrowed the trusted online roulette casinos down to our top five ones for UAE players.
1. Bet O bet – European Roulette with Track
The casino BetOBet offers various European versions of this game, one of the notable ones being this "with Track" version. This Playson game follows the general rules but adds a racetrack on the table you can use to bet.
2. BetFinal – 3D European Roulette
BetFinal offers many excellent roulette games, the 3D European version among them. This version functions the same as others but includes a 3D rendering of the roulette wheel European versions use, which makes it feel more realistic.
3. Dafabet – European Premium Roulette
Dafabet offers various exciting games, and we look at the Premium version of this title. This game includes Neighbour bets, where you choose a number to bet on, and it automatically includes the ones left and right of it as well. It has a 3D wheel and two European Roulette table options.
4. Energy Casino – European Roulette Pro
Energy Casino offers a user-friendly site to UAE players and various games, including the Pro version of this title. This game gives advanced players some statistics they can use, like the hot and cold numbers, the statistics of your wins as you play, and special bets like Voisins du Zero.
5. YYY Casino – Roulette European
YYY Casino is another trusted platform with slots and table games. The site's user-friendly and features an appealing design. Evoplay's title of this game offers the classic rules we all know, with snazzy music playing and a max win of €3,600 (AED 14,491).
Explore the Rules and Odds of This Game
The European Roulette wheel layout has 37 pockets, with green zero and red and black numbers 1 to 36. In non-live dealer versions, RNG software operates the game, spinning the wheel and dropping in a small white ball to see where it lands.
Various bets are available, namely inside ones with lower European Roulette odds of winning and outside ones with higher odds of winning. It's vital to familiarize yourself with roulette rules before you start playing.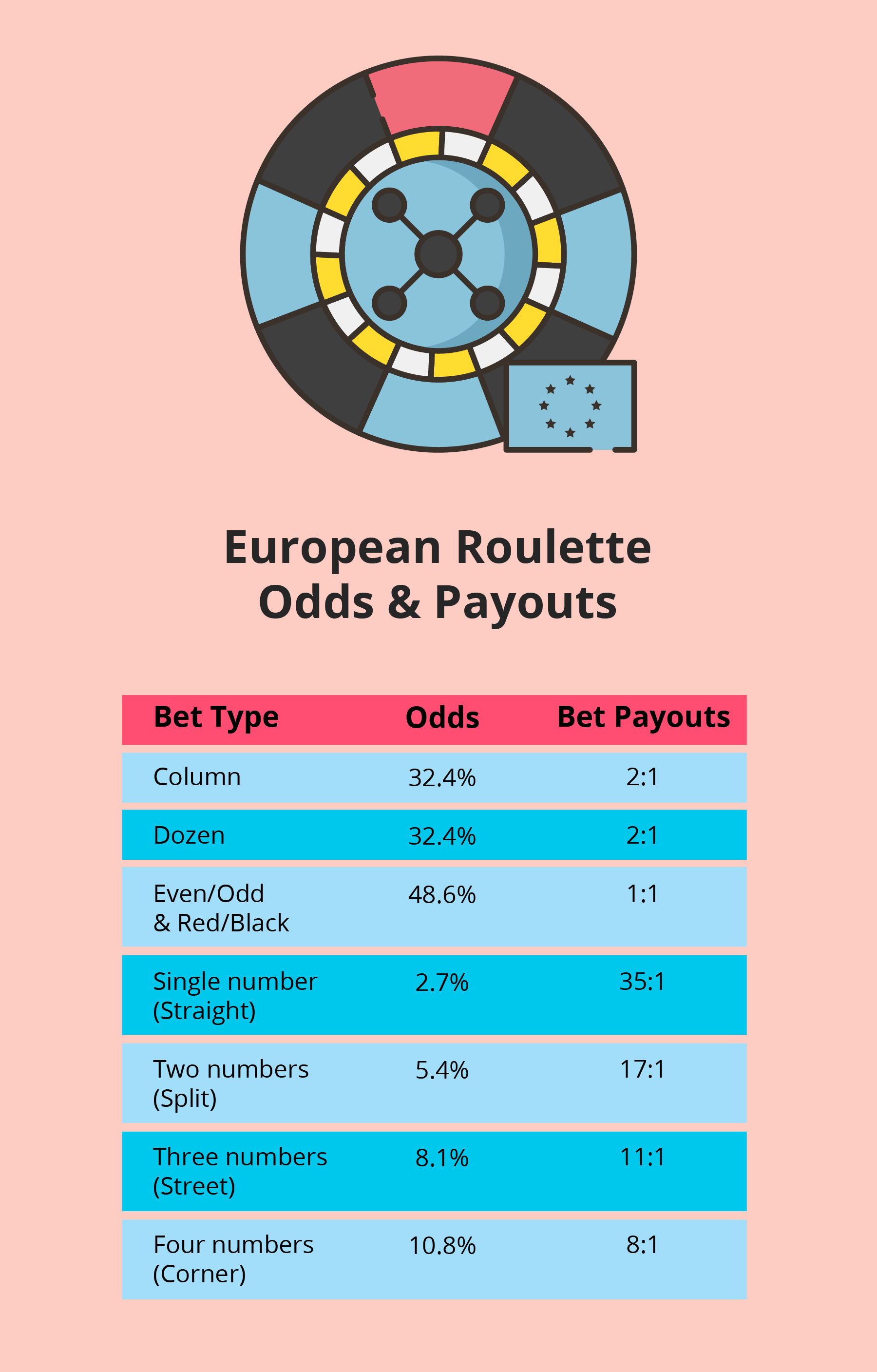 The Objective
The objective in this game is to correctly guess which pocket the ball is going to land in. You can choose the specific number you think it'll be, a group of numbers, or simply the number's characteristics, like being odd or even.
Master the Types of Bets
In the European Roulette game, there are various bets available. However, three main categories these bets fall into are available, namely inside, outside and other bets.
Inside Bets
Inside wagers are ones focusing on a specific number or selection of numbers. Usually, these stakes have lower odds of winning, but give higher payouts if won.
Straight Up: This is a simple bet on any number of your choice. However, since you're wagering on a specific one, the bet and number have low odds of winning but the highest payout.
Split: You place a wager on the line separating two numbers on the European Roulette table, meaning you bet on both of those numbers, like 27|30.
Street: You place this stake on three numbers in a row. So you'd bet on 7, 8, and 9, and win your bet if the ball lands on any of these.
Corner: Similar to split bets, you place your chip on the corner where four number blocks meet to wager on all four numbers. If one of these numbers is the winner, you win.
Line: Also called the six-line, you bet on two streets in this wager. So where you previously bet 7, 8, and 9, you now also bet on 4, 5, and 6 or 10, 11, and 12 along with them.
Basket: It's also known as the "first four" bet since you place your stake on 0-1-2-3 to win. It's like the European version of the American five-number wager.
Snake Bet: This stake is named such because it creates a snake-like pattern when you bet on the numbers in it, namely 1, 5, 9, 12, 14, 16, 19, 23, 27, 30, 32, and 34.
Outside Bets
Outside bets are more general, and thus the European Roulette odds of landing and winning such a wager are higher. Below, we look at the various outside stakes.
Red/Black: A simple even-money bet is wagering whether the pocket the ball falls in is going to be red or black.
Even/Odd: Same as the black/red bets, this wager is on whether the winning number will be odd or even.
High/Low: Another even-money bet where you place your stake on whether the number will fall low, between 1 and 18, or high, between 19 and 36.
Columns: There are three columns of twelve numbers in this game, and you can bet on one of the columns for slightly higher payouts than even-money bets. These European Roulette wheel numbers aren't in chronological order but span the longest side of the betting layout.
Dozens: This wager is similar to the Column bet, but takes the three options in numerical order. So the columns are 1 to 12, 13 to 24, and 25 to 36.
Other Bets
This game also has some call bets, which are traditionally called out or announced. However, providers often add them as special bets in online games.
Voisins du Zero: This wager covers all the numbers closest to zero, which is seventeen numbers in total. You must use nine chips to place the bet, with chips on the 0, 2, 3 trio, the 4|7, 12|15, 18|21, 19|21, and 32|35 splits, and on the corner of 25, 26, 28, and 29.
Jeu Zero: Translated as "zero games", this option lets you bet on the numbers right by zero, with four chips placed on the 0|3, 12|15, 32|35 splits a straight up on the 26.
Tiers du Cylindre: This translates as "a third of the wheel" and means you place your stake on the opposite side of the European Roulette wheel layout. Specifically, six chips on the 5|8, 10|11, 13|16, 23|24, 27|30, and 33|36 splits.
Orphelins: The numbers in this wager make up the remaining numbers outside of the voisins and tiers bets. So you place five chips on the splits 6|9, 14|17, 17|20, and 31|34, and a straight-up bet on 1.
Neighbors: Neighbour bets refer to ones where you place a straight-up bet on a number, and it automatically includes the closest numbers on either side of it. So if you bet on zero, it includes the neighbors three and 26 on one side and 32 and 15 on the other side.
All About the RTP, Payouts, and House Edge
Depending on the game version you're playing, the RTP, house edge, and payouts can differ. However, the traditional European version features the base statistics, which we added in the table below.
| Bet Type | Payout | Probability | House Edge | RTP |
| --- | --- | --- | --- | --- |
| Straight Up | 35:1 | 2.70% | 2.70% | 97.30% |
| Split | 17:1 | 5.41% | 2.70% | 97.30% |
| Street | 11:1 | 8.11% | 2.70% | 97.30% |
| Corner | 8:1 | 10.81% | 2.70% | 97.30% |
| Line | 5:1 | 16.22% | 2.70% | 97.30% |
| Column | 2:1 | 32.43% | 2.70% | 97.30% |
| Dozens | 2:1 | 32.43% | 2.70% | 97.30% |
| Black/Red | 1:1 | 48.65% | 2.70% | 97.30% |
| Even/Odd | 1:1 | 48.65% | 2.70% | 97.30% |
| High/Low | 1:1 | 48.65% | 2.70% | 97.30% |
| Voisins du Zero | Up to 24:1 | 45.9% | 2.70% | 97.30% |
| Jeu Zero | 17:1 | 18.9% | 2.70% | 97.30% |
| Tiers du Cylindre | 26:1 | 32.4% | 2.70% | 97.30% |
| Orphelins | 35:1 or 17:1 | 21.6% | 2.70% | 97.30% |
| Neighbours | 35:1 | 13.5% | 2.70% | 97.30% |
RTP Percentage
The RTP (Return to Player) for this game is generally 97.30%. However, depending on the variant, it can have slightly different RTP percentages, like the 98.65% RTP of the 3D roulette version if you only play even money bets.
Payouts You'll Find
Payouts are generally directly linked with the odds of winning the wager. So if you have a bet that has higher odds of winning, like even money stakes, then the payout becomes less. In the online European Roulette game, the payouts can range from 1:1 up to 35:1, or sometimes more.
The House Edge
The house edge is the direct opposite of the RTP, referring to the difference between the RTP and 100%. So for an RTP of 97.30%, the house edge is 2.70% and is the overall cut the casino takes of the various bets.
European Online Roulette vs. Other Roulette Variants
There are three main roulette types (European, French and American), two of which use the same roulette wheel (European and French). The RTP and payouts can differ in these games, along with the type of bets available. Most exotic roulette variants use one of these three games as the base. The roulette variants differ from one kind of roulette to the other.
| Game Type | Layout | Bets | RTP | House edge |
| --- | --- | --- | --- | --- |
| European | 37 Numbers ( 0 + 1 to 36) | Five InsideFive OutsideFour Call | 97.30% | 2.70% |
| American | 38 Numbers (0 + 1 to 36 + 00) | Six InsideFive OutsideFive Call and Final | 94.74% | 5.26% |
| French | 37 Numbers (0 + 1 – 36) | Seven InsideFive OutsideFour Call | 98.65% | 2.70% to 1.35% |
Difference to American Roulette
American Roulette has the lowest RTP since it has a double zero, which directly correlates with the house edge. The rules are mostly the same, but it gains an extra inside bet with the five-line bet.
It also adds final wagers to the gameplay, which are stakes where you bet on all the numbers ending with the same digit.
Difference to French Roulette
French Roulette uses the same wheel and mechanics as European but adds two additional rules to the gameplay. The En Prison rule means if you lose an even-money bet, your stake remains on the table, and if you win the next round, it returns your entire stake.
La Partage is another rule that states any losing even-money bet splits in half, and you receive half of it back, which means you lose less.
Breakdown of a Round – How to Play This Game
This game is the ideal choice for beginners and experienced UAE players, as it offers a thrill but is easy to play. Below, we break down the steps of how to play it.
Choose a game variant to play.
Ensure your casino account is funded with money you can afford to lose.
Add your chips to the number of blocks you want to bet on.
The software will spin the wheel and drop in the ball after you press the spin button. Alternatively, a live dealer will perform these actions once a new round starts.
The ball will land in one of the wheel's pockets as it slows, and your win or loss will automatically be calculated.
The Top Strategies for Advanced UAE Players
Over the years, several players have created strategies you can use while playing. Remember that you should play this game for fun, and not to make an income.
European Roulette Strategy n°1: The Martingale System
The Martingale is by far one of the most popular strategies. The principle of this system is that you double your stake after each loss and revert it to the original stake after each win.
Theoretically, you should be able to win back all your losses in a single win. However, it means you need a large bankroll, and you might end up chasing your losses. Make sure to put together a roulette strategy before you start playing.
European Roulette Strategy n°2: Reverse Martingale Strategy
The Reverse Martingale is also known as the Paroli strategy. You double your stake after winning and lower it to the original amount after losing. However, it's also risky, as you can chase after your wins and end up with an astronomical loss in a single bet.
European Roulette Strategy n°3: Fibonacci Strategy
The Fibonacci system uses the Fibonacci numbers 0, 1, 1, 2, 3, 5, 8, 13, 21, 34, 55, 89, etc. The idea is you start with one unit, and if you lose, you add your previous two bets together to total your next stake.
So if you keep losing, you'll bet €1 (4 AED), €1, €2 (8 AED), €3 (12 AED) and then €5 (20 AED). If you win, then you go back two numbers in the lineup, so winning after betting €5 means you revert to €2.
European Roulette Strategy n°4: Andrucci System
This strategy requires a large bankroll, as it's dependent on testing the wheel's hot numbers. So you must make small, even money bets for 30 to 37 rounds, sometimes more, and note down each number that wins.
You then switch to making straight bets on the numbers that occurred the most and continue this for another 30 to 37 rounds. However, there's no guarantee the hot numbers will land.
The Game That Everyone Can Enjoy
Roulette is a classic table game that experienced UAE players love, and beginners can get a handle on it easily. The inside and outside bets are fairly straightforward, and even call and final wagers aren't that hard to understand. It's the basic version of the game, so if you familiarise yourself with its rules and gameplay, you'll better understand other variants.
Try out this title if you're looking for a change from slots but don't want to throw yourself into the deep end of table games.
Frequently asked questions
Yes, most online roulette games are available in demo mode, but remember you can't withdraw any winnings from a free European Roulette game.
No, 00 refers to the double zero, which is part of the American wheel, while this one has a single zero on the wheel.
Ultimately, roulette is a game of luck, and no strategy you employ can affect or predict the result, but it can help you manage your bankroll.
While a straight-up bet is the simplest to make, as you choose a number, even money bets have better win probabilities and are one of the best bets to make.
Author
Casino Expert
Raguia is the Content Writer for the UAE market. She has been a writer since the early 2000s, specializing first in journalism, then social media and now content writing. She likes to follow casino trends and stay up to date with the ins and outs of the gaming industry. She plans her next trip if she isn't trying, testing and reviewing casinos. She speaks five languages, has visited 37 countries, and will keep travelling while playing online.