Where To Play the Best French Roulette Online?
Most online casinos that UAE players can visit have a wide selection of French Roulette games. We've listed the best places to play the original French style below.
Rabona
Rabona is a top choice for UAE players. Its roulette titles include French variants from BGaming, NetEnt, and Switch Studios.
BetFinal
French Roulette is available for UAE players to try at BetFinal. If you're looking for live French Roulette, BetFinal also has this.
YYY Casino
At YYY Casino, UAE players can find the French Roulette variant from BGaming. The Francophone Roulette En Direct will suit French speakers for live casino fun.
Bets.io offers every theme and style of roulette imaginable, including the French Roulette table – and it is certainly worth your attention.
LuckyDreams
LuckyDreams offers UAE players a vast collection of roulette games, including several French Roulette wheel variants. Look out for a prive and a pro version, titles from NetEnt and BGaming, and live dealer options.
Master the Rules & Odds of French Roulette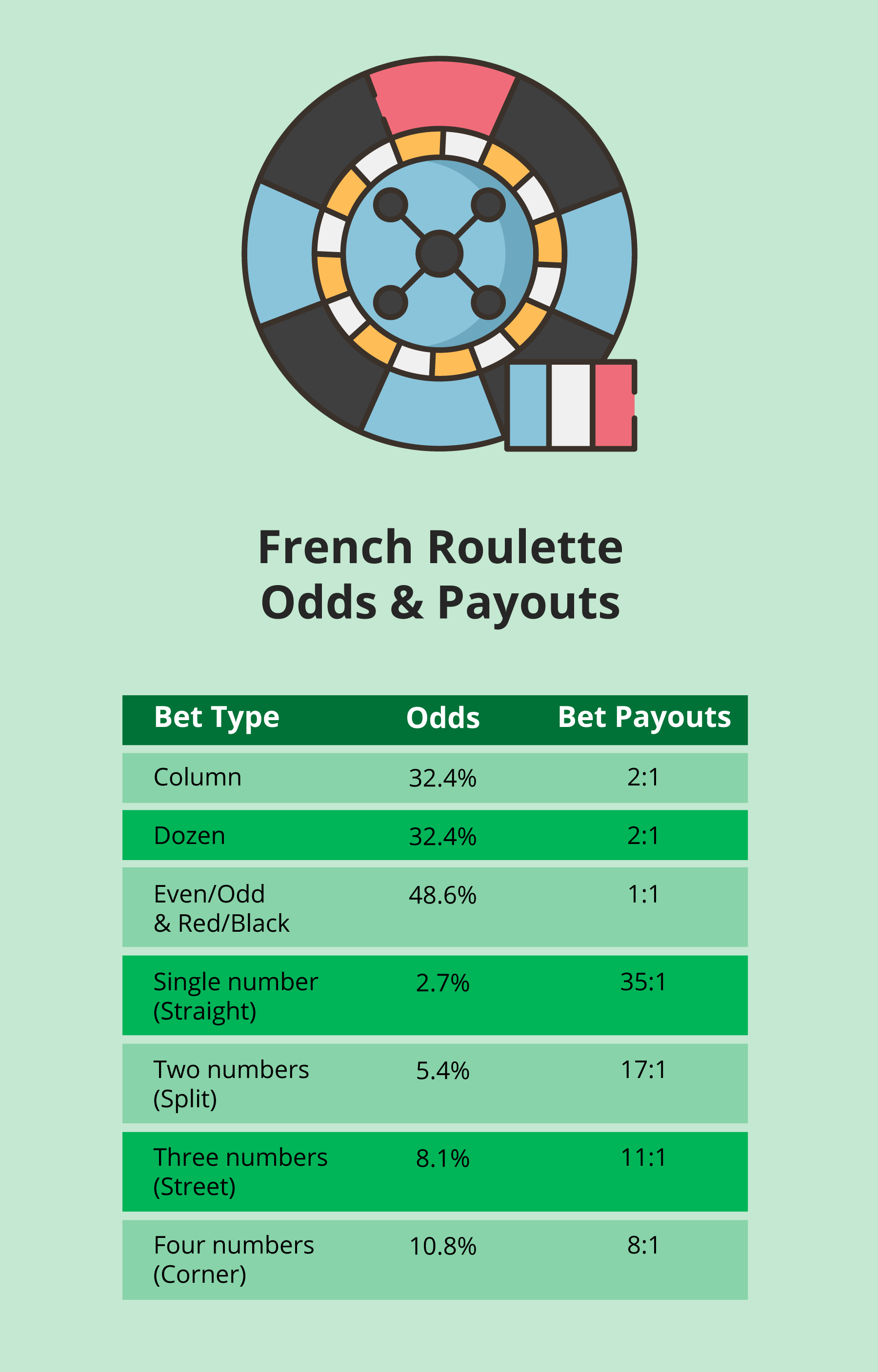 The French Roulette rules are easy to master with this guide for UAE players. The wheel with 37 pockets determines the French Roulette table layout, where you place your chips to bet.
The Objective
In roulette, you predict where you think the ball will land based on the numbered pockets. You make your prediction by placing your chips on the table where the French bet names are shown.
Types of Bets in French Roulette
To play and enjoy the game, you need to know which bets are accepted in French Roulette.
Inside Bets for French Roulette
The French Roulette wheel looks like the European one, but the key difference is the table layout. The French names for bets will be used, including the inside bets, which we've listed below.
Plein – known as a straight bet, it means wagering on a single number.
Cheval – also called a split bet, you place your chips on the line between two numbers to bet on both of them.
Transversale Pleine – the street bet covers three numbers, with the chips placed on the line at the end of any row.
Carré – this is the French term for a corner bet; you cover four adjacent numbers by placing your chips on the line where they connect.
Transversale Simple – also known as a line bet, this wager covers two rows, with six numbers in total. You place your chips at the end of the rows where they intersect.
French Roulette Outside Bets
The outside bets refer to their location on the table layout. They also have French names, so it's crucial to know the terms, what you're betting on, and where to place your chips. We've listed the popular bets below.
Rouge/Noir – you bet on whether the ball will land in a red pocket (rouge) or a black one (noir).
Pair/Impair – you wager on whether the number where the ball falls will be odd or even.
Manque/Pass – the third bet splits the wheel into two categories: low (manque) or high (passe). Choose the first one to bet on the ball, landing on any number from 1 to 18 or the latter for 19 to 36.
Douzaine – you can cover 12 numbers at once by placing a bet known as a dozen. Your choices are P12, which is the first dozen; M12, which is the middle or second dozen; and D12, the last or third dozen.
Colonne – also known as a column bet, this wager covers 12 numbers that run vertically on the table layout. You place your chips at the bottom of the column to bet.
Other Bets in French Roulette
When you play French Roulette online, you'll have the option to place other bets, often called announced bets. They cover specific groupings of numbers, which we explain below. You can usually click on the bet list or a segment of the wheel to wager.
Voisins du Zero – you're covering the neighbors of zero using nine chips to cover the numbers 0, 2, 3, 4, 7, 12, 15, 18, 19, 21, 22, 25, 26, 28, 29, 32, and 35.
Le Tiers du Cylindre – six chips are used to cover the numbers opposite zero. They include 5, 8, 10, 11, 13, 16, 23, 24, 27, 30, 33 and 36.
Jue Zero – with four chips, you cover zero, the numbers next to it: 3, 12, 15, 26, 32 and 35.
Orphelins – the orphans are the numbers not covered in the best above. You can use five chips for split wagers or eight for straight bets, covering 1, 6, 9, 14, 17, 20, 31 and 34.
Finales – Using three up to six chips, you can bet on a combination of numbers that end in the same digit.
RTP, Payouts, and House Edge in French Roulette
Your choice of bet relies on knowing the RTP, odds, and payout. We've set out that essential information for each bet type.
| Bet type | Payout | Probability | House Edge | RTP |
| --- | --- | --- | --- | --- |
| Plein | 35 to 1 | 2.7% | 2.70% | 97.30% |
| Cheval | 17 to 1 | 5.4% | 2.70% | 97.30% |
| Transversale Pleine | 11 to 1 | 8.1% | 2.70% | 97.30% |
| Carré | 8 to 1 | 10.8% | 2.70% | 97.30% |
| Transversale Simple | 5 to 1 | 16.2% | 2.70% | 97.30% |
| Colonne | 2 to 1 | 32.4% | 2.70% | 97.30% |
| Douzaine | 2 to 1 | 32.4% | 2.70% | 97.30% |
| Rouge/Noir | 1 to 1 | 48.6% | 1.35% | 98.65% |
| Pair/Impair | 1 to 1 | 48.6% | 1.35% | 98.65% |
| Manque/Passe | 1 to 1 | 48.6% | 1.35% | 98.65% |
RTP
In roulette, the RTP remains the same for most bets. However, in the French variant, you get a better return to the player for even bets, thanks to the La Partage and En Prison rules.
Payouts
The payouts for roulette bets, no matter which variant you play, correspond to the probability. The riskier the bet, such as a plain bet with a probability of 2.7%, the higher the payout, 35 to 1 in this case.
House Edge
The rules of the French game give it a low house edge, especially when it comes to even bets, such as rouge or noir.
French Roulette vs Other Roulette Variants
Besides the terminology, the rules are the main distinction between French Roulette and other variants. One of two French Roulette rules could apply.
La Partage means if the ball lands on zero and you've placed an even bet, half the stake is returned to you. If the En Prison rule applies, your even money stake isn't lost when zero comes up. Instead, your wager stays in play. Learn about different roulette variants before you put together a strategy.
| Features | American Roulette | European Roulette | French Roulette |
| --- | --- | --- | --- |
| Zeros | Single-zero and double zero | Single zero | Single zero |
| Pockets | 38 | 37 | 37 |
| Lowest payout | 1 to 1 | 1 to 1 | 1 to 1 |
| Highest payout | 35 to 1 | 35 to 1 | 35 to 1 |
| House edge | 5.26% | 2.7% | 2.7% and 1.35% |
| En Prison | No | Sometimes | Yes |
| La Partage | No | Sometimes | Yes |
Difference Between French Roulette and American Roulette
If you're wondering what is the difference between French and American roulette, the rules mentioned above apply in the French version. Plus, an American wheel has a double zero pocket.
Difference Between French Roulette and European Roulette
When it comes to French Roulette vs. European, the wheel looks the same. However, the table layout will include French terms, and the La Partage and En Prison rules always apply to the French variant.
How To Play French Roulette – Breakdown of a Round
Ready to take on the French variant and its low house edge? Follow these steps when you launch the game.
Choose from the bet options
Decide how much to wager
Place the chips by clicking on the appropriate section of the layout
Watch the wheel spin and the ball land
Claim your win or see your chips disappear
French Roulette Strategies for Advanced Players
Roulette is a game of chance. However, according to their results, UAE players can use a roulette strategy to determine how to increase and decrease their wagers.
French Roulette Strategy 1: The Martingale System
The Martingale system means doubling your bet after a loss. If you choose this strategy, you should start with low bets and make sure your bankroll allows for this approach.
French Roulette Strategy 2: Reverse Martingale Strategy
For a less risky version, you can reverse the Martingale by doubling your bet when you win and halving it when you lose.
French Roulette Strategy 3: Fibonacci Strategy
Another strategy that applies to games of chance is the Golden Ratio or Fibonacci. You follow the Fibonacci sequence (0, 1, 1, 2, 3, 5, 8, 13) when placing a bet by increasing after a loss (for example, by 2 AED then the next time by 3 AED) and decreasing following a win (for example, if you're on 8, you move two numbers down so would bet 3 AED the next round).
French Roulette Strategy 4: Labouchere System
This negative progression system is a little more precise. You set a desired win amount and split that into smaller parts. For example, you're aiming to win 12, so your sequence is 3, 4, 5, which adds up to 12.
You use the first and last numbers (3 and 5) to determine your bet (8). If you win, leave out those numbers from your sequence and bet 4. If you lose, add your stake amount to the end of your sequence (3, 4, 5, 8) and repeat.
"On Y Va!"
"Let's go!" as we'd say in English. Now you're equipped with the essential information to play the French version of roulette. You know about the special La Partage and En Prison rules, the odds, the payouts, and the improved house edge on even bets. Use the knowledge you've gained and the strategy you like to play at one of our recommended casinos for UAE players.
Frequently asked questions
If you like roulette, we definitely recommend trying the French version. It's classic and has a lower house edge for even bets.
You can find this variant at most online casinos. We recommend Rabona as the top choice.
La Partage is a rule that applies in the French variant. It means half of your stake will be returned on an even bet when the ball lands on zero.
Your strategy will depend on your bankroll. The reverse Martingale is a popular choice.
Author
Casino Expert
Raguia is the Content Writer for the UAE market. She has been a writer since the early 2000s, specializing first in journalism, then social media and now content writing. She likes to follow casino trends and stay up to date with the ins and outs of the gaming industry. She plans her next trip if she isn't trying, testing and reviewing casinos. She speaks five languages, has visited 37 countries, and will keep travelling while playing online.